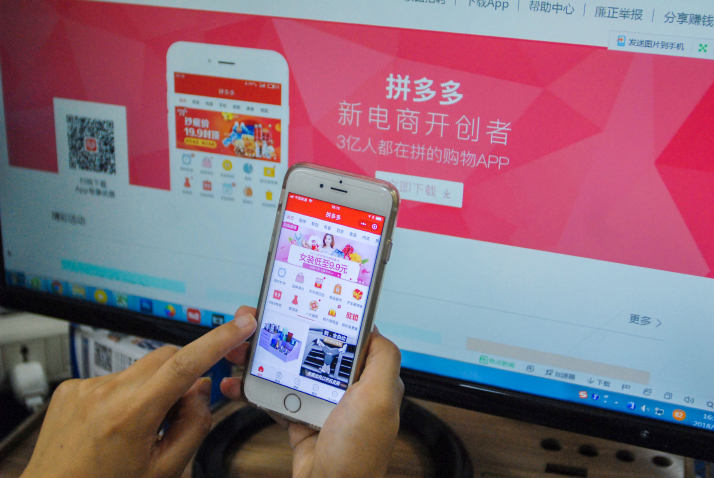 A Beijing resident uses Pinduoduo's WeChat mini app to make an online purchase (WEI YAO)
Social e-commerce, a form of online retail which relies on social networks to assist in the buying and selling of products, has been receiving huge investment in China of late.
Last April, Pinduoduo, an e-commerce platform that allows users to participate in group purchase deals, primarily through Tencent's WeChat app, was reported to have raised $3 billion in a new round of fundraising led by Tencent Holdings. On April 23, social e-commerce platform Yunji Weidian announced that it had raised $120 million in Series B financing, while social e-commerce service provider Youzan recently completed a back-door listing in Hong Kong.
In early January Aikucun, a Shanghai-based sales distribution firm for brands and agents on Chinese social networking platforms such as WeChat, announced 100 million yuan ($15.7 million) in Series A financing, while in February, 51bushou, a social e-commerce platform focused on food and beverages, revealed the attainment of 2 billion yuan ($314.2 million) in strategic investment.
Among these investors are well-known companies and institutions such as Tencent Holdings, Sequoia Capital, SAIF Partners, Joy Capital and Kuaishou.
A new spree
According to Xiao Shanglue, founder of Yunji Weidian, social e-commerce is a new business type in which most of the players achieved rapid growth in 2015 and 2016.
For traditional e-commerce platforms, physical stores and today's social e-commerce platforms, the common goal is to reduce transaction costs connecting products and consumers and to obtain low-cost channels for gaining users, Xiao said.
"While social e-commerce may seem like a revolutionary trend, it is in essence just an e-commerce platform with a different marketing style," said Li Chengdong, an independent analyst of the e-commerce industry, who believes there are several conditions which have prompted the upsurge of social e-commerce.
According to Li, traditional e-commerce has hit a bottleneck, and the increasing cost of operations leaves few opportunities for new firms looking to break into the industry. Mobile social media platforms have also grown rapidly, and the supply chain and associated mobile payment technology have improved with it. Consumption patterns have changed too, with buyers getting used to making online purchases with their increasingly fragmented free time.
According to a white paper released by the think tank Smart Financial Research Institution, by 2020, the social e-commerce market will have 24 million users and the size of the market will surpass 1 trillion yuan ($157.48 billion).
With many observers wondering whether, with such huge market potential, it is possible for a new e-commerce giant to emerge and challenge traditional leaders like Taobao and JD.com. Li believes that the market data suggests this can almost definitely happen.
Gu Rong, general manager of social e-commerce platform Beidian, agrees.
"Having only been established three months previously, Beidian received over 1 million orders during the 2017 Singles' Day shopping festival," he said. "Therefore it is absolutely possible for social e-commerce to produce another Taobao."
According to figures from big data service provider Shenzhen Hexun Huagu Information Technology Co. Ltd., in March, the market penetration rate of Pinduoduo reached 22.4 percent, which was even higher than traditional e-commerce giant JD.com.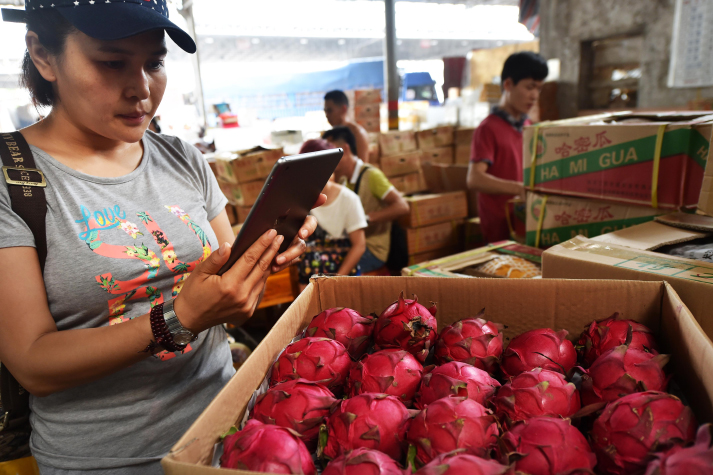 Gao Yufen, a fruit vendor, takes a photo of dragon fruit in Haikou, capital of Hainan Province, to send to her clients from north China. Gao opened an online store via WeChat and sells over 10,000 kilos of fruit every year (XINHUA)
Mini focused
Social e-commerce platforms are changing the shape of the market as well as people's consumption habits.
Ke Yeyue, founding partner of Fengshion Capital, said that WeChat and other social networks are certain to claim a large proportion of the market share in e-commerce, most of which come in the form of opportunities brought about by WeChat mini programs.
Mini programs are small applications within WeChat which are typically simpler than full mobile apps.
Zhu Xiaohu, founder of GSR Ventures, said at a speech in April that mini programs will overturn the giants of PC and mobile Internet, and that total investment in mini programs could reach the tens of billions of yuan this year.
According to third-party data vendor QuestMobile, in March, the number of monthly active users of WeChat mini programs was around 400 million, while the penetration rate among WeChat users reached 43.9 percent. JD.com has also entered WeChat's e-commerce ecosystem through its own mini programs.
In addition to JD.com, several emerging e-commerce platforms such as Pinduoduo, Miss Fresh and Mogujie are also trying to reach more users via mini programs. QuestMobile figures showed that the number of active users of the Pinduoduo mini program is 230 million, and that JD.com, along with other e-commerce platforms, has also gained a large number of users through the launch of its mini programs.
As e-commerce platforms develop their mini programs, capital is accumulating in this area. On March 20, e-commerce mini program LOOK announced $22 million in Series A funding led by GGV and Fengshion Capital, while on April 19, mobile e-commerce platform Liwushuo revealed the attainment of 100 million yuan ($15.75 million) in Series C1 funding to be used for the development of its mini program.
LOOK is the first e-commerce mini program that Fengshion has invested in. Ke said that Fengshion has been paying attention to various models of social e-commerce since 2013, and the reason for the company's decision is that the supervisory environment, consumer habits and the openness of the WeChat platform make it a suitable time to invest. She said that Fengshion will accelerate future investment in this field.
"Taobao now covers more than 300 million users, but the total figure for users of social networks is much higher. Considering the turnover ratio and establishment of social habits, in the future, the size of social e-commerce will surpass that of Taobao," said Ke.
However, since mini programs are easy come, easy go, retaining users looks set to be a major challenge for developers.
According to a report on mini programs released by Aldwx.com, a data service provider with a focus on WeChat, 13 percent of users will use a mini program for two consecutive days, but only 1 percent will still be using that program after two weeks.
Zhu said that investors are most concerned about whether mini programs can retain users, so increasing retention rates will be a key issue for their future development.
Copyedited by Laurence Coulton
Comments to wangjun@bjreview.com