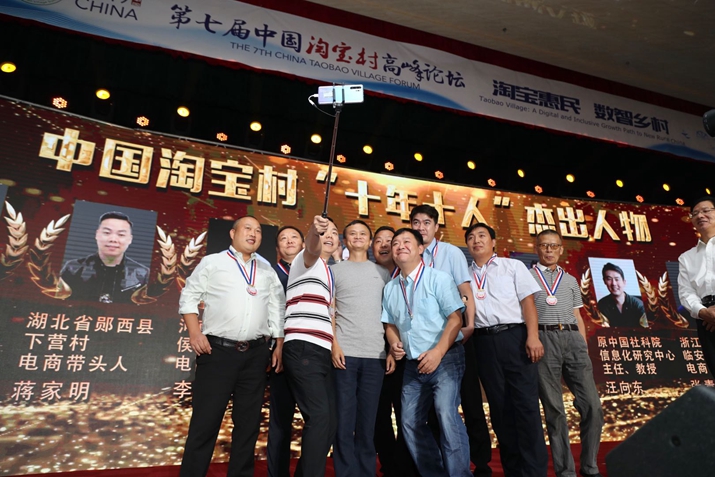 Jack Ma (fourth left) poses for a selfie with forerunners of rural e-commerce at the Seventh China Taobao Village Forum on August 30 in Huimin County, east China's Shandong Province (COURTESY PHOTO)
Born in 1991, Cui Qisong, who hails from Lizhuang Town, Huimin County of east China's Shandong Province, became a migrant worker after graduation from high school. In 2015, he found that his neighbor was doing business online. After going through a lot of frustration, he finally joined the trend and started selling soil collected from farms by the Yellow River, which is considered to be of great value for cultivating flowers. This odd product brought him success and turned him into a millionaire within just three years.
The number of grassroots startups like Cui's has increased rapidly. In August 2019, there are over 2,800 online stores, with a combined sales volume of more than 1 billion yuan ($141 million), opened by residents of Lizhuang. More than 10,000 e-commerce practitioners have sprung up in Huimin County.
Rural transformation
E-commerce has witnessed rapid growth in rural areas in this decade. In 2009, when AliResearch, Alibaba's research arm, tried to identify Taobao villages, a term coined by Alibaba to define any place where 10 percent of the local population is engaged in online retail and makes at least 10 million yuan ($1.4 million) from the Taobao platform annually, there were only three. Taobao is the e-commerce giant's major online shopping platform.
But in 2019, there are 4,310 Taobao villages scattered in 25 provinces, according to a report released during the Seventh China Taobao Village Forum on August 30.
The report, co-authored by AliResearch, Nanjing University, Zhejiang University and the Chinese Academy of Social Sciences, revealed that in 2018 alone, the combined sales volume of 2.4 million vendors in Taobao villages exceeded 700 billion yuan ($98.4 billion), accounting for 50 percent of China's rural e-commerce volume and creating 6.83 million jobs.
The development of Taobao villages has helped lift many rural areas out of poverty through encouraging online sales of farm produce and local specialties. Along with the development, local authorities have improved roads, broadband Internet services, power supply and logistics to support farmers in setting up online stores. It represents a transformation of the rural economy, as well as the lifestyle and mindset of rural residents.
Gao Hongbin, Vice President of Alibaba Group and Director of AliResearch, told Beijing Review that besides the increase in number, Taobao villages are spreading in the central and western parts of China. He said a new feature in these areas is that e-commerce clusters tend to be based in a town, rather than individual Taobao villages.
"Perhaps we can say that towns in central and western China are more suitable for e-commerce, as they have more favorable conditions compared to villages," said Gao. For example, villagers regularly visit town fairs, which turn towns into centers of trade and information. In addition, towns are usually the transportation hub for surrounding villages.
When asked about the reasons behind the success of Taobao villages, Gao mentioned three indispensable factors: first and foremost, the entrepreneurial spirit; second, the e-commerce platform; and third, local governments' support in improving business environment and providing preferential policies.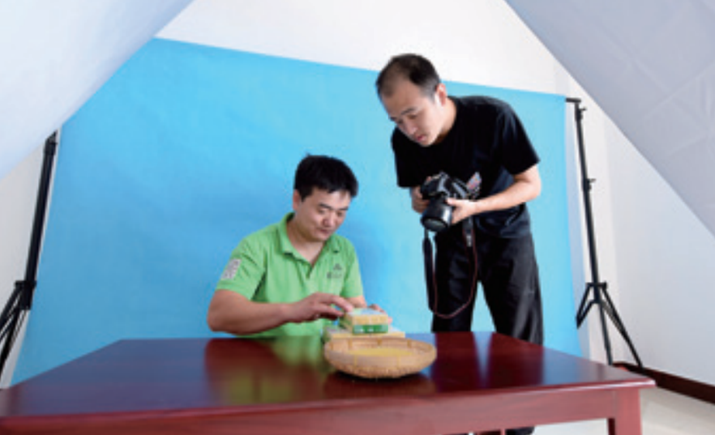 A photographer takes photos of agricultural produce to be displayed on e-commerce platforms in Lincheng County, north China's Hebei Province, on August 25 (XINHUA)
Systemic improvement
Jack Ma, founder of Alibaba Group, joined the Seventh China Taobao Village Forum on August 30 after his dialogue with Elon Musk in Shanghai. Unlike the rocket man who has an ambition to go to Mars, Ma cares more about life on earth.
To further boost China's e-commerce development, Ma said in his keynote speech that his company will work with local governments to build a new supply and marketing system for rural areas in China where farmers can buy better seeds and fertilizer, and sell their products as well.
Ma said although China's Supply and Marketing Cooperative (SMC) system helped develop the agricultural industry and rural areas, it needs to undergo reform and adopt new ideas and technologies. Alibaba is willing to work with local governments to build a new SMC system to help farmers sell their products and purchase the finest agricultural inputs at reasonable prices, Ma noted.
"It is of vital importance for Taobao to achieve better sales of agricultural products and help improve farmers' livelihood," said Ma, adding that Alibaba's success lies in the entrepreneurship of young people, farmers and small businesses.
Ma believes that in 20 years, rural areas will have to embrace the Internet and digital economy. He said he is glad to see that majority of Chinese people are embracing e-commerce, and that it is bringing talent back to rural areas.
He also suggested local governments formulate preferential policies to attract talent, improve the e-commerce business environment and protect the natural environment.
"I believe the best opportunities lie in rural areas and rural industries," Ma said. "It is encouraging that more young talent is going back to villages to develop the countryside."
Setting an example
In 2018, then President of World Bank, Kim Yong, said at the First China International Import Expo that he found e-commerce had played a big role in poverty alleviation and has set an example for shaking off poverty in rural areas around the world.
He made the remarks after a tour of Guizhou Province, where farmers were using the Internet to promote their kiwi fruit and other specialties.
After living in China to study international relations and Chinese for six years, Andrew Gatera decided to capitalize on China's tourism market with a large middle class population willing to travel abroad.
"My country Rwanda is mountainous and we have wild animals like gorillas," he told Beijing Review during a visit to Huimin County's e-commerce exhibition site. "Now I want to expand my business and that's why I came here to learn about Taobao villages."
Like Gatera, many businessmen from Malaysia, Rwanda, and Viet Nam have begun to learn from China's experience and apply what they have learned back in their own countries.
Rukundo Jean Premier Bienvenu, an IT expert at the Ministry of Trade and Industry of Rwanda, said during the Taobao Village Forum that his country is collaborating with China to help the country achieve success in the e-commerce sector.
Tapping into the Electronic World Trade Platform (eWTP) was among the country's many endeavors. Rwanda had signed three MOUs with Alibaba on promoting tourism, e-commerce, and related training programs.
Through its eWTP initiative, Alibaba is aiming to promote cross-border trading in participating countries. A key focus of the initiative is to reduce trade barriers so that small companies can sell more overseas.
The eWTP initiative, initiated by Ma in 2016, may also help Alibaba achieve its goal of becoming the gateway to the Chinese market, particularly as China's swelling middle class has created a huge demand for high-quality foreign goods.
According to Bienvenu, Rwanda launched an online shop to attract tourists in 2018 and now there are three shops selling coffee grown in Rwanda. The Rwandan authorities are attaching special importance to talent training. Nineteen Rwandan university students, out of 105 applicants, have been selected to come to China to study e-commerce in September with a scholarship.
(Reporting from Huimin County, Shandong Province)
Copyedited by Madhusudan Chaubey
Comments to maxiaowen@bjreview.com