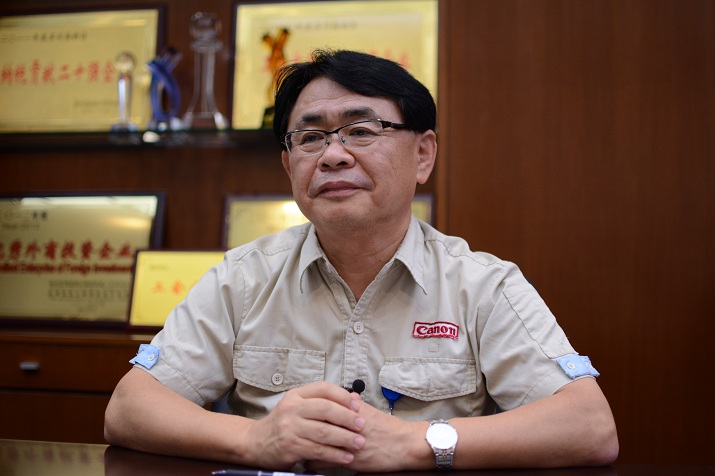 Hideya Hatamochi, Chairman of the Board of Canon (Suzhou) Inc. (ZHANG WEI)
Every September, He Faping, an employee at Canon (Suzhou) Inc., looks forward to the company's Mid-Autumn Festival evening party, which took place on September 14 this year. The event has reached a professional level comparable to TV galas or star concerts in many aspects including programing, stage design and live sound and attracted thousands of people.
People-oriented development
The Canon Mid-Autumn Festival event in Suzhou in east China's Jiangsu Province, originated from a traditional summer festival event organized by Canon Inc. in Japan. Workers and their families are treated to fireworks, temple fairs and acts including singing, dancing and short sketches. He has attended every company gala since they were launched in 2002. During the activity, everyone can enjoy performances by colleagues and share development achievements from the past year. More importantly, colleagues from the whole company take the opportunity to celebrate the Mid-Autumn Festival like a family.
Canon (Suzhou), established in 2001 in Suzhou New District (SND), is one of the most important and largest bases producing office equipment for its parent company in Japan. Along with the Mid-Autumn event, other cultural and recreational activities are organized annually, including a dumpling party, a singing contest and a family day.
"I hope that through such activities, we can build a corporate culture, energize the company atmosphere and enhance employees' enthusiasm," said Hideya Hatamochi, Chairman of the Board of Canon (Suzhou) Inc.
Although Mid-Autumn evenings are a case of a company following local customs, elements of Japanese culture abound in the program. In 2017, famous Japanese anime theme songs were played by a Chinese employee saxophone and trumpet duo. One highlight of the event was when the management, including Hatamochi, performed the hottest Chinese song of the year. "Our chairman is versatile and talented and he does very well no matter it is a dance song or a ballad," He said.
Talent cultivation
In addition to adjusting the corporate culture to local tradition, Japanese-funded enterprises also attach high importance to personnel training, providing new impetus for SND development and a platform for Chinese employees to show their capabilities.
In October 2002, He got a position at Canon (Suzhou), which helped him realize his dream to work in one of the top 500 companies in the world. "As a fresh recruit, I thought the newly established Canon (Suzhou) would be a platform for me," he said.
This translated into many opportunities for He, but it also meant challenges. From a fledgling college graduate to a multinational company's employee, the first challenge He confronted was how to improve his work habits so as to adapt to the rules and regulations of a multinational organization.
"I asked myself what kind of employee I wanted to be," he said. Keeping in mind his goals for work and life, He has been diligently working for Canon (Suzhou) for 16 years and is now a manager.
"I am very grateful to the company for providing me with this platform. Through the company training, I grew from an ordinary staff member to a manager and was awarded the title of Suzhou Model Worker. I feel extremely satisfied with this career path." Huang Zheng, head of manufacturing team one at Panasonic Semiconductor (Suzhou), had a similar experience.
"There is a lot of room for promotion at Panasonic Semiconductor," he said. "The company attaches great importance to the cultivation of talent with an idea to train people before creating products."
Huang explained, "After joining the company, employees receive basic training for some time and then comprehensive training. Through rotation and training, we can learn all aspects of the work. As long as you are willing to learn, you can grow fast."
Huang graduated as a Japanese language major and began working at the company in 2002. After going through various forms of training, together with his own efforts, he gradually mastered the technical knowledge and became a team leader in 2009. Huang's career path serves as encouragement to thousands of Japanese language majors in China for their own career prospects.
"In 2001, there were more than 30 Japanese employees, and after more than 10 years, the company's production scale has expanded, but the Japanese staff has been reduced to nine. Most middle-level management positions are filled by Chinese employees," said Ji Ruikang, Vice President of Fujifilm Imaging Systems (Suzhou) Co. Ltd.
Talent is an essential part of the people-oriented culture of Japanese corporates. Clear and detailed policies have been formulated for the cultivation of employees, with different aptitude levels put in place. Adjustments have been made in training systems, taking into account the cultural background of Chinese employees and the situation of the enterprise itself.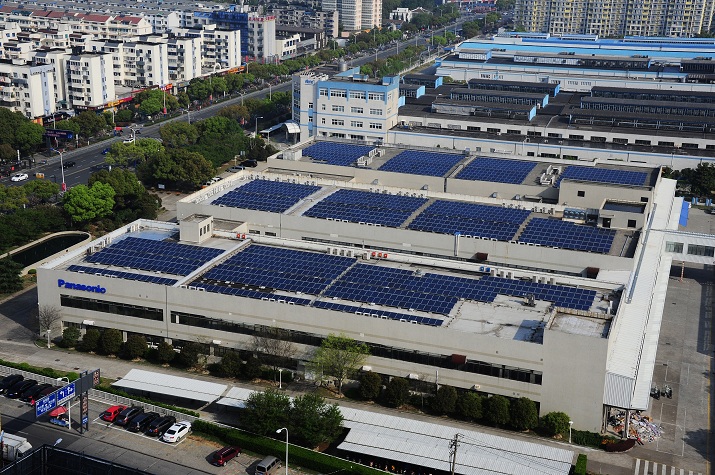 A solar power system on the roof of Panasonic Semiconductor (Suzhou) in Suzhou New District on April 11, 2015 (VCG)
A win-win situation
Fujifilm's branch in Suzhou has introduced manufacturing courses in Japan to train staff at different levels. According to Shen Ying, Director of Human Resources of Fujifilm (Suzhou), the Japanese manufacturing industry has developed a sound training system, which has been adopted by the Suzhou branch based on the local situation.
Through training sessions, many Chinese employees have realized a career transition from linguistic posts to technical or management ones. After nearly two decades of training and accumulation, Japanese-funded enterprises have developed a mature talent structure. As a result, labor costs have been lowered as the number of Japanese managers has been reduced. More Chinese employees have a chance to be promoted.
During China's 40 years of reform and opening up, many foreign-funded enterprises have gone through the process of investment, construction, development and expansion in China where employees have played a vital role. Japanese enterprises in SND are still putting much effort into mobilizing resources, inspiring employees and advocating interactions between companies and employees while promoting their own innovation and development.
(Reporting from Suzhou, Jiangsu Province)
Copyedited by Rebeca Toledo
Comments to liqing@bjreview.com