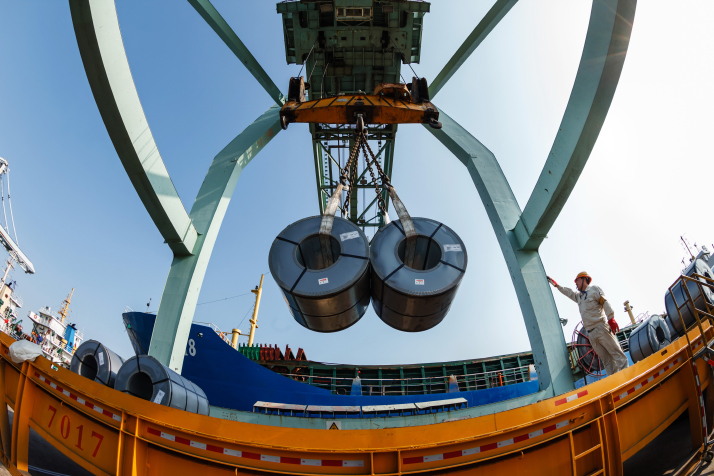 Finished steel products are loaded onto a ship docked at a wharf of the China Baowu Steel Group in Shanghai (COURTESY PHOTO)
Thirty-seven years have flown by for Lu Jiangxin, as he remembers his first days at the China Baowu Steel Group, then known as Baoshan Iron and Steel Co. Ltd. (Baosteel).
As a fresh graduate from a technology university in east China's Anhui Province, Lu joined the company in Shanghai. "Construction was going full steam. The site was surrounded by orchards and rice paddies," he recalled.
He was assigned to a research office to study steel for petroleum pipelines. "There was no office building yet. We worked in dormitories. Two years later, office buildings sprouted up on previous farmland," he said.
Now, from inside a stylish building, Lu, Director of the State Key Laboratory of Development and Application Technology of Automotive Steels, speaks from an office that is furnished with a row of bookcases, a huge desk and sofas and decorated with tall plants.
Over nearly four decades, Lu has grown from a rookie technician into an accomplished scientist, devoting himself to the research of auto sheets and winning accolades, including the prestigious National Science and Technology Progress Award.
The company has developed from nil to a behemoth in the steel industry, growing to become the largest steel producer in China and the second largest in the world. Currently, it ranks 149th among the Fortune Global 500 and 40th on the list of the top 500 enterprises in China.
In 2018, the group produced more than 67 million tons of steel, and made a profit of 33.8 billion yuan ($4.76 billion), according to the group's financial report.
"Baowu's contribution is more than profit. The company's products have effectively supported large national science and technology projects such as nuclear power plants, large aircraft, manned spaceflights and lunar probes," Sun Jipeng, Senior Manager at the Strategy Planning Department of Baowu, told Beijing Review.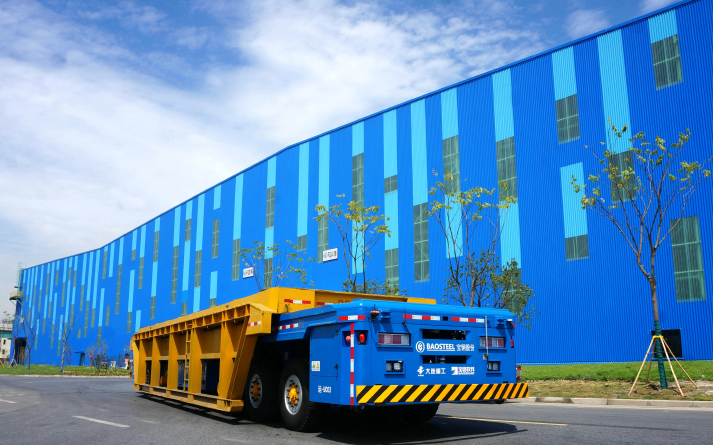 A self-driving vehicle passes by an unmanned warehouse at the China Baowu Steel Group in Shanghai on May 29 (COURTESY PHOTO)
Great expectations
Baowu was formed through a marriage of two large iron and steel conglomerates in 2016. One predecessor Wugang Iron and Steel Co. Ltd. (WISCO), located in Wuhan, capital of central China's Hubei Province, is the first mega iron and steel plant built after the founding of the People's Republic of China in 1949. Construction of the plant started in 1955 and it went into operation in 1958.
At the ceremony to ignite WISCO's first blast furnace in 1958, Chairman Mao Zedong said that with food and steel available, everything else would be easy to handle, demonstrating the great importance of the steel industry.
Back then, China was eager to transform from an agrarian country into an industrialized one and in desperate need of steel. "The iron and steel industry is the foundation of the national economy. At that time, it was especially important for China. Without iron and steel, industrial modernization, national defense and modern agriculture would be all out of the question," Sun said.
"In 1949, China's steel output was only 158,000 tons, a very insignificant amount. That output was hardly enough to equip everyone in the country with a hoe, let alone meet economic development needs," Sun explained.
In 1957, Mao set the goal for China's steel production to overtake that of the UK in 15 years. In the quest for rapid industrialization, during the "Great Leap Forward (1958-60)," small backyard steel furnaces were built in virtually every village and urban neighborhood to expand steel production. But the quality of steel produced by backyard furnaces did not meet standards; thus the experiment failed.
Nevertheless, official statistics show that from the 1950s to the 1970s, steel output grew at double digit annually in China minus a few years.
At the time, the world steel industry was also rapidly expanding. In 1978, China's total steel output reached 31.78 million tons, close to that of West Germany, surpassing that of the UK and France. However, the output was only about one fifth that of the Soviet Union, then the largest steel producer in the world; one fourth that of the United States, the second largest; and one third that of Japan, the third largest.
The other predecessor Baosteel, established in 1978, is dubbed the offspring of reform and opening up. It broke ground right after the conclusion of the Third Plenary Session of the 11th Communist Party of China Central Committee, the meeting that launched reform and opening up. In 1985, its first blast furnace went into operation.
"At that time, the product mix and production technology of China's iron and steel products were still far behind some developed countries, at least 20 years behind Japan," according to a book on Baosteel published in 2017. Steel production facilities in China were outdated, only producing steel for industrial equipment and buildings, but not for vehicles and household electrical appliances.
Under such circumstances, Baosteel was established with a large government investment. From its inception, the company has been committed to producing quality steel. Its first head Li Ming made a famous remark, "Baosteel was not set up to produce mediocre products; otherwise it would not have needed an investment of 30 billion yuan ($17.4 billion at 1978 exchange rate)."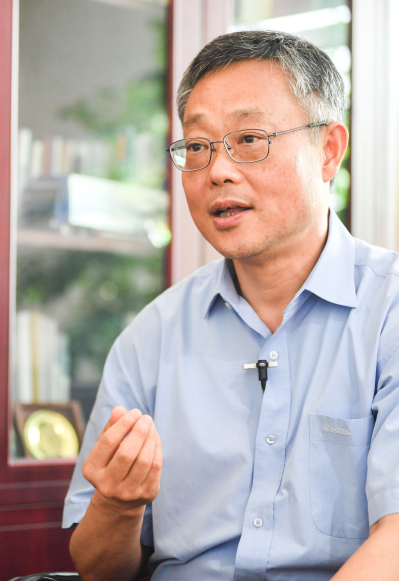 Lu Jiangxin, Director of the State Key Laboratory of Development and Application Technology of Automotive Steels at the China Baowu Steel Group (WEI YAO)
Seizing opportunities
"Baowu is geared toward high-quality manufacturing. We adhere to the forward-looking strategy of scientific and technological innovation, focusing on cutting-edge products as well as the application of advanced technology to produce ordinary products," said Baowu Chairman Chen Derong at a forum held on August 22.
Currently, he said, the group is at an internationally advanced level in terms of the quality of its new generation of automobile high-strength steel, oriented electrical steel, as well as steel for high-grade household appliances, oil and gas pipelines, bridges and hot-rolled heavy rails. Moreover, its output of automobile sheets ranks third in the world and the output of silicon steel tops all countries.
In the past, technical strength enabled Baosteel to seize development opportunities. In 1980, the People's Bank of China (PBC), the central bank, planned to issue the country's first 1-yuan coin, but no suitable steel could be found in domestic steel mills and in the end, the coin was minted with imported steel. In June 1991, Baosteel developed its own cold rolling mill, and the company began to explore steel to make coins. After a series of experiments, it finally succeeded and in June 1992, the PBC issued 1-yuan coins minted with steel produced by Baosteel.
In the 1980s, expansion of industrial production and rising demand for automobiles and household electrical appliances such as refrigerators fueled surging demand for quality steel.
Baosteel set its sights on producing auto sheets, which was technically challenging for Chinese companies at the time, Lu said, because auto sheets needed to be speckless, of high strength and adequate plasticity, which were hard to achieve at the same time, and the carbon content in steel had to be lowered from 0.1 percent to below 0.01 percent.
He started research of auto sheets in 1989, after receiving a master's degree from what is now the University of Science and Technology Beijing.
In 1990, the first high-grade automobile sheet was rolled out of Baosteel. Today, one out of every two automobiles produced in China is made with Baowu's steel, which is high in strength and light in weight, making vehicles more energy efficient.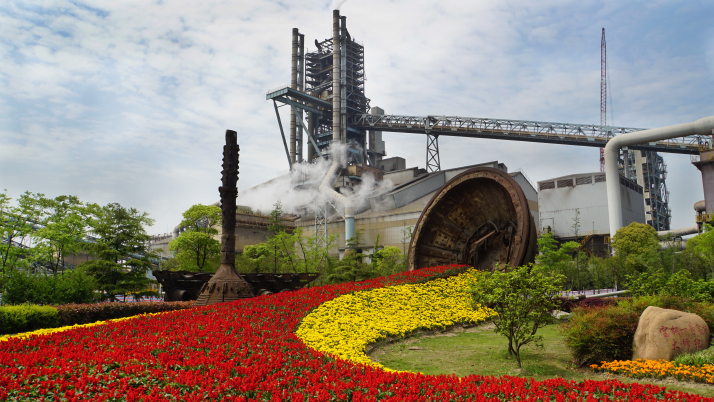 A memorial square at the China Baowu Steel Group in Shanghai (COURTESY PHOTO)
Smart and green
Baowu now describes itself as a hi-tech enterprise with the iron and steel industry as its main value carrier. The group has approximately 1,300 research and development personnel. In addition to its research centers and innovation incubating platforms, it also partners with universities and research institutes.
By the end of 2018, Baowu owned 12,921 patents, including 5,105 invention patents, Lu Kebin, Senior Manager at the Scientific and Technological Innovation Department of Baowu, told Beijing Review. Since 2000, the group has won scores of national-level science and technology awards.
"Today, steelmaking is no longer sweaty and smoky," said Chen. "Baowu pursues green, quality and smart development. It is a hi-tech enterprise actively seeking transformation and development."
On July 22, Chen amazed an audience by demonstrating how to smelt steel remotely simply by pushing a button. When he pressed a key on an iPad screen, a converter located 3,000 meters away was put into motion, an oxygen lance slowly dropped and the molten steel in the converter began to flow. With the help of 5G technology, the work of the converter can be monitored on-screen in real time.
Today, a lot of the hard work is done by robots. According to Baowu's 2018 corporate social responsibility (CSR) report, it has an arsenal of more than 480 robots and over 100 self-driving vehicles. It has some unmanned workshops and a mega unmanned warehouse.
In a smart cold-rolling workshop, machines were roaring, a crane was moving back and forth, and steel sheets rolled onto the production line from one end of the workshop and down from another and were galvanized in the process. But there was no one in sight. A chair at a work station near the crane, once occupied by an operator, was empty.
"Sixteen people used to work here, but now one is enough," Lu Hongguang, a human resources officer in the cold-rolling mill, told Beijing Review. The production process, which is usually carried out without illumination, is monitored from a room filled with screens, and any abnormalities are detected automatically.
Automation has slashed cost and improved work efficiency. Citing a smart hot-rolling workshop as an example, Lu Kebin said smart production has cut energy consumption there by 5 percent and cost by 20 percent, while increasing productivity by 20 percent.
In addition, the Internet, big data and artificial intelligence are used to build Baowu's online sales and service platform, Ouyeel. Moreover, Baowu's management model has been adjusted to better suit smart production, with the hierarchical organizational structure becoming more leveled.
In addition to making production safer and more efficient, Baowu has conducted research on green technology including Corex non-blast furnace iron-making technology, thin strip continuous casting, and desulfurization and denitrification technology for coke ovens.
Pollutant emissions and waste discharge have been reduced. In 2018, Baowu's per-unit energy consumption went down by 2.3 percent from the previous year, carbon dioxide emissions went down by 3.5 percent, nitrogen oxides by 2.9 percent and chemical oxygen demand by 9.9 percent, according to its CSR report.
Future oriented
Baowu has grown stronger and smarter, banking on opportunities availed by China's development, but its voyage has not been all smooth sailing. The biggest bump came in 2015, when the international steel industry suffered from severe overcapacity.
At the time, China's steel industry had been expanding, in particular, at a rate of around 20 percent during the period from 2001-07. In 1996, the country's total steel output exceeded 100 million tons, making it the biggest producer in the world. Since then, both its steel production and consumption have remained the largest in the world, said Sun, adding that currently, the country produces about 50 percent of the total steel in the world.
In 2015, sluggish demand in major steel consumption regions left the world market
glutted. "The year 2015 was the worst for the whole industry," said Liu Zhenjiang, then Secretary General of the China Iron and Steel Association.
That year, WISCO suffered the biggest losses among Chinese steel enterprises and Baosteel saw the largest dent in profit in its history.
In 2015, China launched supply-side reform, readjusting its industrial structure, optimizing production factor allocation and improving the quality of economic growth. The steel industry began to cut its overcapacity.
Against this backdrop, WISCO was merged into Baosteel to form Baowu. Since the merger, the group has reduced its capacity and workforce and optimized its business structure, Sun said.
The group's business portfolio was diversified to feature steel manufacturing as the base along with the coordinated development of five other business modules, namely new materials, logistics, industrial services, urban services and industrial financing.
Envisioning the future, Sun said Baowu will produce more quality products, promote greener and smarter development, further lower cost through technology innovation, and become bigger and more profitable. (Reporting from Shanghai)
Copyedited by Rebeca Toledo
Comments to wanghairong@bjreview.com