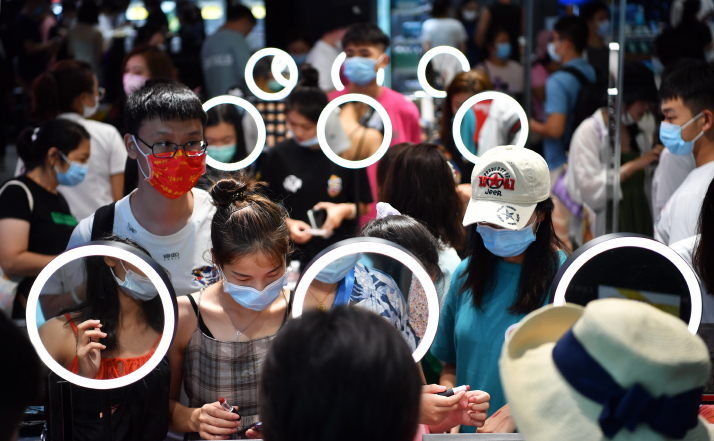 Tourists shop at a duty-free store in Sanya, Hainan Province in south China, on October 5 (XINHUA)
With the novel coronavirus disease (COVID-19) epidemic largely brought under control at home, China's GDP expanded 4.9 percent year on year in the third quarter (Q3) as business activities gradually resumed, according to the National Bureau of Statistics (NBS) on October 19. The Chinese economy reported a 6.8-percent slump and 3.2-percent growth in the first and second quarters, respectively.
It also reversed a 1.6-percent contraction in the first half (H1) of the year, up 0.7 percent year on year in the first three quarters.
Major economic indicators showed further rebounds in Q3. The industrial output rose 5.8 percent year on year. Retail sales of consumer goods registered the first quarterly expansion this year, up 0.9 percent. Fixed assets investment and foreign trade also saw first year-on-year turnarounds in the first three quarters, growing 0.8 percent and 0.7 percent respectively, NBS said.
Over the past months, the government has introduced measures including tax relief, cuts in lending rates and the reserve requirement ratio (RRR) for commercial banks, reduction of rental and power costs and issuance of consumption coupons. They have helped ensure business growth, stabilize employment and boost consumption amid epidemic containment.
"The improvement of key indicators shows the strong resilience and vitality of China's economy, which is expected to continue to recover in the fourth quarter," Liu Aihua, spokesperson for NBS, said at a press conference in Beijing.
The International Monetary Fund's World Economic Outlook report released earlier in October projected China's economy to grow 1.9 percent this year, 0.9 percentage point higher than the June projection.
"Given external uncertainties caused by global epidemic spread and uneven recovery of industries and enterprises in different regions, more efforts are needed to further improve livelihood and support enterprises to achieve the annual growth target," Liu added.
Warming up
NBS data showed that value-added industrial output, which measures the activity of large enterprises with an annual business turnover of at least 20 million yuan ($2.98 million), went up 1.2 percent year on year in the first three quarters, compared with a decline of 1.3 percent in H1. The output of state-owned enterprises saw a 0.9-percent year-on-year growth while that of the private sector went up 2.1 percent year on year.
Supporting policies of the government have helped boost confidence and eased the burden of domestic business operators during the epidemic, Liu said.
According to the State Taxation Administration, tax and fee cuts saved 1.88 trillion yuan ($281 million) for enterprises in January-August.
The National Development and Reform Commission has pledged to extend the policy of cutting electricity prices by 5 percent starting from February to the end of this year for companies except those in sectors with high energy consumption.
Optimistic expectations have stimulated production. Data released by NBS at the end of September showed that the purchasing managers' index (PMI) for the manufacturing sector reached 51.5 in the month, up from 51 in August. The index had remained above the expansion-contraction threshold of 50 for the seventh consecutive month.
"Although the epidemic and floods affected industrial production over the past months, the rise of domestic demand has driven up industries including equipment and vehicle manufacturing," Wen Bin, chief researcher with China Minsheng Bank, told Beijing Review. Output by the hi-tech manufacturing and equipment manufacturing sectors rose 5.9 percent and 4.7 percent year on year, respectively.
The resumption of industrial production has backed up the growth of consumption. Although retail sales of consumer goods went down 7.2 percent year on year to 27.33 trillion yuan ($4.08 trillion) in the first three quarters, the decline narrowed 4.2 percentage points from H1. Online spending expanded 9.7 percent for the January-September period, compared with 7.3 percent in H1.
Notably, auto sales grew 11.2 percent in September, staying above 10 percent for the third consecutive month as pent-up demand during the epidemic was released. "The recovery of the auto market has contributed much to the rise of consumption," Wen said.
Trade and investment
Customs data released on October 13 showed that China's foreign trade in goods totaled 23.11 trillion yuan ($3.44 trillion) in the first three quarters, up 0.7 percent year on year, reversing the decline in H1. Imports and exports of private companies expanded 10.2 percent, playing a key role in driving overall trade growth.
According to Li Kuiwen, spokesperson for the General Administration of Customs of China, rebounds in exports were driven especially by rising sales of anti-epidemic supplies and products for working from home such as tablet computers. The resumption of domestic demand also boosted imports.
China remains an investment magnet with resumed business activities and improving environment. In the first nine months, foreign direct investment (FDI) inflow went up 5.2 percent year on year to 718.81 billion yuan ($107.5 billion), the first increase in both yuan and dollar terms this year. FDI in the service industry totaled 559.68 billion yuan ($83.6 billion), up 15 percent year on year, and the growth for the hi-tech service sector jumped to 26.4 percent, the Ministry of Commerce said on October 16.
But the performance of different sectors is uneven. According to Wen, fixed assets investment in the real estate sector has grown fast while the recovery in manufacturing and infrastructure is slow. The new capital channeled in the manufacturing industry declined 6.5 percent year on year in the first three quarters despite a narrowed contraction.
To better attract investment, the manufacturing industry needs to accelerate the elimination of excess and backward capacity and develop high-end industrial chains through independent innovation. Investment in new infrastructure and urbanization also needs to be increased, Xu Hongcai, Deputy Director of the Economic Policy Commission under the China Association of Policy Science, told Beijing Review.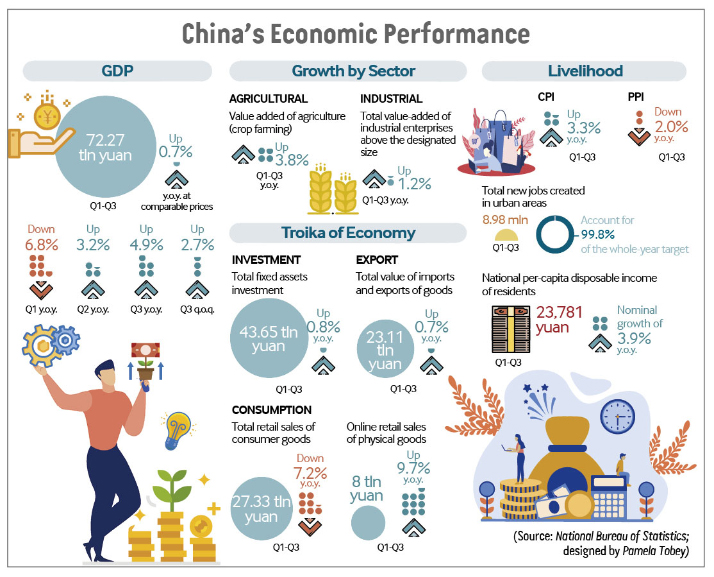 China's consumer inflation growth caused by lack of supplies earlier this year has eased, as the consumer price index (CPI), a main gauge of inflation, rose 3.3 percent year on year in January-September, 0.5 percentage point slower than that in H1, the NBS said on October 15.
Wang Youjuan, an NBS statistician, said the easing can be attributed to moderating food prices, especially vegetables and pork, along with the resumption of logistics as impacts of the epidemic and floods eased.
NBS data showed that food prices, which account for nearly one third of the weighting in China's CPI, climbed 0.4 percent month on month in September, contracting from 1.4 percent in the previous month.
CPI growth will further moderate in the coming months. Since the producer price index (PPI), which measures inflation at the factory gate, declined 2 percent in January-September, the central bank needs to keep increasing lending for manufacturers and micro, small and medium-sized enterprises to drive up PPI, Wen said.
Domestic employment has seen steady recovery, which helped ensure people's income. According to NBS, a total of 8.98 million new urban jobs were created in the first three quarters, or 99.8 percent of the annual target. The surveyed unemployment rate in urban areas came in at 5.4 percent in September, 0.2 percentage point lower than August. After allowing for inflation, the national per-capita disposable income of residents rose 0.6 percent year on year to around 23,000 yuan ($3,441) in the first nine months, compared with a 1.3-percent decline in H1.
"However, college graduates and migrant workers still face pressure in finding jobs, which calls for more powerful pro-employment policies," Zhao said.
Against challenges
While China's economic recovery is firming up, the weak performance of the global industrial chains amid the COVID-19 pandemic is still posing challenges.
Since the domestic demand has not yet fully recovered, more efforts are needed to boost online consumption including improving services of e-commerce platforms and increasing the provision of benefits for low-income people through fleshing out the social security system, Xu said.
According to Wen, the government should further reduce taxes and fees to ease the burden on enterprises and ramp up the issuance of special local government bonds. The central bank also needs to roll out more RRR and lending rate cuts.
"Since the recovery of China's economy is closely related to the performances of global market, it still needs to widen the opening up and expand international cooperation for common resumption," Xu said.
(Print Edition Title: A Steady Uptrend)
Copyedited by Madhusudan Chaubey
Comments to lixiaoyang@bjreview.com