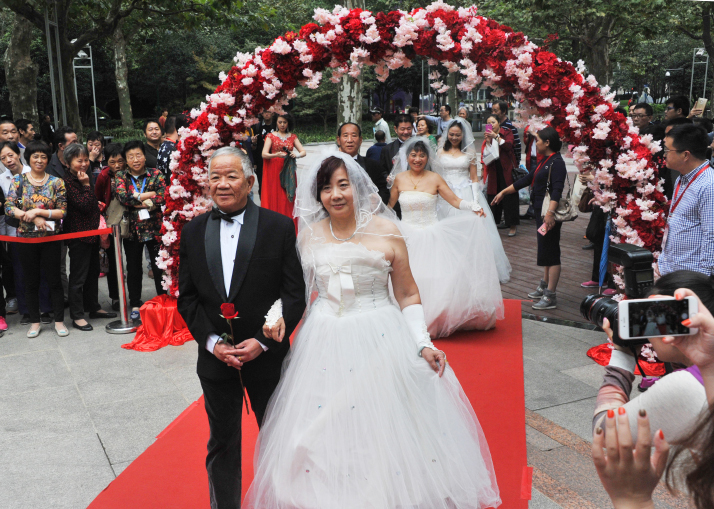 A group wedding for seniors at a Shanghai park on October 12, 2016 (VCG)
"You're not my type; I'm just being honest with you."
"Need someone to take care of you? Get a babysitter!"
...
These are some of the golden zingers brought to audiences by participants in the dating show Serendipity Will Not Come Too Late. Unlike similar programs focusing on young people, this one hosts senior citizens looking for intimate relationships; for them, age is just a number.
Broadcast on Jilin TV, a provincial broadcaster, the show has gone viral for its straightforward and often humorous expressions of participants, whose criteria for their Mr. or Ms. Right range from economic conditions to education attainment and to appearance. The most popular episode received over 10 million hits online.
"It departs from the average dating program featuring beautiful and well-educated young people; it's all about seniors' attitude toward life and love," Zhang Er, a college student in Suzhou, told Beijing Review.
He came across a few of the show's video snippets on social media platforms and found the participants' quips rather amusing. However, at the same time, he started to care more about the daily life of his grandfather, who lost his wife three years ago and lives alone. "I started to understand his loneliness, and wanted to help him," he said.
Leng Bing, editor in chief of the program, was surprised to learn that the program is liked by younger audiences as well. "They explained they like the sincerity of our guests," she said, adding social progress makes the elderly more open-minded and willing to reveal their true personalities in the program.
The program, along with other similar ones, makes people realize the older segment of the population, too, has a need for intimate relationships, Wang Dahua, a professor with the School of Psychology at Beijing Normal University, said.
Bittersweet
Last year, Zhang's grandfather briefly mentioned he was hoping to find a new partner in life, a train of thought his son strongly opposed. "My father said my grandfather should count his blessings given his comfortable situation and dutiful children," Zhang Er said.
According to Zhang Er, a day in his grandfather's life usually includes sitting in front of a TV alone for long bouts of time, though his children and grandchildren do visit him regularly. The 80-year-old doesn't deal too well with interpersonal relations and seldom participates in social activities.
"I tried to cheer my granddad up by sharing some of my new life experiences with him, but all to no avail," the 22-year-old said, thinking his grandfather needs someone who can understand him and is easy to talk to. "I suggested my parents watch the reality show, hoping they'd change their minds."
Generally, in these instances, children oppose a parent's new relationship out of one or two concerns: a threat to their inheritance or having to look after a stranger in the future, Wang said.
That's also one of the reasons some elderly couples stay in relationships without getting married.
However, a partner's role cannot be substituted as spouses look after one another—in sickness and in health, Wang stressed, adding that, sometimes, it can even help the other identify or assess physical problems more promptly.
"In our studies, we found higher marital quality is associated with a better mental health status. A harmonious intimate relationship in the fall of life serves as a protective umbrella for seniors' emotional wellness."
People will always feel the need for an intimate relationship regardless of their age, Wang told Beijing Review. However, in the past, the conservative part of traditional culture and subtle characteristics of Chinese society did not encourage senior citizens to express their desires. The lack of channels poses another obstacle to their finding of the right fit.
The program sends out a positive signal, embracing the elderly and understanding their living situations and emotional needs. That creates a friendlier setting for them to step onto the stage and build new intimate relationships.
However, those willing to put themselves out there and participate in age-friendly dating shows only account for a small proportion among their peers; the majority remain silent, Wang said.
Match made in heaven?
The ambiance and even the nature in younger versus older dating programs differs.
Developmental psychology says that young people rediscover and improve themselves through romantic relationships, which is not on the seniors' agenda, Wang said. "What senior citizens need more are partners to provide them with day-to-day care and emotional value, and meet their sexual demands; instead of spending time getting to know each other and falling in love."
She thinks seniors have already formed their personalities and habits throughout life. A new marriage or relationship will ask them to change their previous lifestyle, which may result in discord between the couple.
Many seniors have developed a rational understanding of relationships in later life—namely that it comes with a low success rate. Yet they still hope to meet the right partner through ways including matchmaking events in parks, TV reality shows and online dating platforms, according to AgeClub, a consulting and incubation service platform focusing on senior care businesses.
According to China's seventh national census conducted in 2020, the nation's population aged 60 and over is more than 264 million, accounting for 18.7 percent of the total. A survey on living conditions of the elderly in 2018 by the Social Sciences Academic Press showed more than 41 percent of those aged 65 and above were widowed.
There will be more seniors bravely pursuing their own happiness in the future, Wang said. And more targeted legal education may lend a helping hand in putting worried minds at ease.
"Entering a new intimate relationship is a valuable thing for the elderly; this should be understood and respected by not only their children, but also by society," she concluded. Those who love deeply, never grow old. After all, love has no age.
(Printed Edition: Love Has No Age)
Copyedited by Elsbeth van Paridon
Comments to liqing@cicgamericas.com