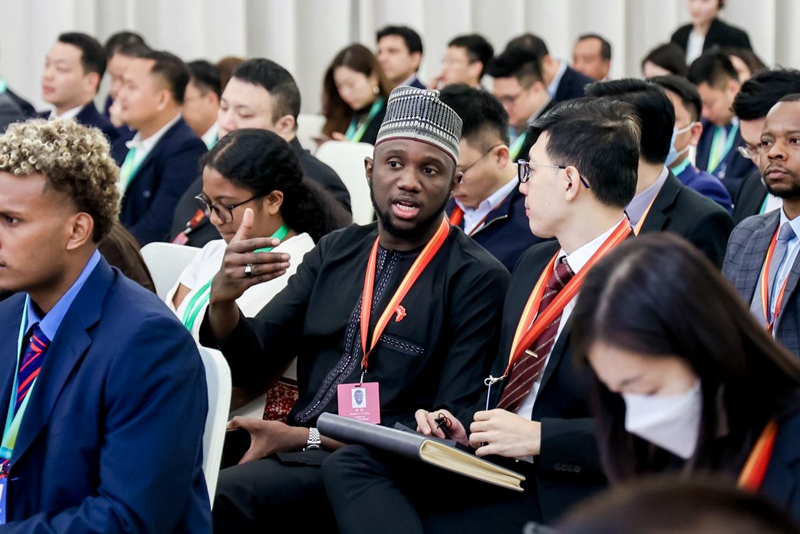 Young entrepreneurs exchange views at the first International Cooperation and Development Conference for Young Entrepreneurs on April 25 in Beijing (COURTESY PHOTO)
Young entrepreneurs are the driving force of social progress and global economic growth and are duty-bound to facilitate economic recovery and ensure the stability of global industrial and supply chains, an official of the Central Committee of the Communist Youth League of China (CYLC) said at the opening ceremony of the first International Cooperation and Development Conference for Young Entrepreneurs on April 25 in Beijing.
"New situations lead to new missions and new challenges call for new actions," Fu Zhengbang, Secretary of the CYLC Central Committee's secretariat, and Vice President of the All-China Youth Federation (ACYF), said at the event.
Fu encouraged global young entrepreneurs to promote economic globalization and innovation-driven growth, practice free trade ideas, pursue green and sustainable development and deepen international cooperation in global economic governance.
The world is undergoing profound changes unseen in a century, international and regional situations continue to evolve, and it's urgent to eliminate the impact of COVID-19. The once smooth global industrial and supply chains are disrupted and energy and food security face severe challenges. The global community is full of uncertainties, Zhu Hongren, Secretary of the CPC Committee and Executive Vice President and Secretary-General of China Enterprise Confederation, said at the opening ceremony.
"It's important for global young entrepreneurs to jointly promote economic and trade cooperation, alleviate the impact of unilateralism and anti-globalization and accelerate the economic recovery in the post-pandemic era," Zhu said.
Young entrepreneurs are active players of global growth both at present and in the future. With different historical and cultural backgrounds and civilizations, we have to seek common ground and reserve differences for a better future, he added.
As one of the nearly 200 representatives of the conference, Deborah Melissa Botterau, Secretary General of ASEAN Young Entrepreneurs Council, and a young entrepreneur owning a design agency, told Beijing Review that it's important to travel, read and learn to gain knowledge of another country to remove doubts and build trust in doing business with overseas partners. She also said she appreciated the conference providing a platform for global entrepreneurs to get to know each other.
"It's key to be open to collaboration and working together, rather than trying to fight against each other," she said, adding that companies doing similar things should combine their strengths together instead of fighting or competing with each other so that they can actually solve problems or provide better solutions, she said.
The organizer, China International Youth Exchange Center, which is the CYLC Central Committee and ACYF's organization for international youth exchange and cooperation, also conducted on-site polls among the representatives, ranging from overseas business leaders and heads of economic organizations to young entrepreneurs in order to gain a better understanding of what their counterparts think on several hot topics.
Approximately 60 percent of the survey participants were optimistic about global economic recovery and more than one third believed artificial intelligence is the sector with the most potential. Respondents widely acknowledged that technological innovation and a dynamic new multilateral trade agreement will become the major force for economic growth in 2023.
The International Alliance of Young Entrepreneur Associations was launched during the conference. The alliance is a new platform for global young entrepreneurs to team up in building the Belt and Road Initiative and an open world economy. It issued a declaration on international cooperation for young entrepreneurs which reflects the consensus reached by the participants.
Copyedited by G.P. Wilson
Comments to zhangshsh@cicgamericas.com