After a brief period of contraction due to novel coronavirus-triggered headwinds, China's major economic indicators rebounded in March and are anticipated to see better performance in the second quarter.
As the National Bureau of Statistics (NBS) released the data on China's economic performance on April 17, indicating that the GDP growth rate declined by 6.8 percent year on year to around 20 trillion yuan ($2.8 trillion) in the first quarter (Q1), NBS spokesperson Mao Shengyong said with the fundamental industries resuming growth steadily, the economy still maintained overall stability in the period.
"The strict measures adopted early on for containing the epidemic led to sharp declines in manufacturing, investment and consumption activities in January-February, but work and production resumption in March helped drive up domestic demand," Wen Bin, chief researcher with China Minsheng Bank, told Beijing Review.
Despite the impact of the epidemic, China's economy still shows strong resilience with new growth momentum due to innovation-oriented growth drivers, XuHongcai, Deputy Director of the Economic Policy Commission, China Association of Policy Science, told Beijing Review. The epidemic, while causing offline industries to suspend work at its peak, gave a boost to new business and work modes, which meant a strong impetus for China's digital economy. As people stayed at home, e-commerce, food delivery, online education and work-from-home platforms boomed; new technologies such as virtual reality rode the tide with wider applications.
But the global spread of the epidemic may pose fresh challenges to the economy amid the downturn in global economic growth. So the Chinese Government will issue more supporting measures in the coming quarters to steady foreign trade while expanding domestic demand to boost investment and consumption, Mao said.
Recovery on the way
The epidemic dealt a severe blow to many offline sectors in China in Q1. According to a report published by the think tank Shanghai Institutes for International Studies in early February, it had a huge impact on the manufacturing, trade and service sectors, especially consumer industries such as tourism, catering and entertainment.
NBS data showed that the output of the primary and secondary industries saw a decline of 3.2 percent and 9.6 percent respectively in Q1. The output of the service sector, which has accounted for over half of China's total GDP in recent years, dropped by 5.2 percent. Affected by the suspension of industrial production, the value-added of industrial enterprises above designated size—industrial enterprises with an annual business turnover of at least 20 million yuan ($2.82 million)—fell 8.4 percent in January-March.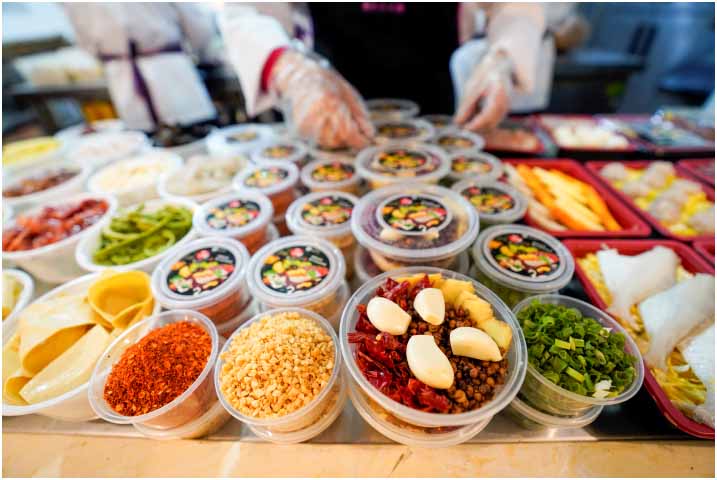 A staff member checks hotpot ingredients for delivery at a hotpot restaurant in Chongqing, southwest China, on March 29 (XINHUA)
However, the major economic indicators saw a much smaller decline in March as work resumed and the government put in place supporting measures. After the slump in February, the rebound in March is expected to lead to continued recovery in the coming quarters. Data from the Ministry of Industry and Information Technology showed that the work resumption rate of small and medium-sized enterprises (SMEs) reached 84 percent as of April 15, with the secondary industry outperforming the service sector.
With the resumption of work and production, the domestic job market remained stable without massive layoffs in Q1. The NBS said the surveyed unemployment rate in urban areas in March stood at 5.9 percent, down 0.3 percentage point from February. The decline in added urban jobs and the pressure migrant workers and college graduates face however remains to be addressed.
The manufacturing sector is picking up. Data from the NBS on March 31 showed that the purchasing managers' index for the manufacturing sector rose to 52 in March from 35.7 in February. A reading above 50 shows expansion. Although the value-added of the manufacturing industry shrank 10.2 percent in Q1, the hi-tech manufacturing saw fast expansion with a year-on-year increase of 8.9 percent in March.
According to Mao, the sub-index for business activities in the service sector stood at 51.8 in March, surging 21.7 points from February. Service industries such as transportation, retail sales and courier saw notable rebound as online consumption continued during travel restrictions. According to a statement released by the State Post Bureau on April 13, the business revenue of China's postal industry totaled 219.22 billion yuan ($31.18 billion) in Q1, up 0.8 percent year on year.
Given the impact of the epidemic, the reading of the consumer-oriented service industries was 50.2 in March, 1.6 points lower than the overall index. Revenues of the catering sector, one of the worst-hit industries, slumped 44.3 percent in Q1 compared with the same period last year. However, the catering industry and tourism across China are gradually warming up although not yet fully recovered. The demand for online services during the special time drove the growth of Internet and related services as well as software and information technology services, which went up by 10.1 percent and 0.7 percent respectively in January-February.
Market activities in the dampened investment sector started to revive in March. Fixed assets investment in infrastructure and real estate reported a smaller decline of 16.1 percent year on year in Q1, compared with the 24.5-percent drop in January-February.
"Although some infrastructure projects are delayed due to the epidemic, the rising investment in new infrastructure for innovation-oriented growth in the second half of this year can improve the contribution of investment to China's economic growth," Xu said.
Still an FDI destination
As Zhao Jinping, a researcher with the Development Research Center of the State Council, China's cabinet, told Beijing Review, business resumption by enterprises in China in March contributed much to stabilizing foreign trade. According to data released by the General Administration of Customs of China on April 14, foreign trade volume totaled 6.57 trillion yuan ($929 billion) in Q1, down 6.4 percent year on year. However, it recovered in March, totaling 2.45 trillion yuan ($346 billion), a year-on-year decline of mere 0.8 percent from the 9.6-percent drop in January-February. The Association of Southeast Asian Nations became China's largest trading partner in Q1, replacing the European Union.
While foreign trade rebounded in March, Xu stressed that the rise was mainly generated by the February orders that had piled up. There has been a drop in international orders since April amid the rising uncertainties in the global market. This can weigh on the growth of foreign trade in the second quarter.
According to Zhao, export firms in China have been facing difficulty as orders shrank sharply in Q1. The cancellation of already started projects also led to rising costs and mounting financial risks.
But while declining orders due to weak demand and rising logistics costs are a common problem for enterprises after the outbreak, Mao pointed out that the government has introduced a slew of supporting policies including further tax and fee reductions, cuts in social security contributions and providing financial support.
State support
The People's Bank of China, China's central bank, has channeled credit funds into the real economy to boost SMEs. It said on April 16 that new yuan loans had reached 7.1 trillion yuan ($988 billion) in Q1, up by 1.29 trillion yuan ($182 billion) year on year. The bank has provided loan support for industries especially impacted by the epidemic, such as retail and transportation.
The epidemic has also not deterred capital flows into the Chinese market. As Wang Chunying, a spokesperson for the State Administration of Foreign Exchange, told a press conference on April 17, foreign investors increased their onshore bond holdings by 48 percent in Q1 from the previous year, an increase of $16.7 billion.
Although the paid-in foreign direct investment (FDI) fell 10.8 percent from a year earlier to 216.19 billion yuan ($30.62 billion) in Q1, inward investment in hi-tech service industries surged 15.5 percent in the period, accounting for 29.9 percent of the total FDI in service sector, the Ministry of Commerce said on April 15.
As the government steps up efforts to ensure the stability of foreign trade and FDI performance, it will further unleash the potential of domestic demand to boost economic growth amid external uncertainties, Mao said.
Since epidemic containment measures kept most people indoors and offline businesses remained suspended in Q1, retail sales of consumer goods, a major indicator of consumption growth, declined 19 percent year on year in the period. However, online sales fell only 0.8 percent year on year. Online sales of physical goods expanded 5.9 percent to 1.85 trillion yuan ($261 billion), accounting for 23.6 percent of total retail sales in the period, according to the NBS.
The prevalence of indoor activities has led to greater use of live-streaming in online sales, with local officials, celebrities and e-commerce platforms making joint efforts to promote sales during the difficult time. On April 6, a live-streaming hosted by China Central Television news anchor Zhu Guangquan and Li Jiaqi, a popular live-streaming host, sold 16 products from Hubei Province in central China, the region most impacted by the epidemic, generating nearly 23 million yuan ($3.2 million) with about 660,000 orders.
As the epidemic is brought under control, the government has introduced measures to encourage offline consumption. Some local governments are offering vouchers to boost spending, and there are incentives to buy new cars, especially new-energy vehicles, to rev up the automobile industry, a pillar of the economy.
The consumer market has shown signs of recovery with the measures since March. According to the NBS, the drop in retail sales in Q1 rebounded slightly from a 20.5-percent decline in January-February. Data from the China Association of Automobile Manufacturers showed that automobile output jumped nearly 400 percent in March from February and sales surged 361.1 percent month on month.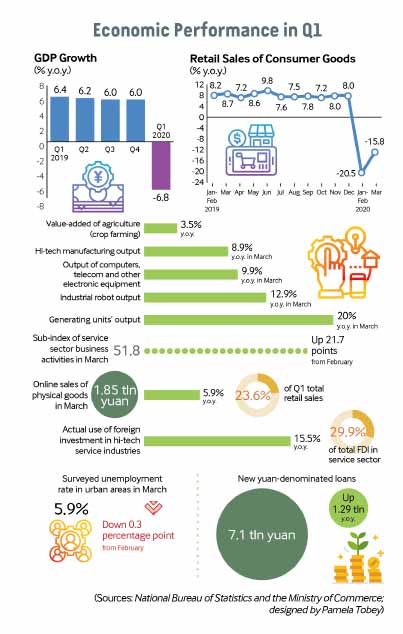 Future outlook
As China rebounds from the virus-induced slump, its economic growth is expected to gain a firm footing amid weak growth across the globe. According to the World Economic Outlook report released by the International Monetary Fund on April 14, China's economy would grow at 1.2 percent while the global economy may decline by 3 percent this year.
Since the global economic slowdown and difficulties in production resumption are still affecting the Chinese economy, Xu suggests the government hand out cash to low-income rural and urban residents to boost consumption. It should also issue more special local government bonds to raise capital, reduce corporate income tax to support SMEs, and prevent strong rebounds in the property market.
According to Wen, the government can support new infrastructure and the manufacturing industry by further reducing the loan prime rate (LPR) to cut financing costs for the real economy. On April 20, the central bank had already announced it was reducing the one-year LPR to 3.85 percent from 4.05 percent and the above-five-year LPR to 4.65 per cent from 4.75 percent.
Xu remains upbeat about the economic performance in the third and fourth quarters despite external impacts. "China has complete industrial chains, which are a strong backup for its economic recovery. The reliance on foreign trade will decline as domestic demands upgrade," he said.