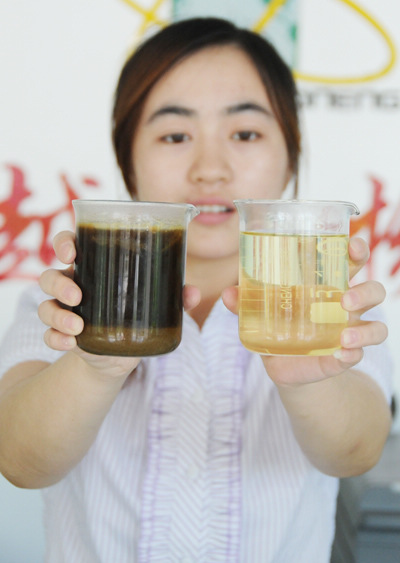 GREEN RECYCLING: A worker at Xiamen Zhuoyue Bio-Fuel Co. Ltd. in Fujian Province compares samples of bio-diesel made from gutter oil (right) and its raw material (LAI JIANQIANG)
October brought both good and bad news for people concerned about China's food safety. On October 13, the National Center for Food Safety Risk Assessment was established under the Ministry of Health (MOH) in Beijing. Charged with studying the potential biological, chemical and physical hazards of commercially produced foods and food additives, the center is authorized to issue food safety warnings to relevant administrative organs. It will also establish an open database on food safety and regularly analyze data collected from 19 government departments whose responsibilities involve food safety.
The establishment of the center is seen as part of a broader government effort to raise confidence in China's food safety.
China's food industry has already been tainted in recent years by a number of scandals including toxic infant formula milk, pesticide-tainted vegetables, exploding watermelons, pigs fed with a banned, poisonous substance known as Clenbuterol and pork reconstituted as beef.
The reputation of China's food industry suffered another blow recently following exposure of the gutter oil scandal.
As the name implies, gutter oil is usually scooped up from the gutters and sewers behind cooking establishments, then clarified and resold to restaurants. In a broader sense, the term can also mean oil refined from low-quality pork, animal by-products, and oil overused for fried food. As rising food prices have hit restaurants and consumers hard, the nauseatingly named oil, production of which involves sifting old pieces of food from the oil, has become extremely attractive to immoral restaurant owners and vendors looking to cut costs.
Just one day before the new food safety-monitoring center was established, the MOH announced that an effective way to distinguish gutter oil from regular cooking oil was yet to be found.
"None of the five detection methods we trialed proved effective in identifying the illegal oil, and the authorities are still organizing experts to carry out research," MOH spokesman Deng Haihua said at a press conference.
In mid-September, the ministry announced a project to develop testing methods for gutter oil by partnering with six state-level research institutions. Meanwhile, an expert panel consisting of 13 oil processing, food safety and chemical analysis experts was established to examine and verify the five most promising alternatives selected from all the potential detection methods proposed nationwide.
However, none of the gutter oil detection methods trialed yielded satisfactory results.
PAH, a carcinogen, has been confirmed as the most hazardous content in the illegal oil. However, not all the gutter oil samples collected nationwide were found to contain PAH.
"Gutter oil makers have become really good at concealing their products' differences from normal cooking oil," The Beijing News quoted an anonymous disease control expert as saying. The expert said that even if one indicator was found to be effective in identifying gutter oil, the underground workshops would immediately update their product by adding chemicals so that it could cheat the test.
Although it has not been determined how carcinogenic gutter oil is, nutritionists have warned such oil can damage the gastrointestinal tract if consumed occasionally, and trigger cancer after long-term consumption.
"Animal and vegetable fat in refined waste oil will undergo rancidity, oxidation and decomposition after contamination, and produce toxic substances such as arsenic. It will cause indigestion, insomnia, liver discomfort and other symptoms," said Zeng Jing, a nutrition expert at the Guangdong Armed Police Hospital.