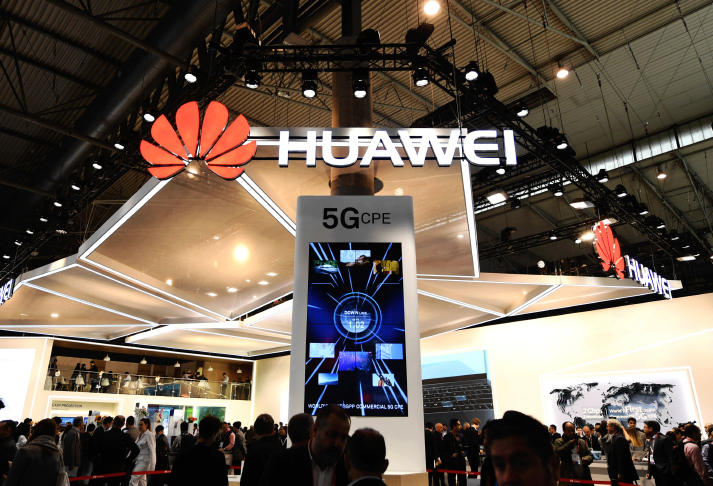 Huawei Technologies demonstrate its 5G wireless communication technologies at the Mobile World Congress in Barcelona, Spain, in February (XINHUA)
Right in the middle of the deepening U.S.-China trade war storm, Huawei Technologies Co., the world's leading telecom network equipment provider from China, is making world headlines as a result of the U.S. ban on its products and cutoff from its business partners.
During an exclusive interview with state broadcaster China Central Television (CCTV) on May 21, Huawei founder and CEO Ren Zhengfei showed little concern about the challenges facing the company. "More than a decade ago, when we set up our goal to go big, we knew that such a situation would be inevitable," he said. "Such clashes are doomed to be set off sooner or later."
Asked whether Huawei is encountering its toughest period ever, Ren replied that it is actually the opposite. "Huawei has developed into a giant. Before all these bans and business cutoffs, we were stuck in endless meetings and meaningless PowerPoint presentations," Ren said. "Now we are firmly united in sitting down and dealing with these difficulties together. I would say that we are in our best state."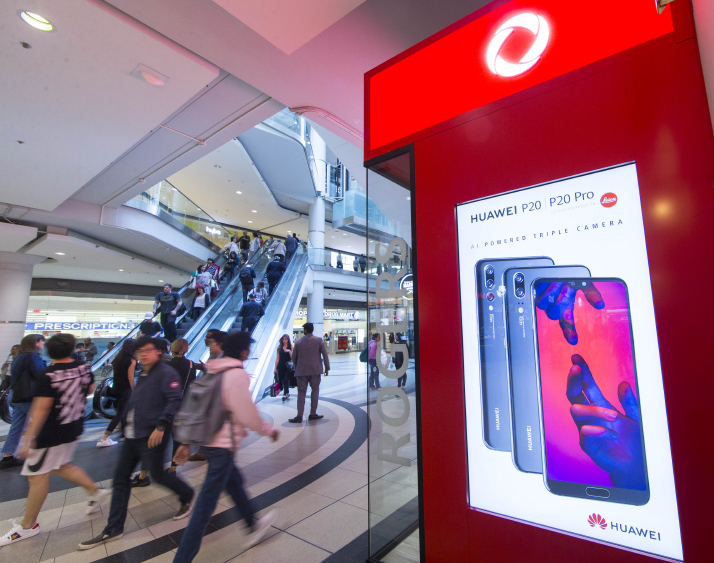 The P20 series of smartphones developed by Huawei hit the market in Canada in May 2018 (XINHUA)
Continuous attacks
Before 2019, Ren seldom appeared in the media. CCTV calculated that he only accepted less than 10 interviews in the past 31 years since the founding of Huawei in 1987. But since January, Ren has become a fixture in the media. On January 15, he accepted a group interview with journalists from abroad and two days later, he accepted an exclusive interview with the program Face to Face on CCTV.
"The public relations department of our company forced me to do it," Ren said. "They told me it was my responsibility as the CEO to show up and tell the public what's really going on since there were so many rumors being spread."
In December 2018, Ren's daughter Meng Wanzhou, who is also Huawei's CFO, was arrested by Canadian authorities at the request of the U.S. for alleged information theft and in early 2019, the U.S. Justice Department accused Huawei of stealing technology, violating trade sanctions and more.
On May 15, U.S. President Donald Trump signed an executive order banning the sale of Huawei's equipment in the U.S. by declaring a "national emergency." On the same day, the U.S. Department of Commerce put Huawei on its Entity List of firms that need special permission to buy U.S. components and technology, preventing the company from buying them from U.S. businesses without approval from the U.S. Government.
The move triggered Huawei to bring HiSilicon to the forefront. Founded in 2004 as Huawei's chipset subsidiary, HiSilicon remained low-key as it focused on developing its own chips. "Now it is time for us to stand out," He Tingbo, head of Hisilicon, wrote in an open letter released on May 17.
"We knew we would be confronted with our U.S. competitors one day and wouldn't be able to rely on imported chips forever," Ren said during the interview with CCTV on May 21. "So we set up this company as a backup and invested loads of money to create our own chips. We will not go through an extreme shortage of supplies; we have made sound preparations."
Meanwhile, the company's employees are working overtime to cope with the situation. "Current difficulties can spur China to develop its electronics industry in a down-to-earth manner," Ren said.
In a statement on May 16, Huawei said the U.S. Commerce Department's move was in no one's interest and would do significant economic harm to U.S. companies with which Huawei does business. Huawei spokesperson Joe Kelly said that of the $70 billion that Huawei spent on components and other supplies last year, $11 billion went to U.S. companies. "It will affect tens of thousands of American jobs," Kelly said.
"We urge the United States to stop these wrongful practices and to create favorable conditions for normal cooperation between the two nations' companies," said Gao Feng, spokesperson for China's Ministry of Commerce, on May 16.
Shares in Qualcomm, Infineon, Intel and Alphabet, Google's parent company, all fell on May 20 as a result of the ban. In a turn of events on the same day, the U.S. Commerce Department announced that it would grant a 90-day license for transactions necessary to maintain and support existing cellular networks and handsets. For Ren, this 90-day permission period is of no importance to Huawei anymore.
However, based on the order of the U.S. Government, U.S. corporations had to take action. Google announced it would cut off many Android hardware and software services to Huawei, including Gmail, Google Maps and access to future versions of Android operating systems, among others.
European partners followed up. Europe is now the second largest market for Huawei after China. Huawei expanded at an extraordinary rate in its early days by selling equipment to wireless carriers, capturing more than a quarter of the smartphone market on the continent. In countries like Greece, Portugal and Spain, Huawei is the top seller.
In the UK, following Google's business cutoff of Huawei, two of its biggest mobile networks, EE and Vodafone, announced they would stop offering Huawei phones to 5G customers even though Huawei is one of the most popular cellphone brands in the country. ARM, a chipmaker based in the UK, was reportedly also suspending its business with Huawei.
In Japan, the three largest telecom operators said they would delay plans to sell a new series of Huawei smartphones.
Under these circumstances, Ren said that Google and other U.S. companies are not the ones to blame since they have to obey domestic laws. "We have learnt a lot from them and they have helped us to make wonderful products," Ren said. "Currently, they are actively talking with us to figure out a solution. We really appreciate their support. The ones to blame are the politicians who made this happen."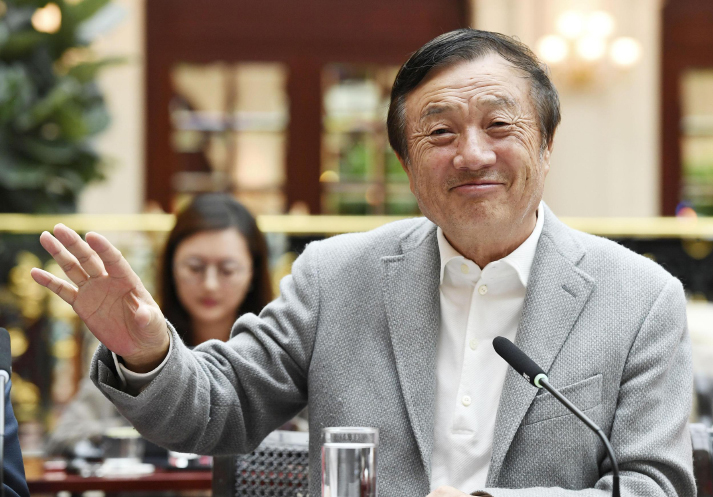 Huawei Technologies Co. founder and CEO Ren Zhengfei speaks at a press conference in Shenzhen, south China's Guangdong Province, on January 18 (VCG)
Accelerated tension
It is not the first time the U.S. or other Western countries have put obstacles in Huawei's way under the guise of "national security." In 2007, the George W. Bush administration warned against Huawei participating in buying 3Com, a digital electronics manufacturer, because it had "shadowy ties to the Chinese army and intelligence services" without providing a speck of evidence.
In 2012, an 18-month review of Huawei ordered by the White House concluded there was "no evidence of spying by Huawei." In the same year, Australia banned Huawei from their National Broadband Network, citing "security concerns," then claimed that Huawei was involved in cyber-warfare. The head of Huawei's Australia board Alexander Downer stated at the time that the whole idea of Huawei being involved in cyber-warfare was solely based on the fact that the company was Chinese.
In 2016, the UK's Intelligence and Security Committee of Parliament finished reviewing all of Huawei's source code and concluded that "there is no evidence that Huawei has presented any risk to the UK's national security." Also in the same year, Huawei was ranked "remarkably well" by Duo Labs, an advanced security research team, in security patching, with 77 percent of its phones running the most recent patches against 15 percent for Samsung at that time. Its code had nothing malicious and its phones were remarkably secure, the research showed.
In 2018, the U.S. Government essentially blocked a deal between Huawei and AT&T, again citing "security concerns."
"I don't know what the U.S. motives for doing this are, but I don't think it matters much if we don't operate in the U.S. market for the time being because we couldn't quite push into its market before," Ren said during an interview with Time on May 23. "As for whether or not we can enter the U.S. market, it is not important to us. We don't desperately need the U.S. market."
ZTE, another Chinese telecom equipment provider, faced a similar situation in 2016. It was added by the U.S. Commerce Department to its Entity List under the pretense of "violating United States sanctions by selling America-made goods to Iran."
Trump later reversed the decision but ZTE had to pay a $1 billion fine and accept monitoring by the U.S. Commerce Department.
"We will not change our management at the request of the U.S. or accept monitoring the way ZTE did," Ren said, adding that Huawei doesn't have that big a stake to play a part in China-U.S. negotiations. Thus, U.S. politicians are holding on to the wrong thing for leverage.
In March, Huawei sued the U.S. Government over an article in the 2019 National Defense Authorization Act that banned federal agencies and their contractors from using Huawei's equipment or services. Huawei argued in the suit that it is against the U.S. Constitution to single out a person or a group for penalty without a fair trial.
"This ban not only is unlawful, but also restricts Huawei from engaging in fair competition," Guo Ping, Huawei's Rotating Chairman, said at a press conference after the filing of the suit.
On May 29, Huawei filed a motion for summary judgment, aiming to accelerate its lawsuit.
In another provocation, Huawei told Reuters on May 24 that two parcels of Huawei sent from Japan to China through FedEx were diverted to the U.S. and another two packages sent through the same carrier from Viet Nam to Huawei offices elsewhere in Asia were also rerouted.
Huawei provided images of FedEx tracking records and said it hadn't given authorization to the delivery company to reroute. FedEx spokesperson Maury Donahue told Reuters later that they were not asked to divert the packages by any other party and that the packages were just "misrouted in error."
On May 29, Chinese tech media outlet QbitAI reported that the Institute of Electrical and Electronics Engineers (IEEE), the world's largest professional technical organization, decided to ban Huawei employees from peer reviewing papers. This has led to strong criticism from Chinese netizens.
Zhang Haixia, a professor from Peking University and a 20-year IEEE member, decided to step down from its editorial board after hearing the news.
She told China Daily that she believes the IEEE made the decision due to external pressure or for political reasons. "I won't accept this and decided to quit the IEEE editorial board until it returns to its professional integrity," Zhang wrote in an open letter on May 29.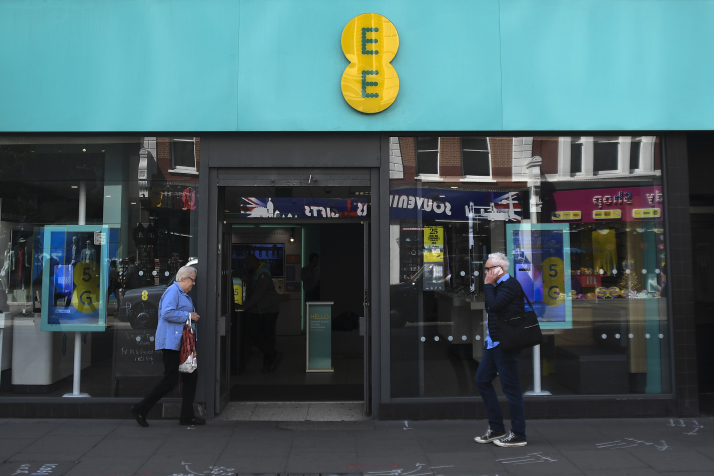 An EE store in London on May 23. The British mobile operator has announced it will continue to use Huawei equipment in part of its 5G network (XINHUA)
Broad perspective
In his interview with Time, he said that 5G is just a tool and that it is not political. "It is not like that politicians can draw a line to create two versions," Ren said. "I think 5G has passed a set of unified standards. If there's no interconnectivity for 5G technologies, the cost will be much higher."
Huawei's 5G development will absolutely not be affected, as Ren claimed. When it comes to 5G technologies, others will definitely not catch up in another two or three years.
As for the patriotism brewed by the tensions between Huawei and the U.S. Government, Ren said that for Chinese people, being patriotic doesn't mean loving Huawei, supporting Huawei doesn't mean buying Huawei cellphones. "Business is business. There is no need to pay so much attention to Huawei. Working hard in your own field is the best way to be patriotic," Ren said.
In the interview with CCTV, Ren also talked about the importance of basic education. "The rise of Huawei is based on the development of technology and a bunch of hi-tech talent from all around the world," he said. "Great basic education is the foundation for the development of a country."
For Ren, 75, a country with strong basic education will create great corporations. The world will change fundamentally in the next 20 to 30 years, he said. What happened with Huawei today is just an episode in the whole process of transformation.
Copyedited by Rebeca Toledo
Comments to yuanyuan@bjreview.com