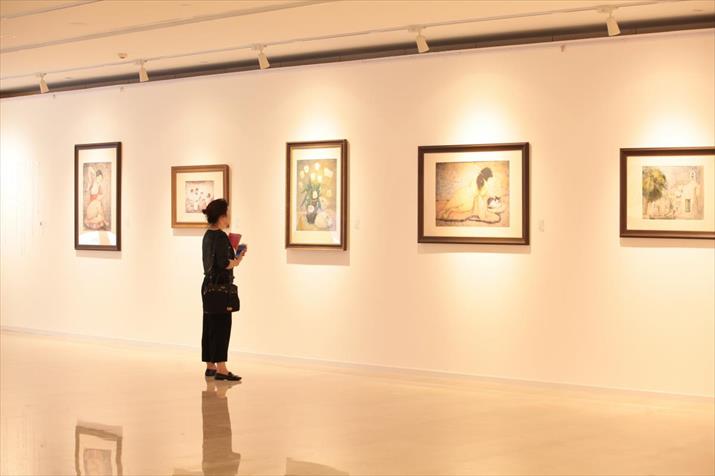 A visitor looks at paintings at an exhibition of works by contemporary Chinese female artists in Beijing at WOW Festival (COURTESY OF WOW)
The Beijing Tianqiao Performing Arts Center (BTPAC), usually not open until afternoon, was filled with hundreds of visitors on the early morning of September 16. The visitors, mostly female, rushed to the famous art venue to enjoy the Women of the World (WOW) Festival which was staged in China for the first time.
WOW was established in 2010 by Jude Kelly at Southbank Centre—a major arts center in London. It aims to celebrate the achievements of women and girls, and to encourage every woman to improve herself. It has been held in 20 cities across five continents in the world over the past seven years. Having reached nearly two million people worldwide, WOW has become the world's largest cultural festival network of its kind.
"I am delighted that today, WOW Beijing joins this young global movement," said Dame Barbara Woodward, the first ever British Ambassadress to China, in her keynote speech at the WOW Beijing ceremony on September 16.
"This festival has created an important space in which to celebrate women and girls and how much we achieved over the last century in moving forward with gender equality," Woodward said.
Kelly, who believes men and women should enjoy equal rights in society, has been working hard to promote WOW worldwide. It took her three years to prepare for WOW Beijing.
"Chinese women are very interested in how women in other parts of the world are working now. They want to be connected wide across the world to share dialogues," Kelly told Beijing Review.
Gender equality highlighted
"Women have made crucial contributions in many fields and are slowly being recognized for their leadership. 'Her Power' is even now a widely used term in China. Yet, despite the tremendous strides women have made in the past decades, they still face difficulties and invisible discrimination in China and around the world," said Julia Broussard, Country Program Manager of the United Nations Women China Office at the opening ceremony.
One of the latest cases is Canadian Environment Minister Catherine McKenna being labeled a "climate Barbie" by Canadian Conservative MP Gerry Ritz on September 20. Ritz soon apologized for the sexist comment, but discrimination against women has not been uprooted yet.
Worse still, women in China and many other countries are expected to take on the burden of unpaid household work, and they spend three times more hours on housework, childcare and care for the elderly than men on average, according to Broussard. "Due to this double burden, fewer women than men are in the paid labor force, and they are more likely to be in lower paying professions," Broussard said.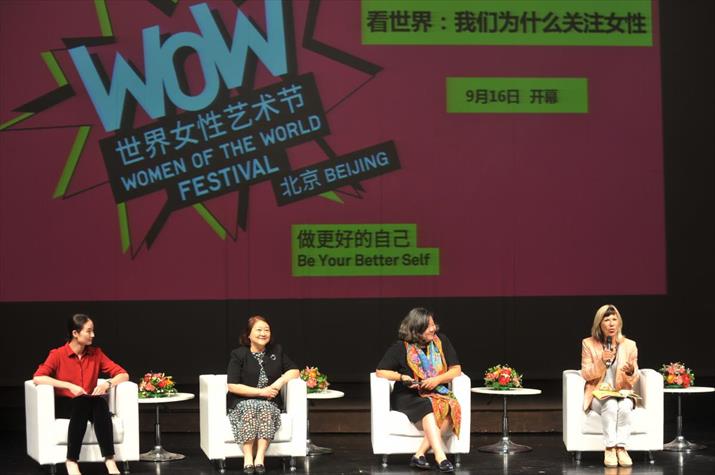 Jude Kelly (right) shares her views on gender equality at the opening ceremony of the Women of the World (WOW) Festival Beijing on September 16 (WEI YAO)
Thus, Broussard believes that more meaningful conversations about gender equality are needed to ensure further progress. WOW Beijing allows women and girls to have such conversations. In the first two days, up to 31 group talks, short speeches and speed mentoring dialogues were held in BTPAC. A total of 85 elite artists, entrepreneurs, mentors, scholars and diplomats shared their opinions on various topics ranging from gender equality to healthcare, from domestic violence to entrepreneurship, from sex education for children to self-image management, and from communication tactics to fashion.
"The theme of WOW Beijing is being your better self. It means not to be frightened or held back by things you have been told you ought to do or should not do, "said Kelly.
"I think the festival will help raise the self-awareness of women and girls in China," Wu Jingxian, who studies social work at China Women's University, told Beijing Review during the event.
Empowering women by art
Although the most frequently mentioned words in WOW Beijing were gender equality, the event was an art festival rather than a feminist conference or symposium. Besides talks, 20 special programs including pop-up shows, operas, painting exhibitions, workshops, psychological consultations and markets were held in BTPAC.
"It's to do with the idea of celebration. It's to do with the idea of courage. It's to do with the idea of not feeling that you have to bypass any kind of language. You can simply, personally find your own way through to be optimistic about the future. It is optimism that would give us the stimulus and energy to make changes," said Kelly.
Broussard echoed Kelly's views. "The arts can present alternative narratives and serve as a powerful medium for communicating the problematic issues women face in our society, some of which may be difficult for us to discuss in day-to-day life," said Broussard.
In addition, "Art is not perceived as something that [only] men can do," said Kelly, adding that more female artists in the world are telling more stories about their feelings.
In fact, women take up a large part of the people involved in art in China. Figures from China's population census in 2010 showed that Chinese women account for 47 percent of the working population in the culture field, and 51 percent in the entertainment industry, much higher than the proportions in other tertiary industries. "Women and girls make up a large part of art circles and theatergoers. And they have long been our most important customers," Zhang Li, General Manager of BTPAC told Beijing Review.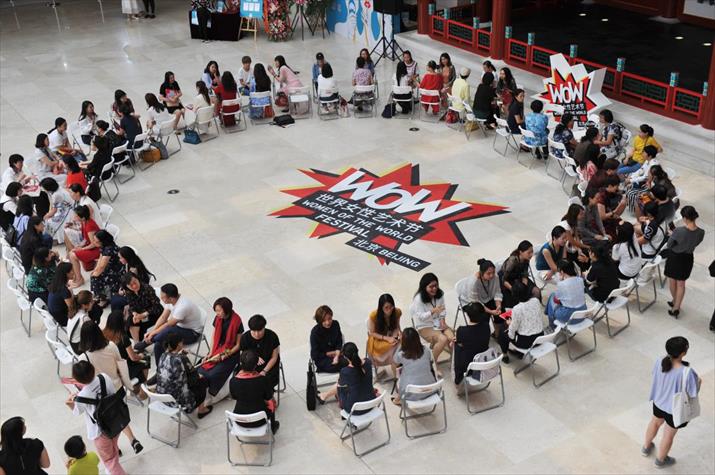 Visitors take part in a mentoring dialogue at WOW Festival (WEI YAO)
WOW Beijing lasted for two weeks. Compared with WOWs in other countries, the scale of WOW Beijing, including an exhibition of female artists' works and a marketplace, impressed Kelly deeply. Over 3,000 visitors flooded the arts venue to enjoy the festival in the first two days.
"They have done it marvelously," said Kelly.
And this is only the beginning. The second WOW Beijing is already under discussion.
"I will be excited if WOW happens in other places in China too. China is one of the biggest countries in the world. If China's women and men can move forward in their progress, the world will be better," said Kelly.
Copyedited by Chris Surtees
Comments to linan@bjreview.com