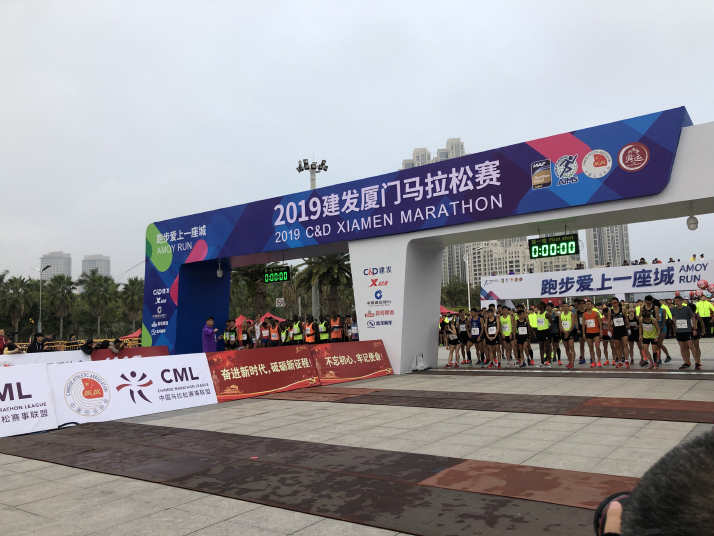 China's largest full marathon, the 2019 C&D Xiamen Marathon, kicks off Fujian Province in the country's southeast on January 6 (LI NAN)
Following the trend of the past years, African runners swept all the trophies in both the men's and women's events at China's largest full marathon, the 2019 C&D Xiamen Marathon held in southeast Fujian Province on January 6. While six Ethiopian athletes dominated the track, Li Zicheng and He Yinli were the fastest Chinese runners in the men and women's categories respectively.
There were lots of interesting numbers. The oldest participant was 87 while 36,826 runners from 38 countries and regions took part, Wu Mingxian, Deputy Director of the Xiamen Municipal Bureau of Sports, said.
Launched in 2003, the Xiamen marathon is held in January every year. One of China's premier marathons, it has been recognized as a Gold Label Road Race by the Monaco-headquartered International Association of Athletics Federations (IAAF), and carries a top prize of $50,000. The aim is to upgrade to a Platinum Label Road Race by 2020.
He told Beijing Review the marathon is maturing and becoming more professional. "China's marathon organizers are providing more thorough services for runners," she said.
Michael Nishi, a member of the IAAF assessment team, said the marathon was over and above his expectations. "It has been a very good experience. Everything I saw today was a great event," he said on January 6.
The Xiamen marathon is also the first marathon event to be part of UN Environment's Clean Seas campaign to clear the oceans of plastic garbage. The marathon sent out a strong green message, providing biodegradable cups and barreled water to cut down on the use of plastic.
The Clean Seas campaign, started in February 2017, urges governments to pass plastic reduction policies and industries to minimize plastic packaging and redesign products. It calls on consumers to change their plastic throwaway habits before irreversible damage is done to our seas.
(Reporting from Xiamen)
Copyedited by Sudeshna Sarkar
Comments to linan@bjreview.com