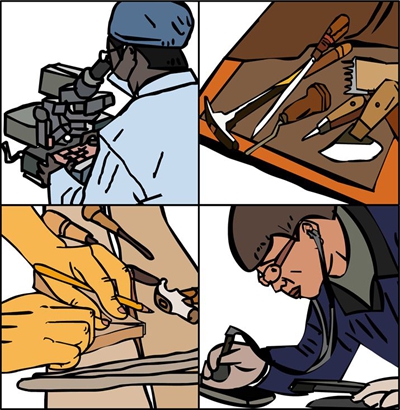 (LI SHIGONG)
In the 2016 Government Work Report delivered during the Fourth Session of the 12th National People's Congress, China's top legislature, held in Beijing in March, Premier Li Keqiang put forward the concept of "craftsmanship." This was the first time that this concept had been mentioned in the report, the most important government document released each year.
Li said that China should encourage enterprises to use custom and flexible production processes and to foster a craftsmanship spirit of creating high-quality products their makers are proud of, so that China can create and improve both its products and brands. Currently the country's manufacturing industry is big but weak when it comes to innovation. Carrying forward the spirit of craftsmanship will propel China from a manufacturer of quantity with a focus on mass production, to a manufacturer of quality with a focus on tailor-made products and services.
What does the concept of craftsmanship mean? Why is it important for China's industry as well as broader aspects of the economy and social life? How can China manage to grasp the spirit of the craftsman and apply it to overall economic and social improvement? A selection of opinions published in Chinese media follows:
Zuo Ya(People's Daily): Today, too much "just so-so" exists in China's manufacturing area. China's output of about 220 industrial products ranks first in the world. However, when it comes to quality, products made in China are seldom seen among international brands. Most Chinese products are sold in low- and middle-end markets. The fundamental reason is the lack of a craftsman's spirit.
This lack of spirit leads to a big gap in competitiveness in the market. In the short term, a poorly made product demands constant polishing, costing a large amount of human resources while squeezing the profit margins. In the long run, the poor reputation of these products will inevitably prevent enterprises from raising the added value of their products and hamper the transformation and modernization of the enterprises.
The craftsmanship issue was mentioned in this year's Government Work Report, and this proposal has hit the point. From Japan's light industrial products, to Germany's sophisticated machinery and to Switzerland's premium watches, craftsmanship has brought huge economic benefits and injected strong vitality to these countries' manufacturing sectors. The global financial turmoil has persuaded countries to put more emphasis on quality, and if it wants to secure a footing in the worldwide market for high-end products, China must see the urgency to nurture the tailor-made model.
Where does craftsmanship come from? It first comes from a "serious attitude" toward manufacturing products. Market competition has always hinged on the quality of the products themselves. During periods of rapid economic growth, colorful ads might be able to attract quite a number of consumers; however, the final winners will be the enterprises that manufacture competitive products. For years, many Chinese enterprises have tended to focus only on the expansion of business, ignoring the quality of their products. As a result, due to poor design and quality, Chinese products are often outperformed by Japanese and German products on the details.
Today, the Chinese economy has entered a "new normal" characterized by slower growth. It's becoming increasingly difficult for businesses to make profits by expanding the manufacturing scale. Consumers' requirement for product quality, however, keeps rising. Enterprises that do not focus on the sophistication of products will be swept aside sooner or later.
Of course, the corporate culture of pursuing perfection will not come into being overnight. Take the customizing of a wardrobe for example. If there are detailed criteria for a finished product set and followed before it reaches the customer, there will be few flaws in the wardrobe.
Nurturing craftsmanship also depends on support from a sound external environment. The precondition for the building of craftsmanship culture is a large number of excellent technicians trained in a variety of enterprises. Thus, there should be a good system that can attract more and more highly qualified artisans. Only when intellectual property rights are put under proper protection, and counterfeit makers are severely punished, can we expect to see a strong driving force for innovation and economic efficiency in this regard.
Actually, China already has the foundation for nurturing a craftsmanship spirit. Traditionally, the country boasted master craftsmen. Besides, the knowledge and pride in design and construction have been passed down in a wide range of sectors, including large industries such as aircraft and rocket production. China is now faced with an opportunity to do more. As Chinese consumers are increasingly turning to higher-end products and services, high-quality craftsmanship will help a company gain a greater market share and generate more profits. We hope to see fewer and fewer "just so-so" and more and more national-level craftsmen.
Qin Xiaoying(China Youth Daily): Premier Li asked why China is still incapable of producing the balls of ball-point pens at a meeting on addressing the overcapacity of steel and coal industries in early January. Is it possible for a country that is able to make rockets, satellites and warships to fail in producing such a small component?
The reality is that China does have to import the balls of ball-point pens. What has led to this strange situation? The key is nothing else but the lack of a craftsmanship spirit, that is, the spirit to pursue the best, or rather, perfection. If this spirit was embodied by everyone in their attitudes toward their profession and related ethics, the Chinese would achieve a lot more.
To a large extent, various supply-side problems evident during the economic transition period could be solved through the adoption of a craftsmanship mindset in various social and industrial sectors. Equipped with this spirit, the kind of excellent quality and innovation would become achievable in the process of industrial, product and technology modernization. When Chinese products are made on the basis of craftsmanship, Chinese consumers' demand for the high quality and diversity of products will also be met.
Yes, it is always easier to say than to do. To make workmanship deep-rooted in various aspects of China's economic and social life is by no means an easy job. By "deep-rooted," I mean to make the crafting spirit the inner character of the Chinese. To achieve this goal, there must be lasting and unremitting efforts.
Moreover, money worshipping and the urgency for people to make money swiftly constitute a serious roadblock of building an innovation-led economy. Flippancy, greed and speculation are the enemies to the principle of pursuing the best and taking pride in the quality of one's work. From this perspective, we must first take forceful actions to prevent illegal money-making practices that totally disregard the importance of moral restraint and credibility. Meanwhile, we need a sound social environment that encourages the growth of craftsmanship.
Zhu Changjun (News.sina.com.cn): Chinese society is nowadays paying more and more attention to the quality of products. Take the overseas consumption of Chinese tourists for example. Outbound travelers have a huge consumption capacity. Even common daily products like electric toilet covers are pursued by Chinese buyers when overseas. Historically, the price was always considered as the most important factor when purchasing, and cheaper products tended to be favored by most Chinese consumers. The crazy consumption by Chinese tourists while in other countries, however, somewhat reflects the widening gap between product quality at home and consumers' real demand.
Good quality depends on enterprises' good work, which can be understood as the craftsmanship concept proposed in this year's Government Work Report. To some extent, Chinese consumers' rising taste for product quality is a good thing, which can force manufacturers to raise the quality of their products. The emphasis on craftsmanship not only refers to accurate and careful work, but also means to put quality first among the many production factors.
Of course, the emphasis on quality is inseparable from a market environment that stresses product quality. This in turn requires the government to offer greater encouragement and incentives. Policies should refrain from solely stressing business scale, but should increase the protection for intellectual property rights and innovation: There should be zero tolerance for counterfeit and poor-quality products.
It should be pointed out that the craftsman's spirit is not only necessary for the manufacturing industry, but should be advocated in society as a whole. The days of material shortages have been left behind and people's demand for higher quality is a natural change in the psychology of consumption. On the part of manufacturers, they should stop being satisfied only with quantity, but strive for precision and quality.
The public's demand for higher quality and customization will promote supply-side reform, while the reform itself may further increase quality standards. This will give rise to a virtuous circle and finally improve the whole society's character.
Copyedited by Mara Lee Durrell
Comments to yanwei@bjreview.com