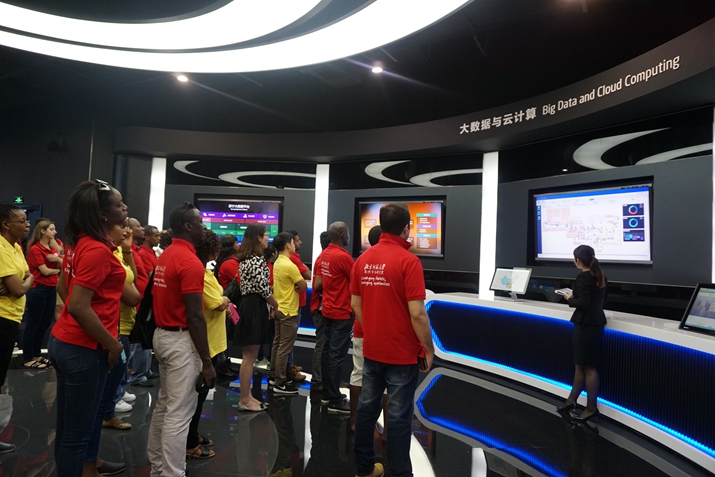 Students in the international MBA program of Peking Normal University learn about the Suning Commerce Group at its headquarters in Nanjing City, Jiangsu Province (XU TING)
Gazing at her own image projected onto a big screen the size of a fitting room mirror, Kyalisiima Prisca from Uganda could hardly believe her eyes. Simply by pointing her fingers at the small images of clothing items displayed at the sides of the screen in front of her, she could see herself in the "mirror" dressed in the selected clothes.
She was amazed at the technology, which allowed her to see the visual effect of various outfits without the trouble of putting them on.
Prisca is a student in the international MBA program of Peking Normal University. She experienced the technology during a visit with classmates on June 14 to the headquarters of leading electronic appliance retailer Suning Commerce Group in Nanjing City, capital of east China's Jiangsu Province.
At Suning's base, a cluster of stylish buildings in which about 10,000 people work, the MBA students were amazed at the avant-garde character of the company's technology.
Suning has kept up with the times by constantly adopting new business models and cutting-edge technology. The company has research and development centers in Beijing, Shanghai and Nanjing.
Founded in December 1990, it started out by selling air conditioners. In its second decade, it grew into a home appliance retail chain. In recent years, it has embraced e-commerce and branched into other industries such as real estate, finance and culture.
Now the company operates over 1,700 stores in more than 600 cities in China and elsewhere.
Transformative growth engine
This year's Central Government work report stated that "innovation is the primary driving force for development and must occupy a central place in China's development strategy."
While delivering the work report in March, Premier Li Keqiang said "We need to move faster to develop new technologies, industries, and forms of business, boost the development of a sharing economy through institutional innovations, create sharing platforms, and develop emerging industry clusters, such as hi-tech and modern service industry clusters, thus creating strong new engines."
Encouraging progress has been made in structural adjustment. According to the work report last year, the share of China's GDP contributed by the service sector rose to 50.5 percent, for the first time accounting for more than half of the total. Consumption's contribution toward economic growth reached 66.4 percent, and hi-tech industries and equipment manufacturing grew faster than other industries.
After the global financial crisis in 2008, China accelerated the transformation of its economic model to deal with the economic "new normal" of slower growth.
In the 2015 government work report, Premier Li highlighted the "twin engines" driving development—popular entrepreneurship and mass innovation in combination with increased supplies of public goods and services.
Li also mentioned the Internet Plus action plan, which integrates mobile Internet, cloud computing, big data and the Internet of Things with modern manufacturing to help companies increase their international competitiveness.
In May 2015, the State Council unveiled Made in China 2025, a plan designed to transform China from a manufacturing giant into a world manufacturing power.
Smart manufacturing lies at the heart of the plan, which prioritizes 10 key sectors: new information technology, numerical control tools and robotics, aerospace equipment, ocean engineering equipment and hi-tech ships, railway equipment, energy-saving and new-energy vehicles, power-generation equipment, new materials, medicine and medical devices, and agricultural machinery.
To implement these national initiatives, Nanjing City encourages its businesses to be innovative and has launched programs to spur entrepreneurship and attract talented people.
Innovating business model
Innovation is the driving force of development, said Zhang Jindong, Chairman of Suning. Zhang is a member of the Chinese People's Political Consultative Conference. He made this remark in March while attending the annual session of the top advisory body in Beijing.
From 2009, Suning began to shift its business model from brick and mortar electric stores to both an online and offline retail company.
The company has surveyed customers, with offline customers reporting better product experiences, and online shoppers saying that they enjoy the more convenient payment method and richer product choice.
Now the company's online platform sells a wide variety of products, ranging from household appliances to baby products. In August 2015, it partnered with e-commerce giant Alibaba Group, which acquired 19.99 percent of Suning's stock to become its second largest shareholder. Suning holds 1.09 percent stake in Alibaba as part of the deal. The marriage with the e-commerce giant is expected to boost Suning's online presence.
Suning uses big data technology to make marketing and distribution more precise. A gigantic screen mounted on the wall of a spacious display room at its headquarters shows "Suning Commerce Live," the company's real-time online membership and sales data, such as the day's best-selling and most-viewed products, members' preferences, and whether people entering Suning's physical stores are already registered members.
"Big data technology makes the invisible visible," said Kasun Abeysinghe, a civil engineer from Sri Lanka.
Logistics is the core competitiveness of retail development, the company believes. Suning has established a storage, transport and distribution network across China. Utilizing Internet of Things (IoT) technology, the company has set up high-density storage facilities, as well as automatic picking and efficient distribution systems.
When an order is received, the product can be automatically collected by a robot from the storage shelf, put onto a conveyor belt and readied for shipping to other cities.
Suning also uses IoT technology to offer custom-made, smart-home solutions, which enable people to control household appliances with voice commands. The phrase, "I'm going to work," for example, can be used to turn off all devices, and even while away from home, people can control household appliances remotely.
Now the company provides customers and enterprises with various financial services, such as third-party payment, wealth management, consumption finance, enterprise loan, crowd funding and insurance selling. Big-data technology makes such services more efficient and convenient.
In recent years, Suning has hired a large number of professional managers and technical personnel to facilitate its transition into a both online- and offline-based retail company. In line with the transition, the company has also updated its organizational structure and changed its management style from one based on military culture to a liberal style which suits an Internet company better, said Meng Xiangsheng, a human resources officer at Suning.
Pursuing excellence
While Suning is embracing new technology, another company, Nanjing TICA Air-Conditioning, is pursuing excellence through innovation. The words "We are always pursuing excellence" are etched on a huge stone at the company's entrance.
The company specializes in the development, manufacturing, sale and service of central air-conditioning systems and refrigeration. The company has four factories located in Nanjing, Tianjin, Guangzhou, and Kuala Lumpur in Malaysia.
"Many of TICA's technologies are self-developed," Liang Lujun, the organization's marketing support director told Beijing Review.
He said the company has invested 3 percent of its annual sales revenue in research and development. It has a research center based in Osaka, Japan.
The company's research and development base, located in the Nanjing Economic Development Zone, boasts over 20 leading laboratories for developing and testing air-conditioners.
At TICA's noise testing laboratory, after the gigantic door was closed, the hubbub of the plant was shut out, leaving the room almost in complete silence save for the humming of the air conditioner being tested. The test is designed to make sure that an air conditioner runs very quietly.
A workstation for academicians has been set up in the company. Tao Wenquan and He Yaling, two scholars specializing in heat transfer, have been invited to the station to advise the company's technical work.
According to the company, TICA air conditioners have been installed in the mass transit systems of major cities including Beijing, Shanghai, Guangzhou and Shenzhen. They have also been installed in important places such as Zhongnanhai, where China's top leaders work, the Great Hall of the People, and the National Stadium.
Copyedited by Chris Surtees
Comments to wanghairong@bjreview.com