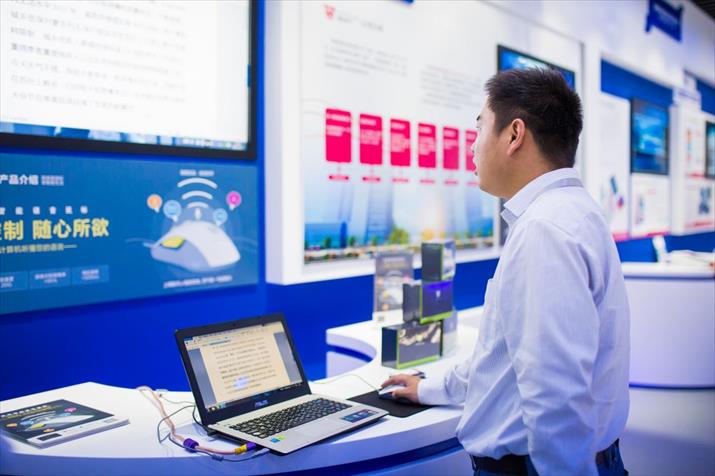 Cui Zijing, a market manager of Anhui MiMouse Technology Co. Ltd., demonstrates an intelligent speech mouse capable of converting speech into text in Hefei, Anhui Province, on June 13 (ZHENG LIANG)
In an exhibition hall in Hefei, capital of Anhui Province, a group of visitors were amazed as former U.S. President Barack Obama's baritone issued out of an LED screen and he was speaking impeccable Chinese!
"With the help of Hyper Brain, I have learned to speak Chinese," he proclaimed.
While the audience stood in awe, their guide explained to them that it was not really the voice of Obama, but one synthesized using Chinese information technology company iFLYTEK's Hyper Brain intelligent voice technology.
Besides the intelligent speech system, a whole gamut of cutting-edge technology is also showcased in the exhibition hosted in the Institute of Advanced Technology at the University of Science and Technology of China (USTC). They include unmanned aerial vehicles, ionic medicine, robots that can write Chinese characters, new-energy vehicles, grapheme, a transparent and conductive thin film, and other high technology developed by companies located in Hefei.
Since time immemorial, Anhui in east China has nurtured countless statesmen, imperial officials, inventors and thinkers. In 1978, farmers from Xiaogang, an impoverished village, led the country to implement the household-based contract responsibility system, which triggered later rural reforms.
Anhui has now become the vanguard of entrepreneurship and innovation. In 2016, it ranked ninth in regional innovation capability among the 31 provincial-level administrative regions on the Chinese mainland, up from 15th place in 2010, according to a report by the Research Group on Development and Strategy of Science and Technology of China. Four achievements of the province have won top national science and technology awards.
In the recent decade, the output of hi-tech enterprises with annual turnover of at least 20 million yuan ($2.9 million) has registered double-digit growth.
Hefei made international headlines when QUESS (Quantum Science Satellite), the world's first quantum communications satellite, was launched in August 2016. The achievement, paving the way for secure communication that can't be hacked, is the result of the work of a dedicated team of scientists led by USTC's Pan Jianwei.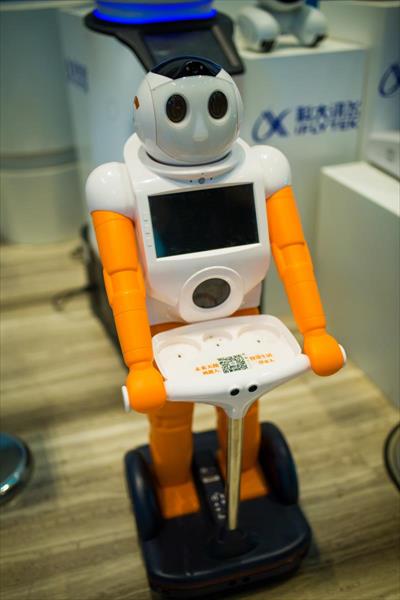 Xiaoman, a robot developed by information technology company iFLYTEK (ZHENG LIANG)
An innovative drive
With a new technological and industrial revolution rapidly unfolding worldwide, President Xi Jinping has highlighted the need to embrace innovation.
"We must use new engines to nurture new forms of development. We need to rely on innovation and increase our potential in order to upgrade our industrial sectors," Xi said while visiting the USTC on April 26, 2016.
Xi urged researchers and scientists for greater achievements. "China's complete reliance on foreign technological innovation is unsustainable," he said.
China has made considerable headway in science and technology in the last five years, as innovation is "the fundamental approach to breaking the bottleneck in China's economic development," according to Xi.
In this respect, Anhui has already taken the lead and raised the bar for an innovative economy.
As early as 1993, the State Council, China's cabinet, authorized the creation of the Hefei Hi-Tech Development Zone and four years later, a special technological development park was opened. Over the years, this zone has grown into a major science and technology hub and a prominent business and research incubator. In 2001, Hefei became a member of the World Technopolis Association, an international non-governmental organization working to harness technology for regional development.
Particularly, the Hefei University of Technology and USTC, both key national universities, have produced countless research centers and laboratories in numerous scientific fields.
The pace of development accelerated in 2013 when Anhui became the second innovative pilot province under the aegis of the Ministry of Science and Technology.
In February 2016, the Hefei Comprehensive National Science Center was established. Second only to its counterpart in Shanghai, the center has become a major platform in scientific and technological innovation in China, opening a new chapter in Anhui's innovative development.
Later that year, the State Council approved the creation of an independent innovation experiment zone in the Hefei-Wuhu-Bengbu National Hi-Tech Zone comprising Hefei and its two neighboring cities. This initiative aims to develop a strategic emerging industry cluster and promote mass entrepreneurship and innovation. In 2016 alone, 11 national engineering laboratories and research and technology centers were established in Anhui.
In the first quarter of 2017, Anhui was at the forefront of economic growth in China with a nominal GDP increase of 9.6 percent. Innovation is now geared toward both domestic and international markets, with emphasis on the integrated development of the Yangtze River Delta and the outside world. Anhui, as part of the Yangtze River Delta Economic Zone, is also striving to become a major innovation hub and an important growth driver in the region along the Silk Road Economic Belt and 21st-Century Maritime Silk Road, collectively known as the Belt and Road Initiative.
Voice of innovation
In an exhibition hall of iFLYTEK, visitors can exchange words with Xiaoman, a round-headed android developed by the company. Xiaoman can locate its interlocutors, recognize their face and interact with them. The robot is already used in financial services such as private banking and asset management.
One of Anhui's significant technological feats in innovation has been achieved in speech processing and voice recognition and iFLYTEK is a leading company in this field.
Standing in front of screens mounted on the wall, iFLYTEK's Vice President Xu Yulin explained that the information displayed was real-time data on online users employing their applications. He said his company, with a market value of 40 billion yuan ($5.8 billion) and staff of more than 10,000, has won many accolades in international voice recognition competitions.
Technological advances of iFLYTEK are being capitalized on by a number of companies.
Anhui MiMouse Technology Co. Ltd. is one of them. The company has commercialized MiMouse, an intelligent speech mouse capable of converting speech into text at a speed of 400 words per minute.
Cui Zijing, a representative of the company, explained that MiMouse's speech-recognition accuracy is close to 95 percent and recognition time under 1 second.
"MiMouse is not your typical software-operated mouse. It has been developed to fit the concept of Internet Plus (the agglomeration of traditional Internet, cloud computing, big data and the Internet of Things in various economic sectors) and has radically transformed the way we traditionally use a mouse," Cui said.
During a demonstration, Cui invited onlookers to try out MiMouse and assess its accuracy. Almost immediately after a text was read out, the Chinese characters for it appeared on a computer screen. It could be translated into English by just clicking the mouse. MiMouse can replicate the feat in 26 languages.
"MiMouse can also follow oral instructions and operate a computer with the same accuracy," Cui added. Only two years after moving to China Speech Valley in Hefei, MiMouse has gone from strength to strength. "In January alone, we received over 40 million orders," Cui said. "It may be a small product, but it's a very powerful tool."
China Speech Valley, an industrial park, is now home to more than 70 companies, including iFLYTEK.
Anhui Sinsun Information Technology is another company based in the industrial park. Banking on the concepts of Internet Plus and a mobile office, the company has developed a mobile office terminal the size of a mobile phone.
"You can use it for administrative purpose at the office, but also to record, transcribe and translate courses, conversations or audience hearings," said Liu Yifang, the company's representative. Its speech processing capacity in different languages and Chinese dialects is astonishingly accurate, considering the variety of accents, spelling and prosodic differences as well as the speed of speech in any natural language.
Copyedited by Sudeshna Sarkar
Comments to wanghairong@bjreview.com