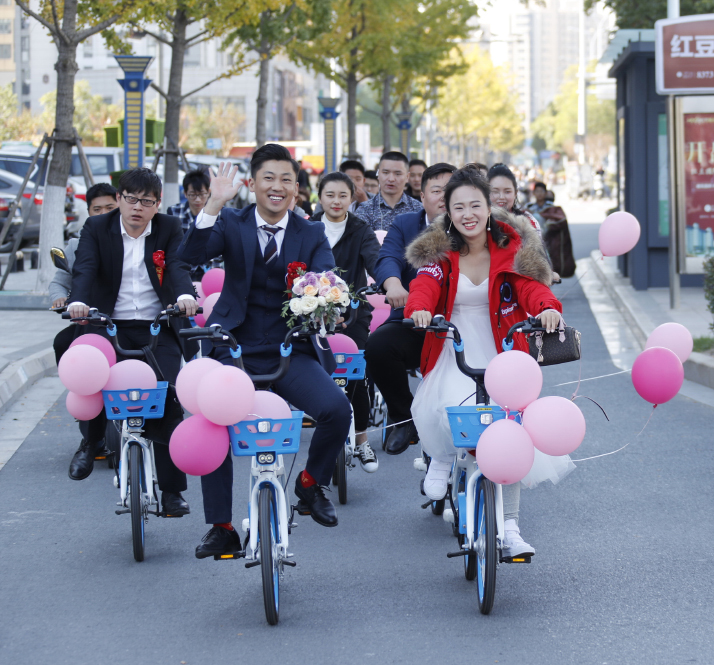 A couple uses shared bikes instead of cars on their wedding day in Huaian, east China's Jiangsu Province, on October 27, 2018 (XINHUA)
Zheng Tiantian and Ren Guoqing had three wedding ceremonies in 2018. One was in her hometown in Hebi City, central China's Henan Province; one in his hometown in Juxian County, east China's Shandong Province; and the third was in Shandong's Qingdao City, where the two work at a public institution.
"It's quite common to have more than one wedding ceremony for couples like us who are from different cities. On some occasions, if the newlyweds work for different companies, they even have two banquets for each side of their colleagues," Zheng told Beijing Review.
The three wedding ceremonies cost the couple about 70,000 yuan ($10,000), which is equivalent to over three months of their combined income.
"A wedding is one of the most important events in a person's life, so it is natural for people to feel like they want to make it big and good, as long as it is within their financial capability," she said.
However, there are people who go to the extreme and squander money on wedding ceremonies as a way of showing off or satisfying their vanity. More and more people are concerned with this trend and are calling for reform of marriage customs in order to curb wastefulness in weddings.
"We should improve the current system of marriage customs so as to help promote marital harmony and social stability," Wang Jinhua, Director of the Social Affairs Department of the Ministry of Civil Affairs, said at a symposium on marriage custom reform in November 2018.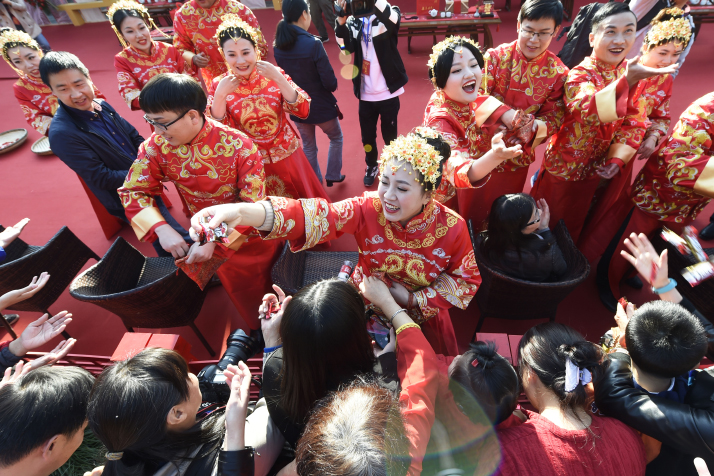 Newlyweds throw wedding candy to guests at a group wedding in Hangzhou, east China's Zhejiang Province, on November 9, 2018 (XINHUA)
Abandoning outdated customs
In China, a marriage is legal only after the pair registers at a government office. This is often coupled with a traditional ceremony at a private wedding banquet attended by friends and extended family, before or after the registration, depending on specific customs in different regions.
During the banquet, the newlyweds give welcome speeches, express their love for their families and each other, and exchange wedding vows and rings in front of the guests, with everything presided over by a wedding emcee. At the same time, guests are served a several-course meal. Throughout the feast, the bride and groom walk around the hall, attending to their guests' needs and making toasts. They may also enter and reenter several times wearing different outfits.
For Zheng and Ren, the ceremony in Qingdao mirrored the traditional ceremony and included about 100 guests. The ceremonies held in the couple's birthplaces were smaller banquets of about 50 people each attended by their families and close friends.
The couple started preparations many months before their weddings, including booking wedding halls, picking out dresses and suits, taking wedding photos and videos and making the guest lists. Zheng still remembers that she felt both grateful and extremely tired after their largest wedding party in Qingdao.
"I don't really like big weddings; it consumed too much energy and time, but we needed to do it mainly out of respect for our parents' wishes," she said, adding that her ideal wedding would have been small, intimate and memorable both for the couple and guests.
Wang He, who is preparing for her wedding of at least 300 guests in May 2019, feels the same way. "Although it's very troublesome, we will do it to honor our elders. Besides, everyone else does the same."
Zheng and Wang are typical young women who want to please their families, but are trapped in traditions that they feel are excessive and exhausting.
Officials and sociologists at the symposium addressed these issues, pointing out problems in current marriage customs. In some places, wedding ceremonies have become overly extravagant, turning into a competition among relatives and friends, which puts a heavy economic burden not only on the families of the bride and groom, but also their wedding guests.
Moreover, certain wedding traditions have even developed into vulgar customs during some ceremonies. For example, there is a tradition called nao dong fang, which consists of wedding games used to enliven the party. One of the most well-known games involves asking the newlyweds to eat an apple strung up by their friends without using their hands. Inevitably, their friends lift the apple so that the couple ends up kissing each other.
Lately, at some weddings, nao dong fang has become risqué games involving getting bridesmaids drunk and playing pranks on the newlyweds, undermining the joyful wedding atmosphere and sometimes leading to serious consequences. In recent years, there have been news reports of wedding ceremonies getting out of control, with some even involving scandals and tragedies.
Attendees at the November symposium suggested that people replace extravagant wedding ceremonies with simple, solemn marriage registration ceremonies that not only ease the economic burden on families, but also create a healthier marriage custom.
"Public education and publicity on innovative and economical wedding ideas and methods play an important role in changing outdated marriage customs," Xu Anqi, a researcher at the Institute of Sociology of the Shanghai Academy of Social Sciences, told South China Morning Post.
Open to other options
"People should accept diversified forms of weddings and place more importance on showing sincerity and love," Zheng said.
Many young people already have new ideas on weddings and marriage. Concepts such as group weddings and philanthropic weddings are gaining popularity.
Some even accept no wedding at all. A survey conducted by China Youth Daily in October 2018 showed that about half of the over 2,000 respondents would accept a "bare-bones wedding," or getting married without any major assets or a grand wedding ceremony. In addition, 92.8 percent had relatives or friends who had had a "bare-bones wedding." Main reasons for choosing bare-bones weddings included saving money, poor financial conditions and using the money for trips or shopping rather than spending it on an expensive wedding ceremony.
About 53.1 percent of the respondents believed a frugal wedding could change the extravagance of traditional wedding ceremonies, and 44.4 percent saw it as a positive trend compared to traditional wedding customs.
He Tingting and her boyfriend plan to have their wedding ceremony in March 2019. She's considering having it at a beach in a foreign country with only their four parents as witnesses.
"I just want to have a tiny wedding where our families share the happiness with us. That's enough," she told Beijing Review.
Copyedited by Rebeca Toledo
Comments to luyan@bjreview.com