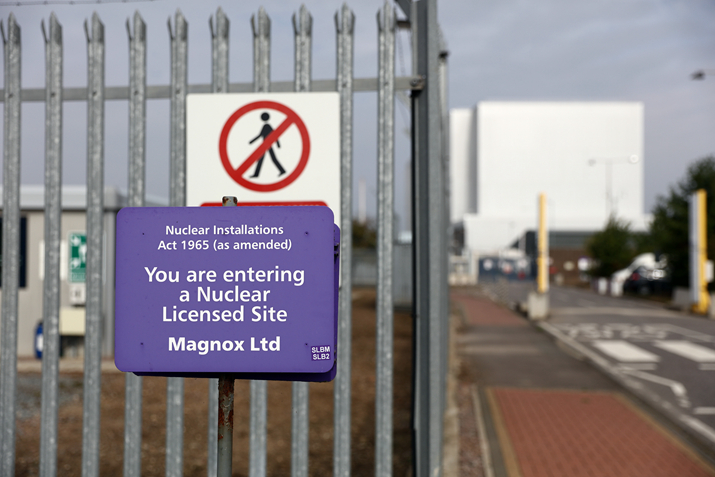 A Magnox Ltd. warning sign sits outside the entrance to the decommissioned Bradwell nuclear power station on the Dengie peninsula in Bradwell, U.K., on Monday, Sept. 19, 2016. The 18-billion pound ($24 billion) Hinkley project is one-third funded by state-owned China General Nuclear Power Corp., which signed a deal in October with Electricite de France SA at Sizewell and another at Bradwell, both on the eastern coast (CFP)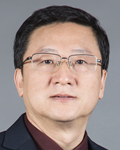 British national newspaper The Times recently published an article disclosing that the Japanese embassy in the UK last year engaged a think tank, the Henry Jackson Society (HJS), to voice opposition to Chinese foreign policy.
At the invitation of HJS, former British Foreign Secretary Malcolm Rifkind participated in the public relations exercise, according to the report, which was published on January 29 this year.
The report said the Japanese embassy, in a provisional proposal written in early 2016, intended to pay the think tank 10,000 pounds per month to deliver a "communications strategy" specifically aimed at engaging UK journalists and high-level politicians to focus on "the threat to Western strategic interests posed by Chinese expansionism." The proposal added that "as part of delivering the 'threat' message, we will have to counter the growing belief, particularly in the UK Treasury, that Chinese inward investment can provide the answer to the UK's infrastructure problems."
Undesirable effect
Strange as it may seem that a think tank as prominent as HJS would be willing to take on an assignment for such a small monthly stipend, what led a former British Foreign Secretary to join the campaign is even harder to comprehend. The embassy's motivation, on the other hand, is of course obvious: It is the Japanese authorities' inherent hostility toward the rise of China.
In October 2015, the China General Nuclear Power Corporation (CGN) partnered with Electricité De France Group (EDF) in an agreement to construct the UK's Hinkley Point C nuclear power station. Never before had one of China's state-owned enterprises participated in such a project in Europe, and sections of the UK media stirred up security concerns on the basis of China's perceived lack of credibility.
Rifkind confirmed HJS had asked whether he would be willing to put his name to a newspaper article expressing concern about China's involvement in the new nuclear plant. Typifying the kind of journalism more concerned with ratings than with objective analysis and balanced reporting, the article, "How China Could Switch off Britain's Lights in a Crisis If We Let Them Build Hinkely C," sought to whip up popular sentiment by speculating wildly that "no one knows what 'backdoor' technologies might be able to be introduced into the building of the power plant." Other reports, equating the business deal with "selling national security," quickly followed.
The ensuing media frenzy created such a furor that the project was temporarily suspended. After several twists and turns lasting a couple of months, the deal eventually moved forward. As a repercussion, though, the obsessing over security embedded more firmly in the minds of many Europeans the idea that China's growing economic, political and military powers pose threats that somehow need to be addressed.
An embarrassing embassy
Generally speaking, embassies of foreign states are supposed to handle political, economic, military and cultural relations with the government of their host nation. The Japanese embassy in the UK, however, has overstepped the mark in employing a foreign agent as a mouthpiece to try to influence the British Government and its people. Meanwhile, the extent to which Japan engages in such money-for-allegiance PR activities elsewhere around the world remains unknown.
It is no secret that contemporary conflict between China and Japan is rooted in recent history. Beginning in the late 19th century, Japanese imperialists wreaked havoc throughout Asia for decades, especially in China, causing immeasurable suffering to tens of millions. However, Japan has not only failed to formally and sincerely apologize to the people of China, but in recent years has even tried to glorify its aggression in its history textbooks.
Fear of China's rise is the main factor underlying the Japanese Government's intransigent attitude toward the country's history of invasion. In the wake of three decades of rapid economic growth, China has leapfrogged Japan to become the world's second largest economy, and the gap is gradually widening in tandem with the rising capabilities of China's companies. Concomitant with its ballooning economic influence, China is also growing into a global political and military power.
China's development, therefore, greatly concerns Japan, especially its right-wing politicians. Believing that power naturally begets hegemony and that China poses a serious threat, the Japanese Government is desperately employing every means at its disposal to try to contain its much more powerful neighbor.
President Xi Jinping's UK visit in 2015 sparked a China craze in the country and lifted bilateral relations to new heights. Former UK Chancellor of the Exchequer George Osborne also called for a "golden decade" of China-UK cooperation during his visit to Shanghai in 2015. Driven by fear of marginalization, Japan's Shinzo Abe administration therefore chose to wage a propaganda campaign against China via a third party in the UK.
Could it work?
As a result of Japan's invasion of China and atrocious mistreatment of its people--exemplified by events including the September 18th Incident, the Marco Polo Bridge Incident and the Nanjing Massacre of more than 300,000 civilians--responsibility for the poor state of relations between the two countries ever since World War II rests largely with the Japanese authorities.
China's transformation over the past century, however, means it now has the capability to confront any challenge, whether economic, political or military.
Unlike the example Japan set during the first half of the 20th century, China has relied for its development not on invasion and dominance of foreign countries, but on the assiduous endeavors of its people combined with foreign expertise. While China has progressed, its people have contributed substantially to the world's economy and its government has provided the world with a new, alternative approach to governance.
Increasingly, other nation states have recognized China's efforts and achievements, which resonates with a Chinese adage that "a just cause enjoys abundant support, while an unjust cause finds scant support."
President Xi Jinping's Belt and Road Initiative has attracted over 100 nations and made substantial progress in its initial stages; the Asian Infrastructure Investment Bank is running smoothly; multinational cooperation in projects such as Hinkley Point C has overcome hurdles and made headway; and top-level dialogues such as the G20 Hangzhou Summit in 2016 demonstrate that China is willing to share its ideas and proposals with the world.
Against this backdrop and in light of current economic realities, self-interested parties seeking to influence others with a view to impeding China's independent, just and inclusive development will more likely than not find support for their cause sorely lacking.
"The past is indelible, and the future is not set. We should take every step carefully as if we are proceeding from the very beginning," a famous Chinese poetry says. Despite suppositions to the contrary, China will continue to develop peacefully, and along the way, its contributions to the world will continue to grow.
The author is Editor-in-Chief of China.org.cn
Copyedited by Chris Surtees
Comments to liuyunyun@bjreview.com