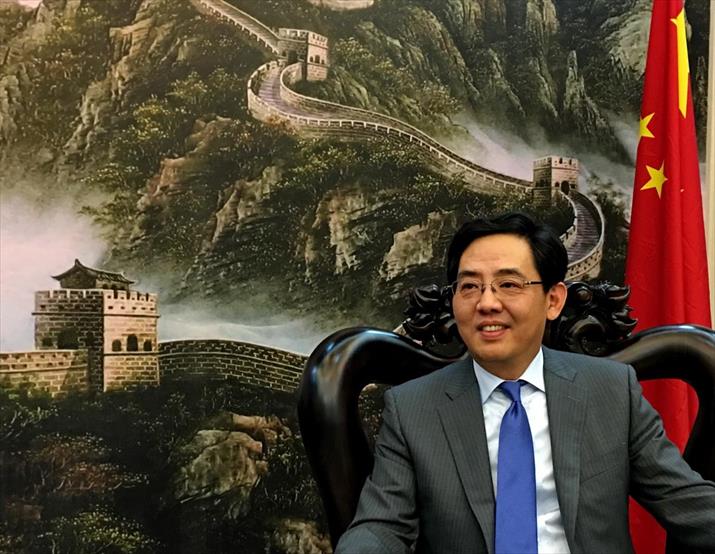 Chinese Ambassador to Viet Nam Hong Xiaoyong (FILE)
What benefits can the Silk Road Economic Belt and 21st-Century Maritime Silk Road Initiative, also known as the Belt and Road Initiative, bring to Viet Nam? How is China-Viet Nam economic and trade cooperation progressing? Ahead of the Belt and Road Forum for International Cooperation, reporters from China International Publishing Group (CIPG) jointly interviewed Chinese Ambassador to Viet Nam
Hong Xiaoyong
. Edited excerpts of the interview are as follow:
CIPG: So far, how have the two countries aligned their development strategies? What are the highlights of bilateral cooperation?
Hong Xiaoyong: Since being put forward in 2013, the Belt and Road Initiative has had a wide response from the international community, so has naturally attracted Viet Nam's attention. In November 2015, President Xi Jinping paid a state visit to Viet Nam, and early this year, General Secretary of the Communist Party of Viet Nam Nguyen Phu Trong visited China. During these top-level meetings the two countries confirmed they would align the Belt and Road Initiative with Viet Nam's "Two Corridors and One Economic Circle" plan. The relevant departments are now negotiating the documents specific to the alignment.
The two countries have also signed a memorandum on production capacity cooperation. This highlights the clear intention of the two governments to cooperate. As to specific cooperation projects, major headway and impressive achievements have been made as regards transportation, electricity, the manufacturing sector, and construction of industrial parks.
China Railway Sixth Group is constructing Viet Nam's first urban light rail, notable for its Chinese technology, capital, equipment and standards.
As to electricity, since commencement of its reform and opening up, Viet Nam has relied on China in this regard. Formerly buying electricity from China, the country now invites Chinese companies to build power plants in Viet Nam. The representative project is the Vinh Tan 1 Power Plant, constructed by the China Southern Power Grid, involving an investment of $1.8 billion. Upon completion, this project will considerably alleviate electricity shortages in south Viet Nam. The project has gained commendation and awards from the local government due to its high standards, strict observance of local laws and integration with the local community.
In the manufacturing sector, the Chinese private company Texhong Textile Group Ltd, which set up a branch in Viet Nam more than 10 years ago, is prospering, and has achieved effective localization. Apart from a few managerial staff members, the workforce consists entirely of local residents. Its factory in Bac Ninh Province is one of the biggest taxpayers in the region, and has provided jobs for more than 7,000 local residents.
Regarding the construction of industrial parks, the Long Jiang Industrial Park in south Viet Nam's Tien Giang Province, mainly invested in by Chinese private companies, has basically taken shape. Covering 54 hectares, it seats around 36 companies. Industrial parks are integral to promoting local employment and strengthening bilateral ties. Apart from attracting construction investment, they also draw companies to set up shops there, so as to boost foreign investment and generate revenue for the country. Construction of the China-Viet Nam (Shenzhen-Haiphong) Economic and Trade Zone is now in progress. Upon completion, it will achieve an estimated annual output worth around $1 billion.
With regard to the Belt and Road Initiative and the Two Corridors and One Economic Circle alignment, which problems need to be urgently addressed? What other sectors also have potential for cooperation?
At the macro level, the two sides need to map out a cooperation blueprint. The specific document necessary for the two sides to realize strategic alignment must be drafted after negotiation, and will play a guiding role in future cooperation. China and Viet Nam share a 1,500-km-long boundary, and Viet Nam's seven provinces border China's Guangxi Zhuang Autonomous Region and Yunnan Province. To boost border economy, the two sides are advancing the construction of cross-border economic cooperation zones instrumental to promoting bilateral connectivity.
Therefore, we need to accelerate the relevant negotiations and document-drafting process. China and Viet Nam have already achieved close cooperation. There are 1,500 or more registered Chinese companies in Viet Nam. Problems are inevitable during their operation. When dealing with them, it is imperative for the two sides to adhere to the principle of mutual understanding and mutual accommodation.
At present our two countries mainly cooperate in such fields as infrastructure construction, electricity, and manufacturing. After the macro blueprint has been introduced, many areas, such as the service sector involving telecom, e-commerce, logistics and finance, may realize their potential for cooperation.
How have people in Viet Nam responded to the Belt and Road Initiative? What benefits will bilateral cooperation under the Belt and Road framework bring to local communities?
The Vietnamese Government has shown support for the initiative, and expressed willingness to participate actively in it. Some people, however, have qualms, misgivings and doubts about the initiative, and are still discussing what benefits it might bring. Consequently they look forward to the Belt and Road Forum for International Cooperation. Vietnamese President Tran Dai Quang will attend the forum, and this will help these doubters understand the tenet of the initiative and the China-advocated principle of extensive consultation, joint contribution and shared benefits.
The forum will show them that aligning Viet Nam's development plan with the initiative, and their active participation in it, will bring much-needed benefits, such as improving Viet Nam's development level, boosting employment and improving its infrastructure.
The Vietnamese economy is export-oriented. Therefore, integrating with the world will advance the country's development. China is ahead of Viet Nam in this regard, due to having earlier taken the road of reform and opening up. Many people in Viet Nam believe their country can learn much from China's experience. Its close cooperation with China in such fields as manufacturing, agriculture, electricity and infrastructure is bound to raise development to a new level.
What progress is apparent in China-Viet Nam economic and trade exchanges?
Economic and trade cooperation is an important part of bilateral relations. China has been Viet Nam's largest trade partner for 13 consecutive years. And last year, Viet Nam surpassed Malaysia to become China's biggest trade partner in the ASEAN region, with a bilateral trade volume topping $98.2 billion. Throughout long-term trade exchanges, Viet Nam has been vexed by trade imbalances, in view of China's sizable trade surplus in this respect. Over the past two years, however, the problem has eased. Last year saw a 20-percent growth in Viet Nam's exports to China, while there has been a declining trend in China's exports to Viet Nam. In the first quarter of 2017, Viet Nam's exports to China increased a further 40 percent. The bilateral trade structure is thus becoming more balanced.
Investment is another important facet of bilateral economic and trade cooperation. China long held a ninth or 10th ranking among all investors in Viet Nam. But with the progress in bilateral ties, last year saw an impressive increase in China's investment in Viet Nam that took it to the eighth rank. This momentum increased in the first quarter of this year, bringing China to the second position in terms of investment increment among 38 countries and regions that have invested in Viet Nam. As an important link between the two countries, economic and trade cooperation has greatly promoted bilateral relations.
The trade imbalance between the two countries is actually a temporary problem, attributable to the market and to their different stages of development. Viet Nam is now greatly advancing its industrialization and strengthening its manufacturing sector. However, as spare parts and accessories cannot be produced locally, Viet Nam needs to import them from China. Mobile phone accessories are an example. Garment manufacturing is another. Viet Nam now has many garment factories, but still needs to import fabrics and printed and dyed textiles from China. But Viet Nam also exports locally produced clothes to other countries, which generates foreign currency. China mainly imports minerals, agricultural produce and industrial raw materials from Viet Nam.
What do you think about the role of China-Viet Nam cooperation under the framework of the Belt and Road Initiative in promoting China's relationship with ASEAN?
China's relationship with ASEAN is an important part of its neighborhood diplomacy. ASEAN is also an important partner for China's international cooperation along the 21st-Century Maritime Silk Road. Viet Nam is located in Central East Asia, bordering China. So China's cooperation with Viet Nam under the Belt and Road Initiative framework will be conducive to building consensus on the initiative among ASEAN member countries and expanding cooperation with them. Viet Nam's economy is on the fast track, and its position in ASEAN will inevitably continue to rise.
Moreover, the alignment between Viet Nam's Two Corridors and One Economic Circle plan and the Belt and Road Initiative will set a perfect example for other ASEAN countries. As Viet Nam is the only country in ASEAN with land and sea borders with China, it acts as a bridge connecting China and ASEAN.
Copyedited by Dominic James Madar
Comments to liuyunyun@bjreview.com