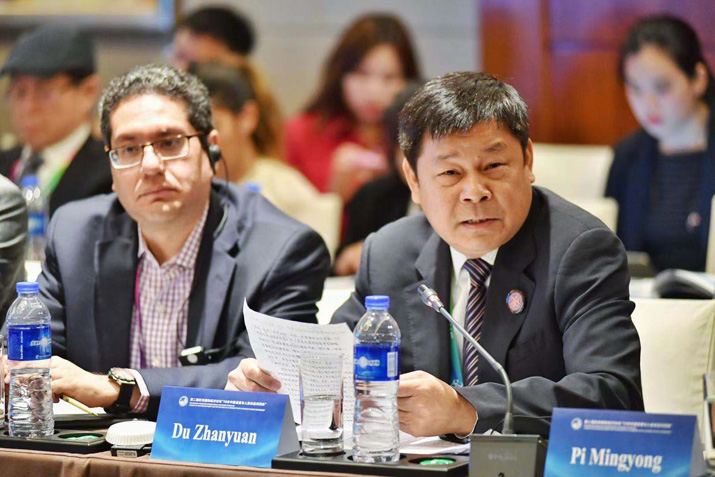 Du Zhanyuan (right), President of the China International Publishing Group, speaks at a panel meeting on November 6, 2019, on the sidelines of the Second China International Import Expo in Shanghai (WEI YAO)
More efforts are needed to improve the building of the global governance system and increase exchanges between cultures and civilizations, said Du Zhanyuan, President of the China International Publishing Group (CIPG).
He was speaking at a sideline event of the China International Import Expo (CIIE) in Shanghai on November 6.
With the changing global balance of power and increasing uncertainties, the world is seeking more synergized efforts in dealing with international concerns and problems, Du said.
Although Chinese and foreign sages in the past have developed many profound thoughts on national governance, there is a lack of theories on the governance of the world as a whole, which has posed a severe challenge to humanity, Du said.
To meet the challenge, more efforts should go into the study of values. "The essence of global governance is shared governance, which requires joint efforts through consultation, so as to bring benefits to all," Du said. "Therefore, multilateralism is the core value that global governance must uphold."
With the progress of science and technology, the world is faced with extreme challenges in climate, environment, ecology, etc. Global governance must tackle these problems to open more space for the future development of humanity, he stressed.
He urged all countries to give priority to the common interests of humanity rather than the interests of an individual country. "Otherwise, more conflicts will occur."
Think tanks play an important role in providing intellectual support to improving global governance. Du suggested more forums and communication platforms be organized to facilitate the exchange of ideas globally.
Dialogue between different civilizations is the foundation for reforming and improving the global governance system. As China's premier media and publishing organization, CIPG has been committed to introducing China to the outside world and facilitating cultural exchanges with other civilizations, Du stressed.
In recent years, CIPG has hosted a series of flagship media and cultural forums including the Beijing-Tokyo Forum and China-ASEAN Media Cooperation Forum to increase communications and friendship with other countries and address conflicts through dialogue and win-win cooperation.
Du said CIPG was willing to work with more international think tanks to increase understanding, and consolidate the foundation of dialogue between civilizations in building an improved global governance system and a community of a shared future for humanity.
Du made the speech at a panel meeting on the theme of "Consultation, Contribution, Shared Benefits and Global Governance," which was a supporting event of the Hongqiao International Economic Forum.
The forum has attracted over 4,000 representatives from Chinese and international think tanks, research institutes, universities, media organizations and businesses to discuss China's development in past 70 years and the building of a community with a shared future for humanity.
Comments to linan@bjreview.com