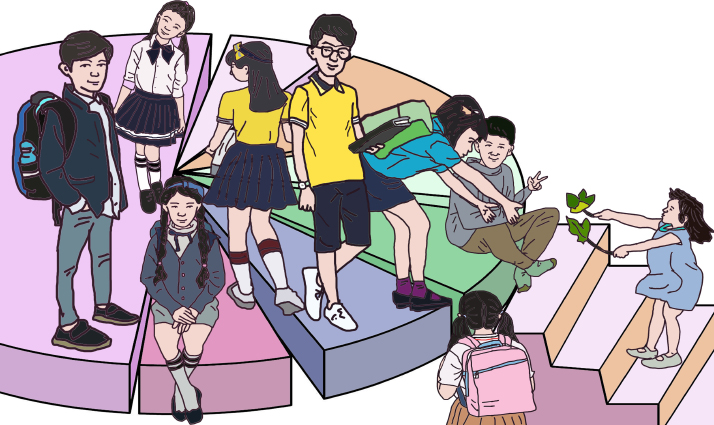 (LI SHIGONG)
The Ministry of Education recently responded to a proposal by the Chinese People's Political Consultative Conference that pre-school education should be included in the nation's overall compulsory education system. According to the ministry's reply, this proposal needs further consultations before reaching a final decision, as opinions differ widely across society and there are many difficulties.
While most hold that the last year of kindergarten, or even the entire three years, should fall under the compulsory education system, people believe that this goal can't be attained overnight, given the unbalanced economic and social development in the country. Furthermore, the fact that more than half of the kindergartens are non-state-run also adds to the complexity of extending compulsory education to the pre-school stage. Nevertheless, it's urgent to cut kindergarten fees, especially in non-state-run institutions, so as to relieve ordinary families of the huge financial burdens brought about by pre-school education.
A significant move
Xiong Bingqi (www.gmw.cn): There are continuous calls for stretching the current compulsory education up to senior high school and down to kindergarten. Given China's current education development, my personal view is to push the compulsory education system to cover pre-school education. As compulsory education should be inclusive, balanced and compulsory, the last year of kindergarten education should be first brought under umbrella. In some places, parents may not even send their children to the first two years of kindergarten.
Pre-school education is not only an important part of the country's overall national education system, but also a public welfare cause. To realize the aim of comprehensive pre-school education, the government needs to continuously ramp up its inputs into this specific stage of education. If it becomes part of the overall compulsory education system, investment in pre-school education will be better ensured, boasting a clearer plan. The current government input into pre-school education is unlikely to provide affordable and extensive kindergarten education to most pre-school children. Non-state-run kindergartens account for 56 percent or so of the country's kindergartens, putting huge financial strains on young parents.
The overall admission rate among pre-school children has seen a big rise compared with 10 years ago, thanks to higher governmental contributions to pre-school education at various levels. A decade ago, government spending on pre-school education accounted for only 1.3 percent of the overall spending on education, now it is 4 percent. However, there is still a big gap to fill before China builds up an inclusive pre-school education across the country.
Take Beijing, for example, in 2018, its government spending on pre-school education accounted for 10 percent of the total spending on education, much higher than the national level. To realize inclusive pre-school education nationwide, the proportion should be raised to at least 8-9 percent in China. In the developed world, the proportion is 7 percent. Given the current grim situation in China's pre-school education, the proportion for China should be a bit higher to catch up with the rest of the world.
How to reach this high level of input? The most effective method is to adopt pre-school education into the compulsory education system to make it the government's obligation to set aside a certain amount of funds for kindergartens. The admission rate for the last year in kindergarten has hit 99 percent, so it is possible for compulsory education to cover this year.
Currently, higher education and senior middle school education, both not classified as compulsory education, receive much consideration and effort from the state, striking a sharp contrast to its meager input into pre-school education. The reason is obvious. Senior middle schools produce college entrants and thus inputs at this stage will bear immediate fruit; in colleges and universities, investments can also produce research and academic results relatively fast. However, compulsory and pre-school education are unlikely to carry such benefits.
Pre-school education is elementary education, but its impact on a person's entire life is no less important. Nowadays, as a growing number of families are paying more attention to kindergarten education, pre-school expenses are rocketing, curbing the will of many young couples to have a second child, or even one. To increase the efforts in pre-school education, and bring it under the umbrella of compulsory education will not only enhance the overall education level, but also boost the country's birth rate.
More elements involved
Liu Haifeng (www.thepaper.cn): Pre-school education is an important period in a person's life. It leaves massive impressions on a person's intellectual and psychological development. A person who has received a relatively good pre-school education will have better prospects than those who have not. An all-inclusive pre-school education network can enhance the overall quality of a country. In this sense, it is a wise idea that China develops a long-term plan on including pre-school education into its compulsory education system. However, this goal has to be hit step by step, not overnight. For example, the last year in kindergarten should be the first one to be covered, then the last two years. Otherwise, the pressure will be too huge for education authorities and the state budget to make the compulsory education dream come true.
Guo Yuanpeng (www.sohu.com): The general view is that the trend to internalize pre-school education into compulsory education is an irreversible one. It takes time and should be pushed forward step by step.
Current difficulties facing the reform is that the financial capacity of different areas differs. Also, how should non-state-run kindergartens, which make up a big part of the total number, be dealt with?
Given these realistic problems, it is perfectly alright if pre-school education is currently not covered by the compulsory education system. Either way, the stratospheric fees charged by kindergartens must be first brought down. Kindergarten fees have been on the rise, weighing heavily on ordinary families and even dissuading many young couples from having children. Therefore, even if compulsory education does not cover pre-school children immediately, a cut in kindergarten fees should come first, no further delays.
Pre-school education, either state-run or non-state-run, is expected to be public welfare-oriented. For instance, in economically developed areas, education subsidies to kindergartens should be increased while in relatively poor areas, there should be a ceiling on fees. It is ludicrous to see that kindergarten fees at times exceed college fees.
Hu Zhengping (edu.163.com): The importance of pre-school education is self-evident. The earlier education starts, the higher its returns to society. Therefore, it is necessary to include pre-school education in compulsory education. Nevertheless, given the current national conditions, we still have a long way to go before compulsory education can benefit all pre-school children.
With legal and fiscal support as well as regulations, compulsory education is a kind of elementary, inclusive, and obligatory education. From these perspectives, the requirements for pre-school education to be part of the compulsory education system are still absent, because laws related to pre-school education are still in the making. Currently, access to education on elementary knowledge is not available to all pre-school children yet. Moreover, governments at various levels are still financially incapable of exempting families from most kindergarten fees.
Undoubtedly, it is necessary to cover pre-school education, but the viability remains questionable. Particularly so when children in state-run kindergartens account for less than 50 percent of the overall number in kindergartens across the country. Apart from financial difficulties, how to make non-state-run kindergartens part of the compulsory education system also remains a thorny issue.
To approach the final goal, the primary thing to do is to greatly increase input into pre-school education from governments at various levels and optimize the allocation of financial and human resources. Meanwhile, at the current stage, communities in places where conditions allow, as well kindergartens run by capable enterprises and organizations should also play an active role in operating public welfare-oriented and qualified kindergartens to expand the proportion of state and collective-run kindergartens, and pave the way for all kindergartens to transition into the compulsory education system.
Copyedited by Elsbeth van Paridon