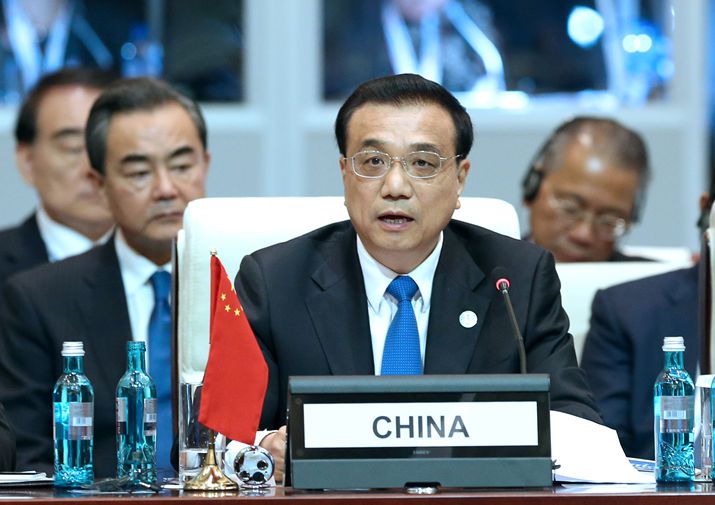 Chinese Premier Li Keqiang (front) delivers a speech during the 11th Asia-Europe Meeting Summit in Ulaanbaatar, Mongolia, on July 15(XINHUA)
The 11th Asia-Europe Meeting (ASEM) Summit concluded on July 16 in Ulaanbaatar, Mongolia, marking the 20th anniversary of the intercontinental mechanism. The forum is made up of 53 members, including 51 nation states as well as the EU and the ASEAN Secretariat.
As an intergovernmental forum centered on peaceful relations, ASEM aims to foster political dialogue, reinforce economic cooperation and promote collaboration in other areas of common interest. Nonetheless, the mechanism faces limitations in its role due to the rapidly changing international situation.
When a financial crisis swept Asia shortly after the establishment of ASEM in 1996, the impact on European countries was relatively minor. However, Asian countries cannot detach themselves from the ramifications of the European debt crisis and the possible impact of Brexit. After 20 years of globalization and the development of regional cooperation since the launch of ASEM, Asia and Europe have become more interdependent than ever before. Two-way trade and investment flows have become integral to the security, well-being, growth and development of both continents.
"Awareness is rising on both sides of how important Europe is for Asia and Asia is for Europe," ASEM senior official and Luxembourg's Ambassador to Thailand, Marc Thill, said in an interview with Russia's Sputnik news website. Against this backdrop, voices calling for the mechanism to be upgraded are on the rise, with connectivity a key theme of the latest summit.
Cui Hongjian, Director of the Department for European Studies at the China Institute of International Studies, claimed that no single country or region could address global challenges alone, therefore it would be necessary for ASEM to assume greater responsibility in regional and global governance and to forge a better community through strengthening interconnection and practical collaboration.
Connectivity is expected to play a decisive role in the future economic development of and cultural exchange within Eurasia, said Xu Jin, a researcher at the Institute of World Economics and Politics under the Chinese Academy of Social Sciences. Given the growing interdependence between the two regions, Asia and Europe cannot be treated separately in any area of ASEM activities.
Improving connectivity
During his keynote speech at the summit, Chinese Premier Li Keqiang called for an innovative approach to Asia-Europe cooperation, urging all parties to recognize the need to build a global community of common destiny and conduct dialogue accordingly.
Li noted that China's Belt and Road Initiative, which comprises the Silk Road Economic Belt and the 21st-Century Maritime Silk Road and is aimed at building a trade and infrastructure network connecting Asia with Europe and Africa along ancient trade routes, has received a favorable response from an increasing number of countries and has helped with local employment and economic development.
He also proposed the establishment of a connectivity working group under ASEM. Based on official documents of the Chinese Government, the Chinese blueprint aims to link China and Europe through Central and Western Asia, while also connecting China with South and Southeast Asian countries.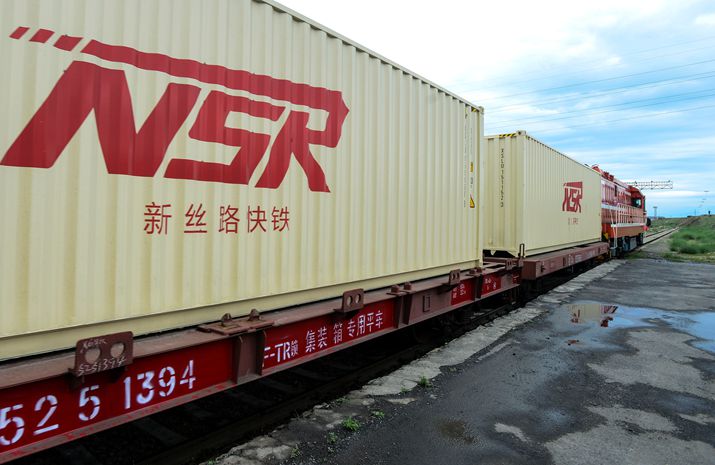 The first cargo train from Urumqi in China's Xinjiang Uygur Autonomous Region to Duisburg in Germany pulls out of a railway station on May 28(XINHUA)
The initiative combines technology, infrastructure, scientific innovation and finance to drive new growth in the world economy. As Premier Li stated in his speech, "Eurasia is a landmass that links the Pacific Ocean with the Atlantic Ocean. If we could build transportation, information and energy corridors spanning from its eastern end to its western periphery, half of the world would be connected."
Although significant progress has been made in transportation infrastructure between Asia and Europe, such as the launch of several railway routes from China to European countries, the demand for infrastructure upgrades to improve regional connectivity is still enormous and continues to grow.
China is prepared to make its due contribution to addressing these issues. In his speech, Li stressed that Asian and European countries need to review and identify priority areas to enhance connectivity. China is ready to make full use of the Asian Infrastructure Investment Bank and the Silk Road Fund as investment and financing platforms on which to explore flexible and diversified cooperation models.
It is believed that the initial phase of the Chinese initiative will be geared toward building basic infrastructure, a sector where China is well-positioned to provide engineering skills, construction experience, machinery and equipment as well as materials such as cement and steel, in the production, of which it has excess capacity.
The Chinese premier also explained how the country will work with other ASEM members to help spread innovation and development to new areas. China will host the ASEM High-Level Forum on Digital Connectivity and the ASEM Seminar on All-Dimensional Support to the Financing of SMEs, helping to open up new areas of cooperation.
During Li's Mongolian tour, the two countries agreed to dovetail China's Belt and Road Initiative with Mongolia's Steppe Road program. The Mongolian strategy is designed to boost the country's economy through trans-border transportation. Mongolian economists and officials believe the Chinese initiative will offer more opportunities for Mongolia to increase logistics and transportation through its territory.
Further development of ASEM
Many observers claim there is hope that ASEM, as the only comprehensive and multi-level trans-regional dialogue and cooperation mechanism, can be more dynamic and vibrant.
Ding Yifan, a researcher at the Development Research Center of the State Council, emphasized that improving the institutional mechanism and its influence are future challenges of ASEM.
Though it has over 50 members, ASEM is so far only a loose dialogue platform. Thus, the real achievements of ASEM are limited, and many of its consensuses remain on paper. ASEM can do much more by playing a more pivotal role than it has thus far in generating and disseminating new ideas about living and working harmoniously in a globalized world.
"Against the backdrop of rapid globalization and an urgent need of global and regional strengthening, if ASEM cannot have a clear focus and direction or conduct pragmatic cooperation, it may face the risk of being marginalized," said Cui. He added that ASEM needs to make full use of its resources and geographic advantages by improving and expanding its implementation mechanism.
When addressing the summit, Premier Li suggested ASEM adopt a new strategy to add fresh impetus to and public support for Asia-Europe cooperation. Cultivating a practical dimension that draws on common responsibility is vital for ASEM if it wishes to become more than merely a forum for dialogue. Fortunately, the Ulaanbaatar Declaration adopted at the recent ASEM Summit is committed to pushing forward the ASEM mechanism in an open and progressive way.
Copyedited by Dominic James Madar
Comments to yulintao@bjreview.com