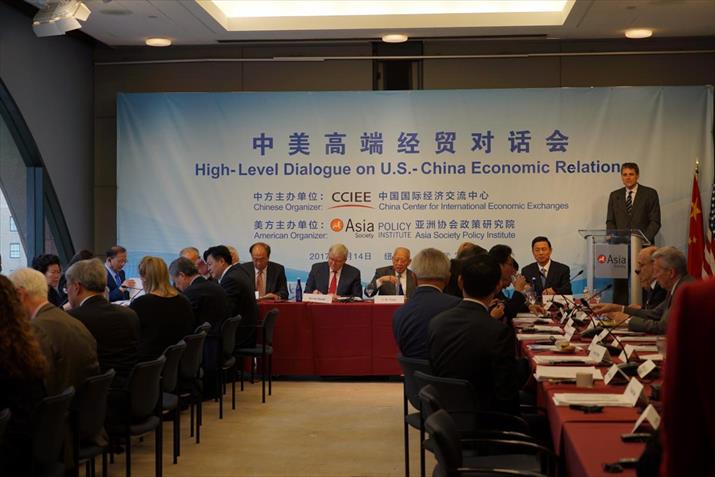 The High-level Dialogue on U.S.-China Economic Relations was held in New York City on June 14 (DING YING)
Following the landmark meetings in April between Chinese President Xi Jinping and his U.S. counterpart Donald Trump in Mar-a-Lago, Florida, Chinese and American think tanks are coming together to further the dialogue on bilateral economic and trade ties.
On June 14, the High-Level Dialogue on U.S.-China Economic Relations was held in New York City, jointly hosted by the China Center for International Economic Exchanges and New York-based Asia Society Policy Institute (ASPI). Over 30 scholars focused on three topics: the new common ground for cooperation, the 100-Day Plan since Mar-a-Lago and beyond, and U.S.-China cooperation in global economic governance.
The 100-Day Plan refers to an agreement between the two presidents to boost bilateral economic and trade cooperation within 100 days of their Mar-a-Lago meetings.
Practical approaches
Zhao Qizheng, former Minister of the State Council Information Office and dean of the School of Journalism at Renmin University of China, said Chinese scholars have shown their U.S. colleagues that they sincerely want to know the concerns in different industries and at different levels so as to provide practical approaches to boost bilateral relations.
Commenting on the huge opportunities and potential in China-U.S. economic and trade interactions, Zhao said, "People of both countries have benefited from this relationship."
Participants from both sides agreed that a stable and sustainable economic and trade link serves as the "ballast stone" of bilateral ties and that a strong China-U.S. relationship will benefit the whole world.
"We need to be very open about each other's motives and purposes, and share information more openly. Above all, we need to bear in mind that the ultimate purpose of working together is a better world and better relationship between our two countries," said Tung Chee Hwa, Vice Chairman of the National Committee of the Chinese People's Political Consultative Conference and ASPI's honorary councilor.
Although the general level of mutual understanding has improved in recent years, Tung said it is still not enough. "[Our] two countries are at different stages of development. Therefore, our needs are different. At this stage it is even more important to understand each other better, and to trust each other's goodwill and intentions more," he said.
The consensus was that strengthening investment cooperation would be a welcome way to balance Sino-U.S. economic and trade relations. A research report issued by China's Ministry of Commerce on May 25 suggests three methods of boosting Chinese investment in the United States: enhancing infrastructure construction cooperation; making both markets increasingly accessible; and reaching a bilateral investment treaty.
Since the launch of negotiations on the treaty in 2008, the two sides have held 34 rounds of talks, making significant progress.
In recent years, the United States has boosted investment in projects including bridges, subways, railways, pipelines, dams, airports and electricity facilities to upgrade aging infrastructure and create jobs. Trump has announced a $1-trillion proposal to boost investment in clean water, energy, power grids, telecommunications and national security.
Kevin Rudd, former Prime Minister of Australia and current President of ASPI, called bonding based on investment a long-lasting relationship like marriage. "The deeper the China-U.S. investment relationship is in general, [and] in infrastructure particularly, the better," he said.
Mentioning his personal experience of using New York's public transport, Rudd joked that he admired the patience of long-suffering Americans. "If it was in Australia, there might be a riot," he said.
Tom Nagorski, Executive Vice President of Asia Society, said investors should focus on "decent job creation" in the United States. According to an assessment by the American Society of Civil Engineers, if the investment in infrastructure is not increased, the United States would lose $1 trillion in annual revenue and 3.5 million jobs.
U.S. & the Belt and Road
On the sidelines of the dialogue, the Chinese delegation presented a newly released report—Building the Belt and Road: Concept, Practice and China's Contribution.
Talking about the "lukewarm interest" of the United States in the Belt and Road Initiative, Nagorski said leaving aside the U.S. Government's attitude, U.S. companies have shown a strong interest in joining Belt and Road projects.
Zhao Jinping, Director General of the Foreign Economic Relations Research Department of the Development Research Center of the State Council, said the initiative should be market-based. Direct investment from companies will be an important source of funding for projects under the initiative.
Rudd said investment cooperation would add momentum to relations between China and the United States. Before the Mar-a-Lago meetings, some people were not optimistic about the China-U.S. relationship, he said. "But the Mar-a-Lago meetings just proved the opposite." Exuding optimism about the relationship between the two countries in the future, he pointed out that Xi met with Barack Obama 26 times during the latter's tenure as U.S. president.
Two days prior to the high-level dialogue, Chinese and U.S. experts and scholars gathered in Des Moines, Iowa, to exchange views on China-U.S. relations, local cooperation and the prospects of the bilateral relationship.
(Reporting from New York City)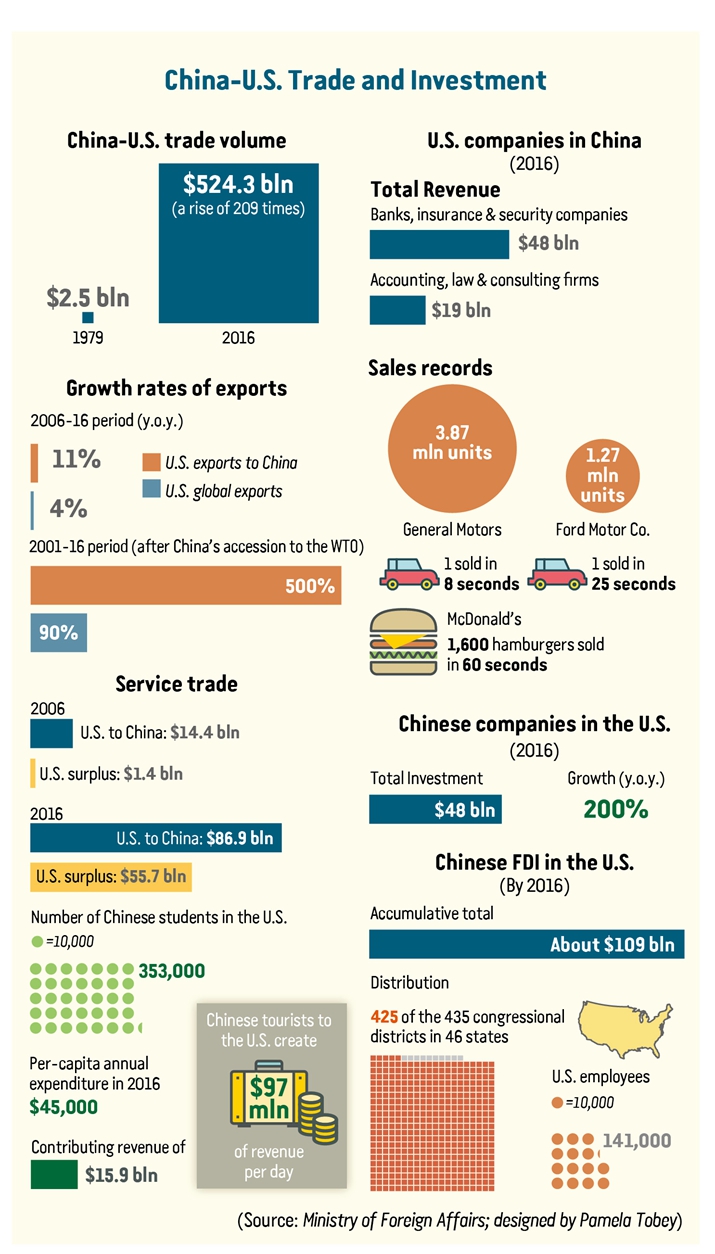 Dialogue Excerpts
Tung Chee Hwa, Vice Chairman of the National Committee of the Chinese People's Political Consultative Conference and Asia Society Policy Institute's honorary councilor
The Asian Infrastructure Investment Bank and the Belt and Road Initiative are huge China-proposed undertakings in which the U.S. is more than welcome to participate. This will be beneficial to all those who are involved in the endeavor. China does not wish to impose its system or values on other nations. The truth is that hegemonic aggression is not in the DNA of the Chinese people. At the height of the Ming Dynasty (1368-1644), when China had 30 percent of the world's GDP and a fleet of ships cruising back and forth along the maritime Silk Road, China never exhibited any aggressive intent to colonize or occupy territories. To the Chinese people, peace stands above all.
We can all take heart from the successful meetings between President Trump and President Xi in Florida. Although much still needs to be done, it was a positive beginning. It is a good omen that the relationship can move forward constructively under their watch.
Chen Wenling, chief economist at the China Center for International Economic Exchanges
China and the U.S. should find grounds of common interest for win-win cooperation. U.S. restrictions on hi-tech exports to China have actually motivated the fast development of related industries in China. Therefore, such measures have essentially restricted the expansion of the U.S. hi-tech market.
China now accounts for nearly 30 percent of the world's manufacturing with an improved manufacturing system. Under such circumstances, China and the United States can complement each other because value chains are now cross-border. We can make our competitive industries global value chains, as in the case of U.S. aircraft giant Boeing, which has several bases in China for components manufacturing.
Bi Jiyao, Associate Dean of the Academy of Macroeconomic Research
The 100-Day Plan is a solution adopted by the two sides as a way of producing an early harvest to address problems in bilateral trade and explore a flexible method for solving divergences comprehensively. China utilized the early harvest concept in the negotiations for the China-ASEAN Free Trade Agreement more than 10 years ago, and it proved practical for promoting economic and trade relations. Such flexible solutions also fit for trade relations between China and the U.S. It helps avoid the possibility of the two sides becoming trapped in a dilemma due to hard issues by creating a good environment of trading relations.
Zhang Yuyan, Director of the Institute of World Economics and Politics, the Chinese Academy of Social Sciences
The latest research indicates that the overall impact of the China-U.S. trade balance on employment in the United States is positive. What China has earned in trade went back to the U.S. and created more jobs.
The falling employment in the manufacturing sector in the United States in recent years is mainly due to the weak recovery of the economy. Meanwhile, manufacturing productivity improved at a faster rate, which is a historic trend. Policies that aim to only shrink the U.S. trade deficit are bound to damage U.S. employment.
Copyedited by Sudeshna Sarkar
Comments to liuyunyun@bjreview.com