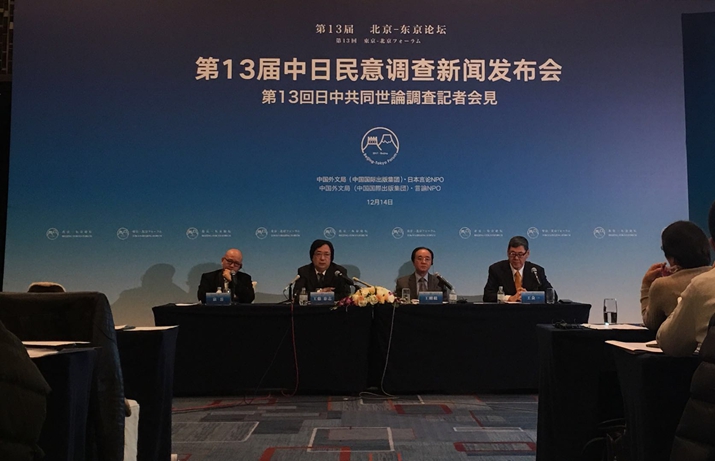 The results of the poll on Sino-Japanese relations conducted by CIPG and Genron NPO are released at a press conference in Beijing on December 14 (WEN QING)
Results of a recent poll show that China-Japan relations are improving gradually. The poll, conducted in both countries by the China International Publishing Group (CIPG) and nonprofit Japanese think tank Genron NPO, released its latest analytical report on December 14 in Beijing.
According to the report, participants' impressions on each other's country and perceptions of Sino-Japanese relations have both improved compared with the data from last year. People polled on both sides viewed peace and pacifistic development as the most crucial aspect of future bilateral ties. Their confidence about economic and trade relations between China and Japan had also increased.
Despite the overall improvement in public feeling regarding Sino-Japanese relations, mutually negative assessments prevail and people's support for increased official ties is weak. Wang Gangyi, Vice President of the CIPG, claimed that historical and territorial problems are the main obstacles to any meaningful future relationship between the two nations.
Comparing the data of the two countries, it is clear that more Chinese feel positively toward Japan than the other way round. For instance, 31.5 percent of Chinese participants admitted to having a positive impression of Japan, an increase of 9.8 percent compared with last year. The same data in Japan stood at just 11.5 percent, up by just 3.5 percent on the previous year. Following a similar trend, 22.8 percent of Chinese polled said that they view current bilateral ties are okay, up by 8.8 percent. In Japan, however, that figure was just 6.7 percent, showing an increase of 1.9 percent. Yasushi Kudo, President of Genron NPO, said the gap in the country's respective data was due to a general lack of understanding among Japanese about China.
Such questions look set to be discussed in greater detail at the upcoming Beijing-Tokyo Forum, a major platform for nongovernmental dialogue between China and Japan. It is likely that this kind of poll will generate a lot of interest, and has the potential to enhance mutual understanding as well as providing topics for discussion at the event.
Copyedited by Laurence Coulton
Comments to wenqing@bjreview.com