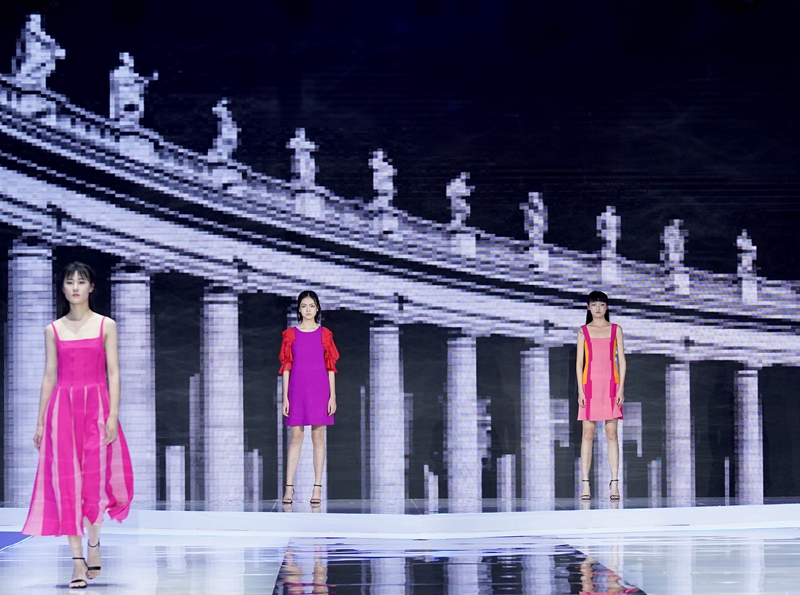 Models present clothes designed by Italian designer Roberto Capucci in Qingdao, Shandong Province, on November 29, 2020 (XINHUA)
Wang Jiahui, a 23-year-old student majoring in women's clothing design, has recently received a master's degree from Istituto Marangoni, a fashion school in Milan, Italy. Wang made the decision to travel there for a year of study as she sees Milan as one of the world's great fashion capitals.
"The fashion courses I took there have helped me unleash my creativity and learn about market demand. I hope that in the future I can make original designs that connect the vintage Italian style with traditional Chinese art," Wang told Beijing Review.
With fashion design as a common bond, China and Italy have developed close cooperation in recent years, despite geographical distance and cultural differences. Last year, in order to boost mutual exchange in fashion design and trade, the governments of Milan and the Keqiao District of Shaoxing, in east China's Zhejiang Province, jointly opened an exhibition hall of Italian clothing materials. The two governments built the exhibition hall together in Keqiao after signing an agreement to do so in September 2019.
Known as "Venice of the East", Keqiao District has a long history of textile production. The district has become China's largest gathering place for textile companies and also a global distribution center for textiles. According to Keqiao's local government, their cooperation with Italian designers is part of a plan to develop Keqiao into a Chinese hub of fashion and e-commerce.
Although the impacts of the COVID-19 pandemic continue to linger, exchanges between the two countries persist. On July 8, the China-Italy Youth Future Fashion Design Competition, hosted by Tsinghua University, Politecnico di Milano and the Keqiao government was initiated in order to collect works of Chinese and Italian designers. With "Tech for Fashion" as its theme, the competition is aimed at using technology to empower design, as well as driving China-Italy cultural exchange.
The year 2020 marked the 50th anniversary of the establishment of diplomatic relations between China and Italy. The competition is one of the major events held as part of the China-Italy Year of Youth Innovation and Entrepreneurship, launched last year by Tsinghua University and Politecnico di Milano.
"The competition is expected to improve mutual cultural understanding between Chinese and Italian designers. Italian design that maintains tradition while integrating the modern culture born in the industrial era is particularly worthy of research by our domestic designers," Su Dan, a professor with the Academy of Arts and Design at Tsinghua University, said at a press conference for the competition.
In addition to exchanges in the fashion industry, trade cooperation has increased between the two countries, which are also developing a higher degree of mutual understanding.
In a phone conversation between Chinese Foreign Minister Wang Yi and Italian Foreign Minister Luigi Di Maio in June, Wang said the trade volume between China and Italy increased by about 50 percent year on year in the first five months of 2021. Italy's exports to China increased by 75 percent over the same period, the highest growth rate among major European Union countries.
The increasingly open door of China is allowing many Italians to learn more about this country. Abebe Gasparini, an Italian born in the 1990s, traveled to Beijing to study Chinese at Tsinghua University in 2018. Gasparini told Beijing Review he has made many visits to China and can appreciate how much it has changed in just a few years.
"Because of Beijing's cosmopolitan atmosphere, for me it's as if being here makes anything possible. I can feel the sense of optimism toward the future. That is something missing in Europe at the moment," he said.
Looking into the future, as China and Italy face common challenges such as climate change and the pandemic, they continue to work toward building stronger cooperation. During a phone conversation held in March, Chinese and Italian leaders pledged to shore up cooperation in energy, aviation, economy, and trade and investment. The leaders also said the two countries would continue to promote cultural and people-to-people exchanges, especially by ensuring the success of the China-Italy Year of Culture and Tourism in 2022.
Copyedited by G.P. Wilson
Comments to lixiaoyang@bjreview.com