Panelists attend the forum via video link on March 10 (CICG AMERICAS)
'The friendship between China and Mexico, which has grown from generation to generation, has been strong and vibrant for more than 50 years. Both countries, as major developing countries and important emerging economies, are also at a critical stage of national development and rejuvenation, facing similar tasks and challenges, and offering each other development opportunities," Gao Anming, Vice President and Editor in Chief of China International Communications Group (CICG), said in his opening speech at the China-Mexico Cooperation and Development Forum on March 10.
The forum, hosted by the CICG Center for the Americas under the theme Sharing Opportunities and Building the Future Together, took place both online and offline.
"This year is the 10th anniversary of the establishment of the comprehensive strategic partnership between China and Mexico, and the beginning of the second 50 years of friendship," Li Yafang, President of the CICG Center for the Americas, said.
The two sides need to further identify and expand common interests to maximize the convergence of cooperation and development, and establish a model for inter-state cooperation, she added.
Mutual, modern blueprint
"If you want to establish yourself, establish others; if you want to prosper yourself, prosper others," Zhang Run, Chinese Ambassador to Mexico, said at the forum, quoting from the Analects of Confucius, a selection of the Chinese philosopher's sayings believed to have been compiled by his followers.
According to Zhang, Chinese modernization has features in common with the modernization of other countries and also unique characteristics based on its own national conditions. "It is a great innovation in the theory and practice of modernization for the world because of its progressive views on the world, values, history, civilization, democracy and ecology," he added.
Zhang stressed that the advancement of Chinese modernization breaks the myth that modernization equals Westernization and brings inspiration to the international community, especially other developing countries.
His words were echoed by Mexican attendees. "China is a role model for us in many ways. In the past few decades, China has lifted 770 million people out of absolute poverty, and China's poverty eradication policy provides great inspiration for Mexico," José Narro, Secretary of the Board of Directors of the Senate of Mexico, said via video link.
China's modernization is a modernization that follows the path of peaceful development and promotes common development. The Belt and Road Initiative (BRI), a global connectivity strategy proposed by Chinese President Xi Jinping in 2013, is one example thereof. Over recent years, China and Belt and Road partners have deepened mutually beneficial cooperation and achieved fruitful results in line with the principles of extensive consultation, joint contribution and shared benefits.
"I think the BRI is now the most important idea in global cooperation. Our understanding of the initiative needs to be strengthened," Yeidckol Polevnsky, President of the Mexico-China Friendship Group of the Mexican Chamber of Deputies, said. He called for efforts to better publicize the significance of the BRI and promote the practice of multilateralism with the initiative as a carrier.
"We welcome the active participation of Mexico in the BRI. While deepening cooperation in traditional areas, we will expand cooperation in finance, 5G, lithium resource development, electric vehicles, biomedicine and other new industries, to strengthen supply chain connectivity between China and Mexico," Cai Wei, Director-General of the Department of Latin American and Caribbean Affairs of the Ministry of Foreign Affairs of China, said.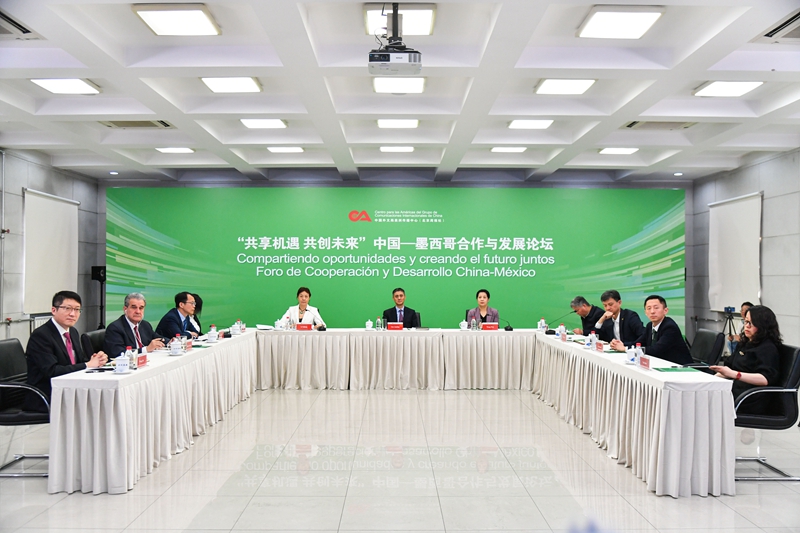 Participants at the China-Mexico Cooperation and Development Forum in Beijing on March 10. The event was hosted by the China International Communications Group Center for the Americas (WEI YAO)
Benefiting both
China is Mexico's second largest trading partner and Mexico is China's second largest trading partner in Latin America. Data from the General Administration of Customs of China shows bilateral trade reached $95 billion in 2022. Jesús Seade, Mexican Ambassador to China, told the forum that Chinese investment in Mexico over the past four years reached close to $1 billion, representing 46 percent of the cumulative capital inflow from China since 1999.
"Trade between Mexico and China benefit from the high complementarity of the economic structures of the two countries," Víctor Méndez, President of the Mexico-China Chamber of Commerce and Technology, said. "Although we have a trade deficit, economic and trade relations between China and Mexico are still very strong, and both sides are committed to addressing the issue through joint efforts."
Ning Wenze, Assistant to the President of China Railway Rolling Stock Corp. Ltd. (CRRC), shared a story at the forum about how China and Mexico have achieved mutually beneficial outcomes, not only economically, but also in other areas.
CRRC is the largest producer of railcars in the world. On July 18, 2022, the first of a total of 29 new CRRC metro trains were delivered for Mexico City's revamped Metro Line 1. Except for the first train, which was fully manufactured in China, the other 28 trains were all manufactured 65 percent in China and 35 percent in a factory in Querétaro, a city in central Mexico.
"We have developed more than 80 local suppliers and achieved the local procurement of more than 10 types of systems and equipment, as well as 100 types of components. We also recruited more than 200 local engineers and skilled employees, and signed long-term cooperation agreements with universities, including the Aeronautical University in Querétaro," Ning said.
At the Sixth International Public-Private Partnerships (PPP) Forum, hosted by the UN Economic Commission for Europe in 2022, the project was selected as a case study for people-first PPPs for the sustainable development goals given its strong economic and social benefits as well as its environmental sustainability.
Fruits of friendship
"As a Chinese saying goes, 'The key to sound relations between states lies in amity between the people.' Indeed, friendship and goodwill between the peoples provide an inexhaustible driving force for the long-term growth of bilateral relations," President Xi said in his speech to the Senate of Mexico during his visit to the country on June 5, 2013.
In 2012, Mexico inaugurated the first Chinese culture center in Latin America. At present, six Confucius Institutes have opened in Mexico, the most in any Latin American country. The Confucius Institutes are non-profit public institutions established to help people in other countries better understand China by promoting Chinese language and culture and supporting local teaching of standard Chinese. Furthermore, the two countries had established 35 pairs of sister city (province and state) relations to enhance mutual understanding between the two peoples as of February 2022.
For example, in 2013, China's southwestern municipality of Chongqing established friendly ties with the Mexican state of Nuevo León.
"We are honored to be an active promoter of friendly relations between the two countries and peoples," Wang Wen, Director General of the Foreign Affairs Office of the Chongqing Municipal Government, told the forum.
Wang was met promptly with an enthusiastic response and great anticipation by Adalberto Noyola Robles, who is director of the National Autonomous University of Mexico (UNAM) Branch in China. According to Robles, UNAM and universities in Chongqing are discussing the establishment of Spanish language courses, as well as program cooperation in environmental sciences.
"Exchange between China and Mexico has made great progress, but it currently pays more attention to the humanities than to science and technology. China has made great progress in the field of science in a short period of time through policies and ambitious plans. We need to learn from this," Robles added.
(Print Edition Title: Building Synergy)
Copyedited by G.P. Wilson
Comments to zhaowei@cicgamericas.com