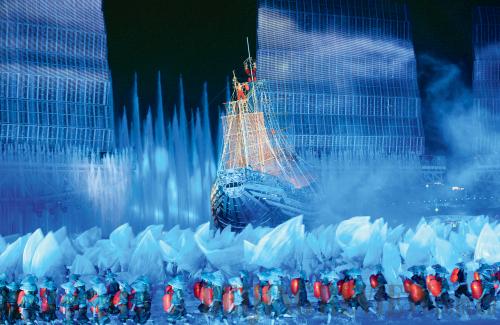 The opening ceremony of the Asian Games in Guangzhou on November 12 (JIANG XIAOYING)
Twenty years after the 11th Asian Games were held in Beijing in 1990, the sports gala again came to China, putting Guangzhou, south China's Guangdong Province, in the host position.
With the theme of "Thrilling Games, Harmonious Asia," the 16th Asian Games, running through November 12-27, attracted more than 14,000 athletes and officials from 45 countries and regions to the city to compete.
On a continent inhabited by nearly two thirds of the world's population, the Asian Games have become Asia's largest sports event and a symbol of unity between different cultures, politics and religions, said Sheikh Ahmad Al-Fahad Al-Sabah, President of the Olympic Council of Asia.
An opportunity
The Chinese people are trying their best to present a sports gala that reflects the concept of harmony, a green Earth and civilization.
Guangdong built and renovated 70 stadiums and gymnasiums, including 53 competition and 17 training venues. Twelve of the 70 were built from scratch, said Zhang Guangning, Vice President of the Guangzhou Asian Games Organizing Committee (GAGOC).
The air and water quality in Guangzhou has been improved, its transportation system updated and barrier-free facilities put in place. Some 600,000 volunteers are going all out to ensure a comfortable and safe environment for the audience and athletes.
With these efforts, the city ushered in the largest ever Asian Games, featuring 28 Olympic and 14 non-Olympic sports with 476 gold medals up for grabs.
Since the ninth Asian Games in 1982, China has dominated the medal rankings. In 1990, China won 183 gold medals from the Beijing Asian Games. At the last Asiad, in Doha, Qatar, China claimed 165 gold medals, 88 silver and 63 bronze.
In order to continue shining at the Games, China sent a record delegation of 1,454, including 977 athletes, to compete in 447 events in 41 sports, except kabaddi.
The Chinese athletes included 35 Olympic champions. But most of them, accounting for two thirds, did not take part in the 2008 Olympics nor the Asian Games held four years ago in Doha.
"We hope to spot young talent at the Asian Games and prepare them for the 2012 London Olympics," said Duan Shijie, head of the Chinese delegation.
"The Asian Games are not just a sports gala to win as many gold medals as possible for us any more," said Duan, also Vice Minister of the State General Administration of Sport. "It's a platform to exchange friendship as well as show the world that great changes are taking place in Chinese sports."
The official said the Asian Games would also provide a good opportunity for officials and coaches to see how sports are developing internationally.
"Some of our traditional training systems are out of date. We should learn from other countries and regions and improve our systems," Duan said. "It's not about having more athletes involved in intensive training any more. Sport is more about the proper use of knowledge and technology."
Duan said China is good at sports such as table tennis and badminton, but lags far behind internationally in swimming, track and field, and team sports.