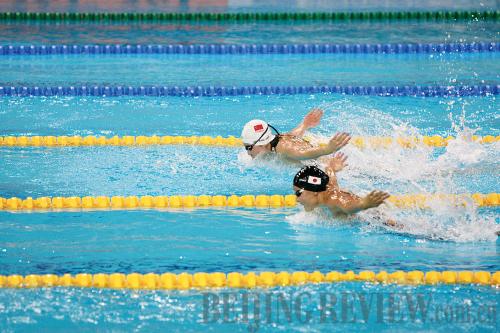 FLYING FISHES: Chinese and Japanese swimmers compete in the women's 4x100-meter medley relay on November 14 (JIANG XIAOYING)
"Ball games, such as soccer and basketball, are more difficult to handle because they need more complicated and systematic training systems. They need more people to get involved in different ways," Duan said. "We need breakthroughs in those sports to balance our development toward a sports powerhouse."
A cultural gala
At the invitation of organizers, artists from 25 countries and regions gathered in Guangzhou on the night of November 15, along with the Shenzhen Symphony Orchestra, to present a unique multicultural concert reflecting the traditions and culture of the participating countries.
Apart from sports, the Asian Games are also a platform for different cultures to showcase themselves, said Chen Chunsheng, Deputy Director of the GAGOC's Cultural Events Department.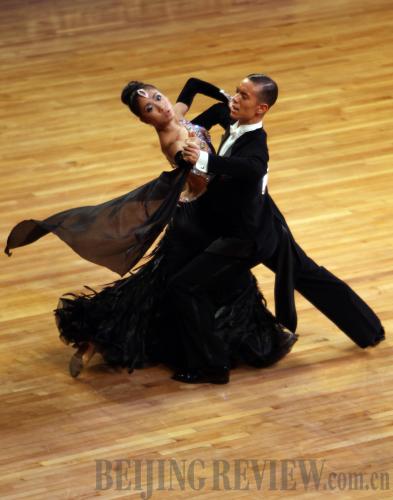 EYE-CATCHING SPORT: Dancers from Kazakstan take part in the Waltzing competition on November 14 (JIANG XIAOYING)
A boat parade along the Pearl River before the opening ceremony of the Asian Games on November 12, as well as performances on the riverbanks of traditional Guangzhou drumming, lion dancing and many other events, showed athletes and officials the natural and urban life of Guangzhou.
There will be a total of 317 sessions of 38 programs presented as an Asian Games cultural campaign by more than 2,000 artists from 20 countries and regions from November 8 to December 19, according to Chen.
The performance program includes well-known plays from Asian countries and regions as well as local plays from the host city. They will showcase diversified cultures in Asian countries and regions and offer a platform for cultural communications.
Charming Asia is part of the big cultural feast. It presents performing arts from various Asian countries that Chinese audiences will have rarely seen before.
At the Lingnan Convention Hall in Guangzhou, Syrian Sufi musician Nourredine Khourchid and his "Whirling Dervishes" group share the same stage with Christian singer Ghada Shbeir from Lebanon.
Meanwhile in the Huanghuagang Theater, the Royal Ballet of Cambodia stages a show based on a Khmer mythical love story between the half-bird, half-woman Monorea and prince Preah Sothun.
"I'm honored to be here. I think this program shows both the unity and variety of Asian arts. Sharing the stage with artists from so many different countries is an amazing experience for me," said Reem Kelani, a Palestinian singer who performed at the first concert of the series on November 8.
It is the first time the whirling dervish dance of Islam's Sufi tradition has been staged in China.
Originally a religious ritual, the dance of the whirling dervishes involves continuous whirling and is said to represent a mystical journey of man's spiritual ascent through love to perfection.
"We may have different cultural backgrounds, but we share the same love for life," Khourchid said. "The Asian Games have provided a great platform for culture and arts."
This is the second tour for the Royal Ballet of Cambodia; the first was 51 years ago.
"Each country has its own traditions. What we are presenting here is a dance style with eight centuries of history," said Norodom Buppha Devi, princess of Cambodia and director of the troupe.
Besides, there will also be 79 exhibitions held during the period. Most tickets to these performances and exhibitions are being given out to residents of Guangzhou communities free of charge.
"Nowadays, large-scale events have become the best platforms for culture. Just like the World Expo is not only about novel technology, the Asian Games are not only about sports," said Lin Jian, Director of Charming Asia. "For Chinese people, such events are good starting points to get to know more about other cultures."

Odd Sports at Asian Games
DanceSport
Debut: 2010 Guangzhou
DanceSport is generally defined as partner dancing, with the man and woman using the required technique together with floor-craft and artistic interpretation to produce a highly disciplined dance performance.
Kabaddi
Debut: 1990 Beijing
Kabaddi was probably invented to ward off group attacks in ancient times. It is basically a combative sport, with seven players on each side and played in two 20-minute halves. The core idea is to score points by raiding the opponent's court and touching as many of its players as possible without getting caught on a single attempt.
Dragon Boat Racing
Debut: 2010 Guangzhou
The history of dragon boat racing goes back more than 2,200 years. It emerged as an international sport in 1976. For competition events, dragon boats are generally rigged with decorative Chinese dragon heads and tails.
Sepak Takraw
Debut: 1990 Beijing
It is generally believed that sepak takraw was played as early as the ninth century. It is played on a court with a hand-woven ball (takraw) by teams made up of two or three people. Points are scored by hitting the ball above the net and into the court as the opposing players attempt to block. Players can use their feet, legs, shoulders and heads but not their hands.
Roller Sports
Debut: 2010 Guangzhou
Roller sports developed from ice-skating. In 1863, New Yorker James Plimpton solved the problem of controlling skates when he used a rubber cushion to anchor the axles. From then on, roller sports have spread all over the world.
(Source: Xinhua News Agency)
(Miao Xiaoyang contributed reporting in Guangzhou)