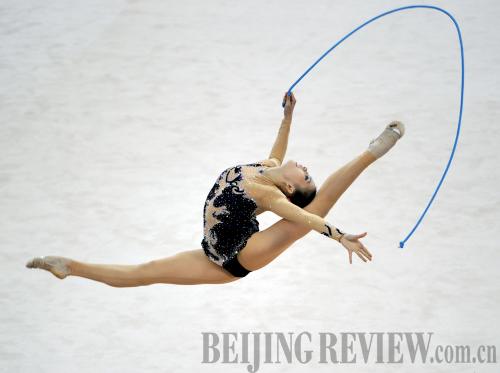 THE ART OF DANCING: Deng Senyue of China performs during the rhythmic gymnastics individual all-around final. She finished fifth place on November 26 (JIANG XIAOYING)
China has concluded its showing at the 16th Asian Games in Guangzhou, Guangdong Province, but those people who shed tears, sweat or even blood during the competition, will be remembered for decades.
They include comeback stars, who had fallen off the peak but refused to quit, and rising talent, who showed their potential at the Games and will grow into the backbone of the country's sports.
Flying again
Chinese star hurdler Liu Xiang, one of the most spotlight-catching athletes at the Games, returned to his old form with a record-breaking performance.
The former world record holder and Olympic champion, the country's first major track star, claimed the men's 110-meter hurdles gold medal.
The 27-year-old, whose attendance attracted almost 80,000 spectators to the Guangzhou Aoti Sports Center, staged a dominating performance by leading the race from the very first second. Liu established a decisive advantage after conquering the third hurdle, and kept extending his lead until he finished the competition.
He won his third Asian Games title in a row with a new Asian record of 13.09 seconds.
Liu, the first Chinese man to win an Olympic sprint event, limped off the field at the National Stadium, or the Bird's Nest, at the 2008 Beijing Games even before he started running in the first heat, leaving millions of Chinese fans dumbfounded with the blow.
He was later treated in the United States, receiving surgery on his right Achilles' tendon.
This time's winning result was his best since he made a comeback in September 2009, when he ran with 13.15 seconds in Shanghai.
In March this year, Liu only managed a seventh-place finish at the world indoor championships in the shorter 60-meter hurdles.
Two months later he pocketed a bronze at a Diamond League meet in his hometown Shanghai.