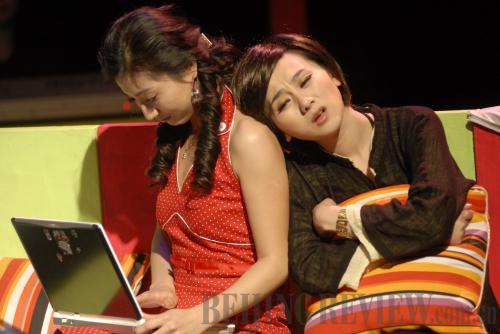 THE SINGLE LIFE: Two women discuss what real happiness is in the drama Leftover Women (CFP)
If you are a woman in China who is still single around 30, you can look forward to having your own label—shengnu, or "leftover woman."
The origin of the word is hazy, but the meaning is clear. It refers to single women who most people think should already be married, but haven't done so yet. As for what the witching age is, most people put it at 28 or 30, but some even put the lower limit at age 25 with increasing levels of being "leftover" as the woman gets older.
Liu Beilei is a Shanghai marketing executive. At 24 years old, she has worried she may have already missed the marriage boat.
"I am single right now, and I am worried all the time. I have some friends who keep telling me I am still very young, but my parents are telling me that I am getting old," Xie said.
The issue is hot, as reflected by a number of recent TV shows devoted to the topic. Just this year, China Central Television broadcast two shows about leftover women—Women of Marriage Age Should Get Married and Yi Yi, Go!
The main characters in these two series—Jiang Dayan and Zhou Yiyi—are two single women over 30. Jiang, who always wears a pair of thick glasses, is a big headache to her family due to the marriage problem. Zhou, a hostess at a radio station, always shows up wearing unfashionable clothes and is the object of her workmates' jokes.
"It is unfair to create such an image of single women of this age," criticized netizen Qiushui after watching these two series. "It is like single women of this age don't know how to dress up and be pretty."
"But this is the typical image of leftover women in most people's mind," said sweetbread, another netizen. "What I doubt is the personalities of the characters. Both the women are very simple and don't seek a lot of material things, which is not true in real life."
The problem has received media attention since at least 2008, when a very popular stage drama, entitled Shengnulang—also translated as Leftover Women—gained attention in China. The story described a woman of 30 hesitating between marrying her boyfriend, who earned a low salary, and finding a new wealthier sweetheart.
The series' director Li Bonan says the problem is that modern women are confusing material wealth with happiness.
"Of all the unmarried women in Chinese cities now, very few are unmarried because they can't find love or a suitable partner," Li said. "They're unmarried because of their pursuit of money and status and a house and a car. And they cannot find a man who satisfies these material desires."
"I don't agree with that," said Xiao Liyuan, a 32-year-old single woman working in a foreign-invested hospital in Beijing. "A man's financial condition is definitely not the number one item on my list. I prefer a man who can share his ideas and feelings with me even though he might earn less than me. But this is also very hard to find."
According to a report dated March 9 on Beijing-based The Global Times, the number of leftover ladies in the capital has surpassed 500,000.
Xiao has a life many women would find enviable. She is pretty and smart and has a Canadian medical degree. She earns a good salary and lives a quality life, having her own apartment and car.