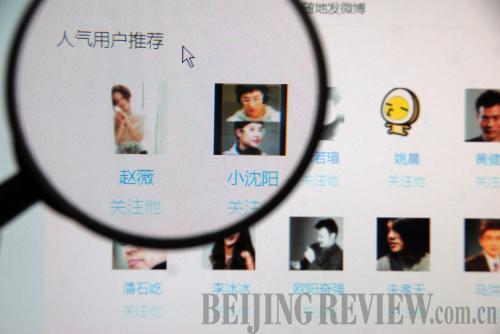 MICROBLOG ERA: China's microblog users are expected to reach 65 million by the end of 2010 as Sina.com has popularized this kind of Internet service since 2009 (CFP)
Liu Jun was shocked to read a microblog post saying the famous Hong Kong novelist Jin Yong (Louis Cha) was dead in hospital on the evening of December 6. The short news item gave the time and the name of the hospital. He thought it was real and re-posted the post.
"I was feeling so sorrowful and sad as Jin Yong is among my favorite writers of all time," said Liu, a third-year university student in Qingdao, Shandong Province, who is an active microblogger on t.sina.com, China's largest microblogging service operator. He made a phone call to one of his friends later to notify him about the sad news, but was told it wasn't true.
Liu then went to Internet search engines to discover the news was indeed fake. He had mixed feelings of both happiness and worry. "It's good to know Jin Yong is not dead, but the false news undermines my trust in the credibility of microblogs," Liu told Beijing Review.
It is probably impossible to track down the original source, but the circulation of the false news on t.sina.com exploded after it was re-posted by the official microblog of the reputable China News Week magazine, whose three editors later resigned due to the scandal.
There is nothing new about false reports on the demise of celebrities. However the alleged death of Jin Yong became a major event, which has highlighted the microblog phenomenon in China.
Netizens believe that the news first came from the BBS forum themed Jin Yong at Baidu.com, this was among the earliest known reports. The brief "news" said, "Jin Yong, date of birth March 22, 1924, expired at 19:07 pm, December 6 at the Saint Maria Hospital in Tsim Sha Tsui, Hong Kong due to a combination of encephalitis and callus hydropsy." Although the post contained a mere 46 Chinese characters, it drew unprecedented attention due to the esteemed position of Jin Yong among readers of martial arts novels.
Spreading like virus
Later the post on this Internet forum was re-posted onto microblog host Twitter and other social networking websites Renren.com before it reached t.sina.com. According to a netizen identified as "Chumojun," he was the first to relay the information from Renren.com to the t.sina.com. Soon afterward other microbloggers helped spread Chumojun's post around. But, Chumojun had specified his post by stating "seeking confirmation. Not known if this is true or false."
Not long after the short "news" appeared on the official microblog of the China News Week magazine. The editor running the microblog saw the post and slightly edited it by adding "Instantaneous News" and "He was 86-years-old" in the beginning and at the end of the original version to make the post look more like professional news. Thus, unverified information awaiting confirmation became a news story.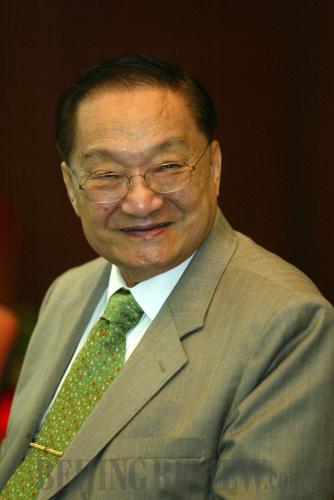 NOT DEAD: Jin Yong, one of China's most influential martial arts novelists, was rumored to be dead through microblog news (CFP)
Hours later, it was confirmed Jin Yong was still alive by some acquaintances of him via microblogs. China News Week was not the only one who forwarded the story. Many other well-known celebrity bloggers and media workers also did it. But as a news outlet, China News Week did the most damage. Chumojun has 2,000 plus microblog followers whereas China News Week has more than 300,000 followers. Its mistake has led to the resignation of China News Week's deputy editor in chief and two Web editors because they forwarded the rumor without proper fact-checking.
Luckily there were other microbloggers to clarify the fake news. Hong Kong-based Phoenix TV's reporter Rose Luqiu said on her microblog that Jin Yong was attending a ceremony for an honorary doctorate degree at Shu Yan College the day before. Her post appeared less than 30 minutes after China News Week issued its instantaneous news bulletin.
Rose Luqiu also said there was no Saint Maria Hospital in Tsim Sha Tsui, Hong Kong. "The rumor maker was not very precise. You can Google that yourself," she added on her microblog.
Hours later a report from Phoenix TV's website also formally dispelled the rumor saying the website had contacted a Hong Kong television reporter to confirm the report of Jin Yong's death was false.
Sharp-eyed netizens also detected another "flaw" in the original false story: Jin Yong was born on March 10, 1924 and not March 22, 1924. March 22, 1924 happened to be the birthday of another famous martial arts novelist, Liang Yusheng.
Need for discipline
China has entered into the era of microblogging, which is greatly propelled by Web portal Sina.com that runs t.sina.com, and the number of microblog users is expected to reach 65 million by the end of this year, says China News Service.
"Twitter brought the concept of the microblog to China, but it is Sina.com that has popularized this kind of Internet service here," said Hu Yong, an expert on new media at the School of Journalism and Communications of Peking University.
As the latest Internet interactive application, microblogging is getting increasingly popular among netizens, media outlets and social organizations because it has certain unique properties. Compared to other Internet applications such as blogs and online forums, microblogs are instantaneous and far-reaching. On computers or mobile phones, a simple click on "forward" allows the information to be instantaneously sent to others.
According to a China Youth Daily survey, which involved 3,282 people from 30 provinces around the Chinese mainland, 87 percent of respondents use microblogs to read about public opinion on current affairs and to post their own thoughts.
But the recent fake news scandal has highlighted concern about the voluminous information on microblogs. "To some extent, the significance of this incident is that it provides an opportunity to intensify the understanding of microblogging, inspiring us to consider the proper way to use and administrate microblogging," said Zhang Yuqiang, an associate professor of journalism at the Communication University of China.
"It's acknowledged the very speed of correction shows microblogging is a superior medium to traditional media outlets," Zhang said. "But, the problem is that it can also spread false information with equal speed, and that the lack of controls and rapid dissemination of what may be untrue stories gives it a viral power traditional media outlets lack."
For traditional media outlets, it is clear they must clearly specify the area of responsibility if they want to avoid such mistakes. The resigned China News Week Deputy Editor in Chief Liu Xinyu said their editor forwarded this "instantaneous news story" after he left work for the day. "The news outlet did not stipulate whom he must consult before he forwards something, so this is a flaw in the system," he said
Liu said new media outlets still have to follow the widely-accepted rules of journalism so confirmation and sourcing are still required. "Before posting news stories, verification must be made through various channels. Minimally, the relevant websites should be checked to see which sources are more credible."
In addition, sound regulations on the use of microblogging should be formulated and improved, which reduce and prevent improper actions in the long run. According to Zhang of the Communication University of China, the purpose of setting up rules is to protect freedom of speech and to keep the openness of microblogging so as to create healthy online environment.
"As for the majority of netizens, their media literacy plays a pivotal role. They should deal with the information in a sober and rational manner," said Zhang.
Liu Jun, a student microblogger in Qingdao, said he had learned lessons from spreading the rumor on Jin Yong's death. "I still enjoy its abundance of information, but I will think it over before I really take it."