During the visit, China and the UK also signed 10 agreements on areas ranging from space exploration to enhancing mutual investment. Breakthroughs were made in high-speed railways and nuclear energy cooperation between the two.
Concerning the financial sector, the two sides discussed conducting offshore renminbi business in London and Chinese banks' opening branches in Britain.
The Agricultural Bank of China (ABC) and the Standard Chartered Bank signed a memorandum of understanding, through which financial institutions and corporations can work with Standard Chartered UK and ABC UK to execute renminbi transactions. London, therefore, as the world's leading financial hub will—along with Hong Kong, Singapore and Chinese Taipei—become a key outpost for offshore yuan trade.
Standard Chartered Group CEO Peter Sands, who accompanied Cameron on his second visit to China, believes that the emergence of multiple offshore yuan hubs has brought opportunities to banks like Standard Chartered and HSBC as they help Chinese companies issue yuan-denominated bonds overseas.
Cui remarked that conducting offshore renminbi business in London will further enhance the metropolis' position as a leading international financial center and bring concrete benefits to the UK.
Cui also pointed that China unveiled a transformative new economic strategy in the recently concluded Third Plenary Session of the 18th Central Committee of the Communist Party of China, which has sent a positive indicator of opportunity to the outside world.
"Policies, including opening up banking business, and promoting low-carbon growth, released at the conference mean improved prospects for Britain, which has comparative advantages in those fields. In taking advantage of China's second round of reform, it will create bright economic prospects for Britain," said Cui.
Observers claim that Cameron's latest China trip was also an important opportunity for Chinese enterprises.
Wang Yiwei, a research fellow on European studies with Beijing-based Renmin University, noted that as the birthplace of the Industrial Revolution, the UK faces problems with aging infrastructure and a hollowing out of industry, with three quarters of its economy now composed of financial services. Meanwhile, China, as a new industrial country, has many late-comer advantages in infrastructure construction fields, including high-speed rail and nuclear power technologies.
"The British Government has released a £33-billion ($52.3-billion) bill of infrastructure and housing projects. It is an opportunity for China's excess infrastructure capital to be invested," said Wang.
Email us at: yulintao@bjreview.com
Sino-UK Economic Bonds
Trade
From January to October, trade between the two countries stood at $56.13 billion, up 7.5 percent year on year.
Britain has replaced the Netherlands as the second largest trade partner with China among all European Union countries.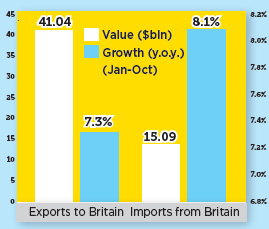 Investment
China's investment in Britain in the past 18 months is greater than it has been in the past three decades. In 2012, the volume of investments, mergers and acquisitions by Chinese enterprises in Britain surpassed $8 billion, accounting for one eighth of China's total outward direct investment.
Britain ranks ninth in foreign direct investment in China, with a volume of $745 million from January to September.
(Source: China's Ministry of Commerce)