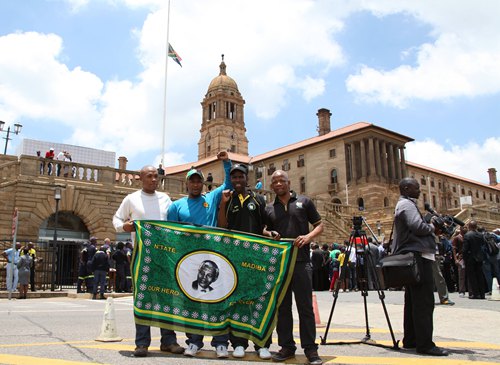 People wait in a long queue to say their farewells to Nelson Mandela lying in state at the Union Buildings in Pretoria (LI JIANGUO)
Family, foreign dignitaries and thousands of mourners paid their last respects to Nelson Mandela as he lay in state at the Union Buildings in South Africa's capital, Pretoria, on December 13.
The lying in state lasts for three days from December 11 to 13. Mandela's casket arrived for public viewing at the Union Buildings at about 8 a.m. Wednesday, December 11, after an hour's public procession from 1 Military Hospital through streets lined with military personnel and members of the public.
The funeral procession passed several sites that witnessed key historic moments in Mandela's political journey. The hearse, led by motorcycle outriders, was taken past Pretoria Central Prison, where Mandela was held in 1962 for incitement and leaving South Africa illegally. It also passed the high court in Pretoria, where Mandela stood trial for treason and sabotage and made his pledge in April 1964 that he was prepared to die for the ideal of a nonracial society. Some sang and took photos as the procession moved along, others stopped briefly on their way to work to catch a glimpse of the glass-topped hearse carrying his remains. Mandela was dressed in a traditional brown and yellow Madiba shirt with only his face and the upper part of the body on view through a glass casing. Four guards with heads bowed were guarding each corner of the coffin.
Chinese Vice President Li Yuanchao, the special representative of Chinese President Xi Jinping, came to pay homage to Mandela and expressed to his family deep condolences of Chinese President Xi Jinping, the Chinese Government and Chinese people.
People coming to mourn Mandela from across South Africa gathered around the Union Buildings, where they sang and danced, holding aloft portraits of their departed hero. Police and military helicopters hovered overhead. To ensure the safety of the mourning period, the government temporarily closed some sections of roads in Pretoria, with shuttle buses provided for commuters. After lying in state each day, Mandela's casket was transported back to 1 Military Hospital before returning to the Union Buildings the following day for the mourning period.
During the transfer period, the public were encouraged to form a guard of honor by lining the streets. Mandela will be buried in his boyhood village of Qunu, in the Eastern Cape, on December 15.
(Reporting from South Africa)