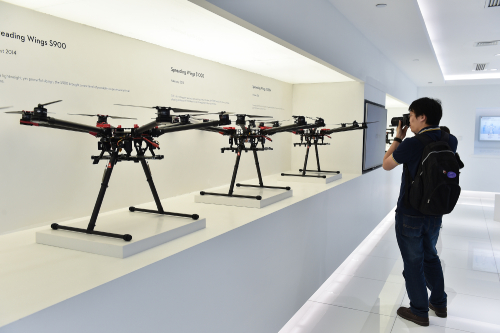 A journalist snaps shots of DJI's drones at the company's Shenzhen headquarters on April 29 (XINHUA)
Paige Blankenbuehler, a graduate student at the U.S. Missouri School of Journalism, is always up for a new challenge. Her latest passion is flight instruction for her college drone journalism class and while it's useful for news gathering, she has found a more altruistic application.
In the recent past, Blankenbuehler has made two trips to Costa Rica, in Central America, to help firefighters in Santa Rosa National Park implement drone technology into fire management, and better protect their conservation area.
"I find it is fun and meaningful to put this to good use and make it easier and safer for people to do their jobs," said Blankenbuehler.
The air support to detect fires in her training program is provided by camera-equipped unmanned aerial vehicles, or drones. But contrary to conventional wisdom, the drones were not developed in the famed Silicon Valley, but by Da-Jiang Innovations (DJI), a hi-tech company based in Shenzhen, south China's Guangdong Province.
Affordable hi-tech
Founded in 2006, the company's revenue has seen impressive growth in the past four years. According to Frost & Sullivan, a global market research service provider, DJI dominates the world's civilian drone market, accounting for 70 percent of the total market share.
"We are one of the few Chinese companies that are able to develop first-class products and set a global trend," said Wang Tao, 35, founder of DJI, whose 45-percent share of the company is estimated to be worth $4.5 billion.
As a member of the post-80s generation, Wang was obsessed with remote-control helicopters throughout his childhood. He used to envision the ideal mini helicopter that could hover indefinitely in the air.
In 2005 when he was a senior majoring in electronics at Hong Kong University of Science and Technology, Wang decided to develop a flight control system to realize steady autonomous hovering, something he had dreamed about since childhood. Together with two classmates, he accomplished in one year what should have taken a doctoral team three to five years.
"I was doing something I love," recalled Wang. This passion, together with persistence in developing affordable and user-friendly flight systems, keeps his business growing.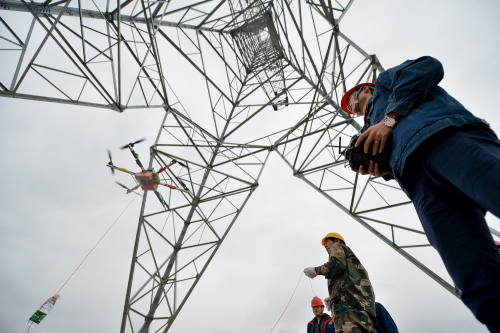 Engineers are aided with their work by a drone at the site of a power transmission project in central China's Hunan Province on March 20 (XINHUA)
Seamless user experience
"All of the lead engineers started off building remotely controlled helicopters. So we understand the points of friction that keep people from flying successfully," Ma Hui, Public Relations Manager of DJI told Beijing Review. She said the secret of DJI's success is providing a seamless user experience.
In 2009, the company became an instant hit by launching its first consumer-oriented drone, Ace One, reducing the price to less than 20,000 yuan ($3,200). Its growth toward becoming a multinational giant was launched. Since 2011, a series of more advanced multi-rotor drones have been released.
"Pretty much every innovation application of aerial technology that you read about is using one of our platforms or our controllers," said Ma, who declined to share DJI's specific business figures, but claimed that the company had grown three to five folds year on year since 2009.
The Phantom 3 Professional model, the latest ready-to-fly drone for example, sells for 7,499 yuan ($1,208).
"This comes down to a combination of factors, including the drop in cost of powerful sensors and measurement tools in tandem with the growing smartphone," Ma explained. However, to DJI, low material and labor costs are not enough to support sustainable growth. "It is innovation that matters," she said.
Helping startups
As a hardware device provider, DJI remains focused on innovation and better products. While stabilizing its dominant foothold in its key markets, which include North America, Europe and China, it is considering expanding its global presence.
"Africa and other emerging markets are certainly areas for expansion. The growth potential will be dependent on a combination of regulatory policies and how the drone service ecosystem expands to meet local industrial needs," said Ma.
When drones integrate with industries, a more lucrative market will emerge. The current technology has already made it possible to use drones in filming, emergency response, environmental research, survey and mapping, agriculture, logistics and distribution, construction and much more.
To this end, DJI is bolstering a wider range of businesses based on its platform. In late 2014, the company released Software Development Kit (SDK) for the Phantom model drones. Some of the apps that have already been developed include an automatic 3D mapping program, fleet management software, video streaming from the Phantom, and safety compliance software. "With the SDK, creative individuals are able to develop applications for specific industries," said Ma.
In late May, DJI and Accel, a world leading venture capital firm, jointly launched SkyFund to support entrepreneurs to cultivate drone-related businesses. It will give special support to startups utilizing DJI SDK to develop industry-specific software applications for mapping, imaging, agriculture and inspection. DJI will also share its technical platforms and branding programs to help startups get their initiative ideas off ground.
"The move is to build a better industrial chain, find new partners and absorb them into its own system. It also aims at eliminating or merging competitors," Zhang Yi, CEO of Guangdong-based iiMedia Research Group, told Nanfang Daily.
Tough competition
DJI's competition comes from home and abroad. American company 3D Robotics, which acquired $50-million funding in February, is a strong rival. Founded by Chris Anderson, former Editor in Chief of Wired magazine, the company poached Colin Guinn, who was in charge of DJI's business in North America. In addition, extreme sports camera manufacturer GoPro recently announced that its unmanned aerial vehicle is scheduled to be launched in 2016.
In the domestic market, Xaircraft is competing with DJI by using drones in agriculture. Silicon Valley-based Chengwei Capital invested $20 million into Xaircraft last August. Another competitor Ehang focuses on developing much cheaper smartphone-operating drones. Founded in April 2014, it was rated among the top 50 most innovative Chinese companies the same year by U.S. business magazine Fast Company.
But DJI doesn't seem to be losing any sleep over the competition. "We have a strong research and development (R&D) team of more than 500 engineers. Our accomplishments and R&D ability are results of 10 years' hard work and accumulation," said Wang. He noted that the entry-level drone market might see an explosive development this year, but DJI's dominant foothold in the high-end section remains secure.
Despite this, the company faces the same challenges in terms of legitimacy. Due to concerns over privacy and being abused by criminals, it is still illegal to use remotely controlled aircraft for commercial purposes in most countries.
DJI is active in working with regulators and other drone makers toward loosening these regulations. At the same time, it is taking proactive steps to ensure safe and responsible use of its drones. "We are making efforts like providing an in-app checklist, creating no-fly zones, including local regulation pamphlets, and partnering with the U.S. Federal Aviation Administration (FAA) for the Know Before You Fly campaign [an education campaign by the U.S. Association for Unmanned Vehicle Systems International]," said Ma.
There are signs that the FAA will soften its stance. In February this year, CNN became the first media outlet to receive permission from FAA to experiment using drones for news gathering purposes. One month later, Amazon was granted permission to test and experiment with certain drones in its fleet for R&D and crew training.
These concessions mean that Blankenbuehler and her classmates in drone journalism are even more confident that the future of widespread commercial drone operations is promising.
Copyedited by Sudeshna Sarkar