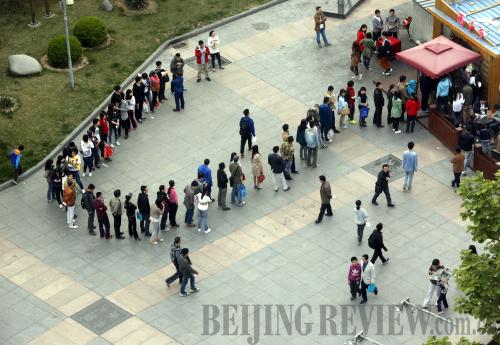 OPEN FOR BUSINESS: People queue to buy roujiamo from a Xishaoye outlet on April 20 (CFP)
There is one food found nearly all over China—roujiamo, a round, flatbread bun split into two halves and filled slow-cooked pork that has been stewed in a broth that can contain upward of 20 spices. The mouth watering snack originated from northwest China's Shaanxi Province, though in modern times it has found itself on the streets of nearly all of China's cities. Three young men from Shaanxi making the snack may seem nothing special at first, but their vision is unique—to transform the food's image from a common street snack to a fast food brand.
Going popular
Song Xin, Meng Dong and Luo Gaojing are all from Shaanxi and are graduates of the famous Xi'an Jiaotong University. Meng and Luo used to work for Baidu, owner of China's most popular search engine, as well as being involved in a multitude of other Web-based ventures. However, despite the prestige, the pair decided to quit and open a small restaurant selling roujiamo. Song, who majored in industrial chemistry, joined them soon after.
They named their small boutique eatery Xishaoye—literally translating as young men from the west—and chose a location in Wudaokou, a bustling area in Beijing's Haidian District close to a number of well known universities and IT companies. They decided to open their doors to the public on April 8, the anniversary of their alma mater.
Before setting up, they went back to Shaanxi and studied making roujiamo from experienced chefs, the research from which eventually culminated in a recipe of their own. They chose an approach that differed from traditional cooking, which tends not to rely on precise measurement of ingredients, but the chefs intuition and expertise. Instead, the trio chose to standardize their recipes down to the gram to make the result more consistent.
One roujiamo from Xishaoye is 8 yuan ($1.3), a price similar to other restaurants. On the opening day, they planned to offer 1,000 roujiamo for free, but to their surprise they ran out before lunch on account of the long queue that had formed outside. Within six months, Xishaoye had already opened four more branches.
Another long line of customers in Beijing can be found outside Huangtaiji, another small eatery. Huangtaiji's specialty is different however—they sell jianbing, a type of thin, savory pancake not unlike a large crêpe originated from the northeast. Street vendors can be seen serving this every morning in cities like Beijing and Tianjin. Huangtaiji's founder, He Chang, is from the northeastern Heilongjiang Province, and his wife hails from Tianjin.
As a fan of the jianbing, he studied different vendors to learn about the skills and eventually came up with the idea of running a pancake eatery by himself. Born in 1981, He studied design in Denmark and dabbled in a number of different professions with varying levels of success.
In August 2012, he opened his first outlet in Beijing's CBD area, a restaurant that had just 13 seats in no more than 20 square meters of available space. Beijing's CBD is home to a large cluster of office buildings and before 9 o'clock every morning, there is always a long queue of office workers waiting to sink their teeth into Huangtaiji's delights.
The motto of Huangtaiji is "Quality, fresh ingredients; memorable, traditional taste." He describes the goal of Huangtaiji as being to "cook simple Chinese food to perfection," instead of simply focusing on profits.
Another thing that makes Huangtaiji stand out from other vendors selling the same food is their marketing strategy, which harnesses the benefits of social media. Shortly after their first outlet was opened, he posted a photo explaining that he and his wife delivered takeout orders in their Mercedes, which surprised many online.
"By using the Internet and online marketing to find potential customers we can earn more money while avoiding the risks brought about by high rent," said He. "A generation ago, people wandered the street in search of an attractive restaurant, today they are using their smartphones to check for nearby recommendations."
Now Huangtaiji has opened nine branches in Beijing and one in Shanghai, with their estimated brand value already reaching 900 million yuan ($145 million).