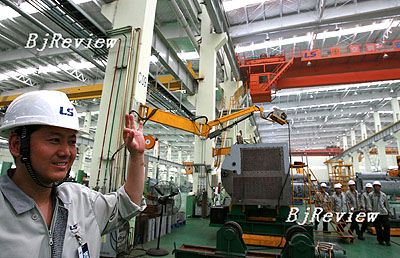 Asian economic integration started later than predecessors in the European Union (EU) and North America, but its pace has increased in the wake of the Asian financial crisis. During these years, Asian countries have undergone accelerated economic growth, and economic cooperation has become widespread. This has been aided by the establishment of sub-regional economic cooperation organizations, as well as further exchange and cooperation among Asian countries--developments that are lubricants to the process of economic integration. Currently, Asian economic integration has the following features:
Thriving sub-regional cooperation
Within Asia, sub-regional organizations continue to appear. The earliest and most important in East Asia is the Association of Southeast Asian Nations (ASEAN), consisting of 10 countries (Thailand, Malaysia, the Philippines, Indonesia, Singapore, Brunei, Viet Nam, Laos, Myanmar and Cambodia) and representing a population of more than 500 million. Establishment of the ASEAN-China, ASEAN-Japan and ASEAN-South Korea free trade areas (FTAs) is in full swing. The three "10+1" FTAs are expected to be whole by 2015. Meanwhile, a "10+3" FTA, including ASEAN, China, Japan and South Korea, along with East Asian cooperation, is still being discussed. But ASEAN's total GDP is less than one-ninth of the aggregate of China, Japan and South Korea--the most economically powerful and most heavily populated parties. Without their participation, East Asian regional cooperation can't be realized. ASEAN plus the three countries will be the most energetic mechanism in East Asia and could potentially become a main channel of regional cooperation. The "10+3" FTA will be established through the integration of the three "10+1" FTAs.
In South Asia, to strengthen economic, social, cultural, scientific and technological cooperation, the South Asian Association for Regional Cooperation (SAARC) was established. The SAARC includes Bhutan, Bangladesh, India, the Maldives, Sri Lanka, Nepal, Pakistan and Afghanistan. In January 2004, the SAARC countries agreed to create an FTA, which took effect on January 1, 2006. The SAARC, expecting to establish an updated FTA on January 1, 2014, has cooperated widely with East Asian countries. India has begun FTA building with ASEAN, China, Japan and South Korea. A free trade agreement between Pakistan and China has already taken effect.
The Gulf Cooperation Council (GCC) is an important regional cooperation organization in West Asia. Its members include the United Arab Emirates, Oman, Bahrain, Qatar, Kuwait and Saudi Arabia. Since the founding of the GCC, its conference has rotated between the capitals of the six countries annually. These nations' ministers of foreign affairs, national defense, domestic affairs, petroleum and finance will hold regular meetings, discussing political, economic, military and diplomatic issues, coordinating opinions and taking joint actions. The GCC plans to build a common market and launch a uniform currency in 2010, and has already started talks with China, India, Japan and South Korea on setting up FTAs.
The Shanghai Cooperation Organization (SCO) in Central Asia was formally constructed by China, Russia, Kazakhstan, Kyrgyzstan, Tajikistan and Uzbekistan in Shanghai on June 14, 2001. The SCO aims to strengthen mutual trust and good relations among its members, encouraging them to effectively cooperate in the fields of politics, economy and trade, science and technology, culture, education, energy, transportation and environmental protection. The body works jointly at protecting and safeguarding regional peace, security and stability, as well as moving to establish a democratic, fair, sound and new international political and economic order. Mongolia, India, Pakistan and Iran have become observers of the SCO.
Increasing the strength and cooperation of sub-regional organizations will promote the process of Asian economic integration.