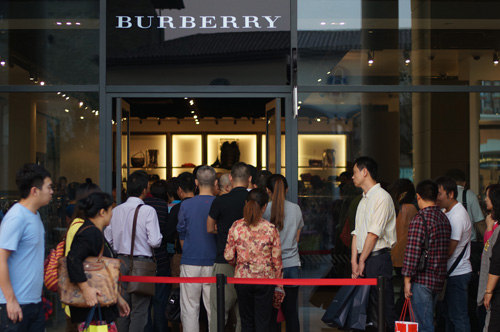 SPENDING SPREE: Customers line up outside a Burberry shop in an outlet mall in suburban Tianjin on October 5 (CFP)
China has once again astonished the world with the massive spending power of its domestic travelers. During the weeklong National Day holiday, dubbed the Golden Week, which ran from October 1 to 7 this year, a record number of Chinese spent record amounts on everything from food and clothing to travel. But the growing consumption frenzy during the holiday period has given birth to the term "golden mess" due to chaotic traffic and overcrowded tourist spots. Many are calling on government at all levels to find ways to create a more stress-free travel experience.
Consumption takes off
What did middle-class Chinese do to kill time during the long-anticipated Golden Week? Eat, shop and travel.
Sales revenues of China's catering and retail sectors reached 870 billion yuan ($142 billion) during the holiday, rising 13.6 percent year-on-year, according to the Ministry of Commerce (MOFCOM). With countless wedding banquets, family reunions and friend gatherings during the holiday, the country's catering sector raked in exorbitant profits during the Golden Week.
Golden Week is a popular time for weddings and banquets because of the seven days many Chinese have off work. This resulted in a windfall for hotels and restaurants, which are often booked a year in advance. A key grouping of 121 hotels in Shanghai hosted 23,000 tables of wedding dinners during the holiday, according to the MOFCOM.
High-end restaurants offered discounts and inexpensive options in line with the country's frugality campaign. Haidilao, a popular hot pot chain, recorded a 45-percent year-on-year revenue increase during the holiday, according to the MOFCOM.
Department stores throughout China carried out a wide range of discounts to lure shoppers. During the week, sales revenue of key department stores in Hainan, Liaoning, Shaanxi and Anhui provinces grew by nearly 20 percent compared to last year.
Gold jewelry was in high demand. Sales at Shanghai Laomiao Gold and Beijing Cai Bai Gold Store grew by 55 percent and 16 percent, respectively. Online shopping also enjoyed rocketing growth. Sales on Suning.com, a shopping site owned by China's major home appliance seller of the same name, increased 60 percent year on year during the past holiday.
Better-off Chinese citizens, however, were not content with celebrating the holiday simply with shopping and eating. They used the long-awaited holiday for travel. The number of passengers taking air transportation during the holiday rose 15.8 percent year on year to about 7.7 million passengers, according to the Civil Aviation Administration of China (CAAC). About 4,000 extra flights were added to the country's most popular destinations during the week, according to the CAAC. A considerable number of flights, however, were suspended to ensure passenger safety following the landing of Typhoon Fitow.
As above, so below. Over 70 million passengers took to railways, another record, according to the China Railway Corp. The roads, too, were packed bumper-to-bumper thanks to the Chinese Government lifting highway tolls. Roughly 601 million passengers hit the road during the Golden Week, according to the Ministry of Transport, close to half the nation's population.