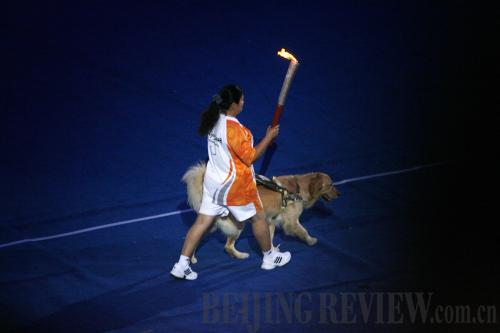 LOOKING OUT: Ping Yali, a torch bearer at the 2008 Beijing Paralympics, walks into the National Stadium in Beijing with her guide dog Lucky at the opening ceremony on September 6, 2008 (CFP)
Wu Lei, a visually impaired piano tuner from southwest China's Guizhou Province, had been on the waiting list of the China Guide Dog Training Center for a year.
After applying for a guide dog in December 2012, Wu finally got a call from the training center at the end of last year, asking him to participate in an adaption period with a dog. If he can get through the month with Mixiu, his potential guide dog, Wu will be the first person in Guizhou to have ever received one.
"I have been dreaming of having a guide dog for a long time," Wu said. "I can enjoy more freedom. I'm tired of having to bother my family to come with me every time I go out."
Compared to the other 324,000 people with visual disabilities in Guizhou that have never had access to guide dogs, Wu is lucky enough to be a potential owner .
This situation is not uncommon elsewhere in the country. Statistics from the China Disabled Persons' Federation (CDPF) show that there are 16 million people in China with visual disabilities, but there are less than 70 guide dogs for the whole country.
"According to international standards, there should be guide dogs for at least 1 percent of visually impaired people. That means we need 160,000 guide dogs, but we are long way from meeting this target," said You Qiufang, who works with the China Guide Dog Training Center, which is based in China's northeastern city of Dalian, Liaoning Province.
Lonely efforts
The China Guide Dog Training Center, which was established in May 2006, is the first such facility in China.
Wang Jingyu, 49, the center's founder, spent nine years in Japan studying ethology, the scientific study of animal behavior, and obtained a Ph.D from Hiroshima University in 2001, before he returned to China and taught at Dalian Medical University.
Known as "the father of Chinese guide dog training," Wang's idea to train guide dogs started in 2004 while he was watching the Paralympics in Athens. He saw that some of the visually impaired athletes from other countries had guide dogs. Wang decided to make an effort to rectify this for his country.
In October 2004, after a lot of research, Wang bought three Labrador retriever puppies. "Labradors and golden retrievers are considered to be the best breeds for guide dogs due to their mild temperament," Wang said. "Guide dogs cannot be too slow or too smart. They must be patient, stable, brave and determined so that they can remain calm during emergencies."
Wang taught and trained the puppies slowly and tenaciously. When they were only a year old, he sent them to the animal research center at Dalian Medical University for further training.
In May 2006, the CDPF granted authorization to the Dalian Disabled Persons' Federation and Dalian Medical University for establishing China's first guide dog training base.
Training a guide dog normally takes between 18 and 24 months at the China Guide Dog Training Center and only 20 to 30 percent of puppies trained will ultimately qualify as guide dogs. Those that are selected will be sent to a volunteer family for socialization, bonding and basic obedience training.
After another year, the dogs will return to the center for more intensive skills training. Eventually, they are introduced to their human companion and work together with them at the center for a month-long adaption period. If the two of them can get through this first month successfully, the dog will go home together with their new owner and serve him or her for six to eight years.
At the 2008 Beijing Paralympics, a small number of Chinese athletes were accompanied by guide dogs that had been trained by Wang and his colleagues. Ping Yali, a torch bearer that year and the first Chinese Paralympic gold medalist, was accompanied by a dog called Lucky at the opening ceremony.