To mark the 50th anniversary of the establishment of diplomatic relations between China and France, Beijing Review conducted an exclusive interview with Jean-Pierre Raffarin, former prime minister of France and the current vice-president of the French senate. He is an old friend of China, who over many years became the essential link in relations between the two countries. Excerpts follow:
Beijing Review: You made your first trip to China in 1976 as part of a delegation with President Valery Giscard d'Estaing. What was your task at that time? What was your first impression of China?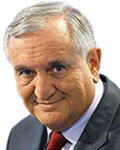 Jean-Pierre Raffarin: I had already been to Hong Kong and Macao in 1971. We were looking at the Chinese mainland from a distance. It was fascinating and mysterious. I was already sizing up the influence of the great Chinese people on this region. Then I crossed China in 1976, from Harbin to Guangzhou. It was a difficult period, but we had come to tell our Chinese friends that France loved their ancient and fascinating civilization, beyond the trials that China was going through at the time. I felt at ease immediately dealing with the Chinese people. Despite everything there was between us, I felt a sense of proximity, which never faded.
In 2003, you visited China as prime minister, right in the middle of the SARS epidemic, but you didn't wear a protective mask. That was when you gained your reputation as a "friend of China." Can you explain to us the reasons for this move?
At that time, SARS was causing a global panic. Fear took over in Europe and the United States. The Chinese Government took the matter in hand, and I thought that I should help. During the crisis, fear and doubt were aggravating factors. Other world leaders cancelled their trips to Beijing, but with President Chirac, we decided to show our confidence in the actions taken by the Chinese authorities and I went to tell them that. Hu Jintao and Wen Jiabao appreciated the gesture. I received thousands of messages of sympathy from the Chinese people, and also from the French community in China who appreciated my decision.
During your term as prime minister, economic and cultural relations between China and France developed rapidly, in a favorable political context. Which of the events made a particular impression on you?
I particularly remember the year of cultural exchange in 2005, which contributed a lot to the friendship between our two peoples. I will never forget the red Eiffel Tower and the Shanghai TV Tower in blue, white and red. The establishment of the Airbus factory in Tianjin was also a big moment for me. I have a strong memory of the exceptional visit that President Hu made to Hôtel Matignon, the prime minister's residence. I often think of the courage of the people of Sichuan after the earthquake.
You were the best person to pass information between the French and Chinese sides when bilateral relations deteriorated between 2008 and 2009. How would you evaluate your role during that time?
From experience I had learned that it was best to be honest and direct with the Chinese authorities. Dialogue is often direct, so we need to understand that the Chinese don't want to be hostages of our domestic debates. In the modern world, it is not possible to be a friend in China and an enemy when you go back to Europe. Therefore, when the West gives Western lessons to China through the Western media, the Chinese don't appreciate it. I favored direct discussions, without an intermediary, making a choice of confidence. We worked well with Li Keqiang to build mutual respect.
Jacques Chirac was passionate about Chinese bronzeworks, and you are interested in Chinese literature and poetry. Which ancient or contemporary writers and poets do you admire the most?
I really like the poetry of Du Fu, Bai Juyi, Li Bai and Meng Haoran. I also like modern poetry, for example the poetry of my friend Li Zhaoxing. I love Fan Zeng's portraits and Fan Yifu's mountains and also Li Xin's paintings... China has an infinite number of awe-inspiring things. Its museums are wonderful.
France was the first Western country to make sinology a full university discipline. What do you see as the strengths and advantages of sinology in France compared to other countries? What role do French sinologists play in exchanges between our two countries and decision making on a governmental level?
Intellectuals such as François Jullien have demonstrated that ancient and profound Chinese thinking can help the 21st century world to understand better the reality it faces. The "complex thought" proposed by a thinker like Edgar Morin is not unrelated to Chinese culture. The paradoxical thinking in China helps us to live with our Western obsession with the absolute. Harmony is a growing aspiration in a number of societies.
China teaches us to write the word 'truth' in the plural, where were had been used to putting it in the singular.
France was the first Western power to establish diplomatic relations with China, but there are not as many economic and commercial exchanges between our two countries as there could potentially be. How can we reinforce the complementary nature of our two countries, and what are the future prospects?
A good way is to recover the balance in exchanges. We should attract more Chinese investment to France. As president of the annual forum of the France-China Committee, I do a lot of work in this area. There are very good prospects for mutual benefit in sectors like agriculture, energy, health and sustainable cities. We should make efforts to develop the role of SMEs in our economic cooperation. For this reason, in October 2014 we will be organizing a Franco-Chinese SME summit in Chengdu under the Western Fair framework, bringing together 1,000 companies from our two countries. That will be the strongest time economically in our celebration of 50 years of diplomatic relations.