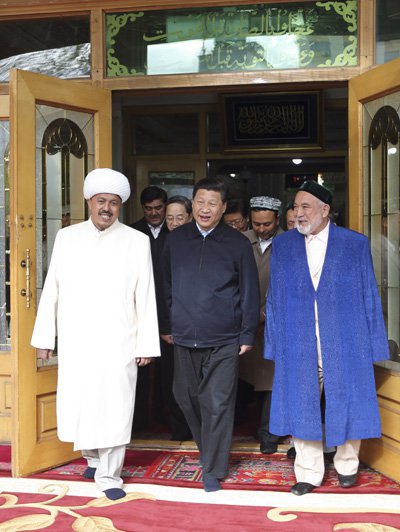 MAN OF THE PEOPLE: President Xi Jinping visits a mosque in Urumqi, Xinjiang Uygur Autonomous Region, on April 30 (LAN HONGGUANG)
The Chinese Government has decided to intensify efforts to maintain social stability in Xinjiang Uygur Autonomous Region after terrorist attacks carried out by extremists have begun to escalate in brutality and spread further outside the northwestern region.
On April 30, two people carried out a suicide bombing in front of a train station in Urumqi, capital of Xinjiang. The bombers and one innocent bystander were killed in the blast and 79 others were injured.
Knife-wielding assailants attacked people and set off explosives that day at the exit of the Urumqi South Railway Station. The attack took place just after a train had pulled into the station and as passengers were streaming out onto the plaza in front of the station.
On May 1, the police identified two suspects with a history of religious extremism, including Sedirdin Sawut, a 39-year-old man from Xayar County, Aksu Prefecture in south Xinjiang.
The attack has drawn condemnation worldwide.
"The United States condemns the horrific and despicable acts of violence against innocent civilians at the train station in Urumqi," Marie Harf, a U.S. State Department spokeswoman, told reporters on May 1. "We offer our condolences and sympathies to the victims, their families and all those affected by this tragedy."
Singapore "strongly condemns" the bomb blast at Urumqi South Railway Station, the Ministry of Foreign Affairs said on May 2, adding that "such dastardly acts of violence against innocent members of the public cannot be justified under any circumstances."
It was the third high-profile attack in China in seven months where extremists have targeted civilians. The two earlier attacks also occurred outside Xinjiang, marking a departure from the previous pattern of primarily targeting local people.
In a deadly jeep crash at Beijing's Tiananmen Square on October 28, 2013, two pedestrians were killed and another 40 injured. All three attackers in the jeep died after they lit gasoline stored in containers inside the vehicle on fire. Later, the East Turkistan Islamic Movement, a UN-listed terrorist group, claimed responsibility for the attack and warned of future attacks.
On March 1, knife-wielding attackers slashed frantically at crowds at a railway station in Kunming, capital of southwest China's Yunnan Province, killing 29 people and injuring 143. Police shot dead four of the perpetrators and captured another one at the scene. The remaining three attackers were arrested two days after the horrific slaughter.
During this year's annual full session of the National People's Congress (NPC), China's top legislature, several lawmakers submitted motions on drafting an anti-terrorism law. The NPC Standing Committee passed a decision to reinforce the country's anti-terrorism work back in October 2011, but it was never made part of law.
In an interview with 21st Century Business Herald, a business paper based in Guangzhou, south China's Guangdong Province, Li Wei, an anti-terrorism expert with the China Institutes of Contemporary International Relations, said that the anti-terrorism law is very likely to be worked out within this year, which he believes will make the fight against terrorism more comprehensive and effective.
Determination
The Urumqi attack occurred just as Chinese President Xi Jinping wrapped up his four-day inspection tour of Xinjiang.
Xi had vowed to deploy a "strike first" strategy against terrorism to "deter enemies and inspire the people" during the tour, Xinhua News Agency reported.
The long-term stability of Xinjiang is vital to the country's unity, ethnic harmony and national security as well as to the great revival of the Chinese nation, Xi said when meeting with local officials.
With a land area of 1.66 million square km, Xinjiang accounts for one sixth of China's territory. It has a population of 22.6 million, with about 60 percent of them belonging to ethnic minority groups.
Pan Zhiping, an anti-terrorism expert at Xinjiang University, said that Xi's visit came at a crucial time for stability in Xinjiang and is a sign of the Central Government's firm determination to fight terrorist forces in the region.
During his visit, Xi said that maintaining social stability and peace is the primary focus of the government's work in Xinjiang at the present time.
Xi's tour focused on south Xinjiang, an area mainly inhabited by Muslim Uygur people and frequently attacked by terrorists and extremists.
Xi emphasized that development is the key to addressing all issues in Xinjiang. He said that development should benefit the people, the local area and ethnic unity. Promoting employment of minorities is vital to people's livelihood and stability.