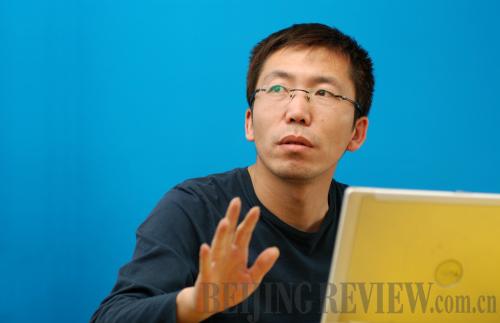 SUSPECTED RINGLEADER: Yang Xiuyu, founder of Beijing-based Erma Co., is arrested on August 21 for spreading misinformation on the Internet and profiting from illegal activity (CFP)
On August 25, Beijing police released a statement saying that journalist Liu Hu had been detained on allegations of fabrication and dissemination of false rumors online. Liu works for New Express, a local newspaper published in Guangzhou in south China's Guangdong Province. The police didn't release any further details other than stating that the case was currently under investigation.
On the same day, Zhou Lubao, a blogger, was arrested in east China's Jiangsu Province for an alleged extortion linked to the spreading of misinformation online. Zhou is suspected of posting more than 15,000 items of misinformation online within the last year. The Ministry of Public Security said that Zhou had blackmailed more than 20 separate entities and individuals.
The moves came after the Ministry of Public Security launched a nationwide campaign to combat the spread of false rumors online on August 21.
On the day of the campaign's launch, Beijing police confirmed that they had closed down Erma Co., a company that allegedly made and spread misinformation on the Internet for profit. Two men connected to the operation were also arrested.
The founder of Erma Co., Yang Xiuyu, who goes by the alias of Lierchaisi on Sina Weibo, China's leading micro-blogging service, and Erma employee Qin Zhihui, who uses the screen name Qin Huohuo on the same micro-blog service, were found to have created and spread online false rumors and profited from their illegal actions, according to a statement from the Beijing Public Security Bureau.
"The spreading of false rumors can cause harm to the reputations of individuals and their interests as well as having a negative impact on social stability. It is necessary to take measures to better manage online content," said Cheng Manli, Deputy Dean of Peking University's School of Journalism and Communication.
Systematic lies
According to the 2013 Annual Report on the Development of New Media in China released by the Chinese Academy of Social Sciences on June 25, micro-blogging sites have become the major avenue used to spread false rumors, with micro-blog posts accounting for more than a third of rumors verified to be false.
By the end of June, there had been 536 million registered users with Sina Weibo and 540 million registered with its closest competitor in China, Tencent Weibo, with an average of 220 million posts each day across both, statistics from the China Internet Network Information Center show. The number of Internet users in China is estimated to have reached 591 million.
Min Dahong, a researcher with the Institute of Journalism and Communication at the Chinese Academy of Social Sciences, said that some Internet users create false rumors in order to attract attention, while others do so to blow off some steam. "Those fabricated with the intent of defaming someone or spreading misinformation about public events can be dangerous and incite panic," he said.
The authorities have recently intensified efforts to foster a positive online environment, with an emphasis on the conduct of "opinion leaders" online.
Lu Wei, Director of the State Internet Information Office, said on August 8 that spreading the truth is one of the "baselines" for Internet celebrities.
In the Erma case, both Yang and Qin were active micro-bloggers. They were accused of conspiring to fabricate rumors in order to gain followers on Sina Weibo and influence opinion leaders online. Since 2011, Qin had opened 12 micro-blog accounts for the spreading of misinformation, according to the police.