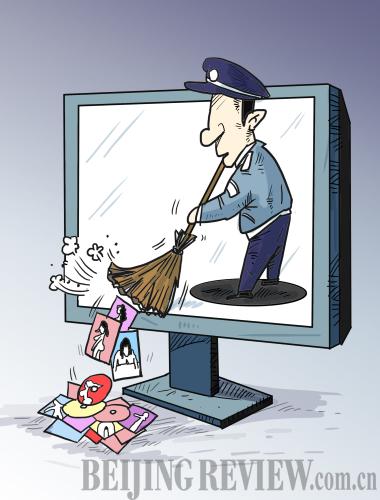 (CFP)
Xiao Mingli is a migrant worker in Beijing. In his spare time he likes to read books online. In April, however, Xiao discovered that he could not read anything he used to on Sina.com's Reading Channel, as the channel was banned by the authorities for hosting pornographic content.
"It's not surprising to see that because it contained a lot of porn articles while having some really nice literature," Xiao said. "I knew it would be banned sooner or later."
According to the National Office Against Pornographic and Illegal Publications, 20 articles and four videos posted on Sina, a leading Web portal in China, were confirmed to have contained lewd or sexually explicit content.
Sina was fined 5.08 million yuan ($828,700) and had its Internet Publication License and License for Online Transmission of Audio-Visual Programs revoked.
After the penalties were announced, Sina issued two statements expressing its apologies within four days. In the second statement on April 27, the company said that it will follow stricter standards in supervising its content.
SCANDAL: Reporters wait outside Qvod Technology Co. Ltd., a video-sharing site in Guangdong Province, after authorities announced on July 26 that it had been fined 260 million yuan ($41.91 million) for online piracy. Qvod was also stripped of its license to offer paid-for telecommunication services in May due to spreading lewd and pornographic content (MAO SIQIAN)
In May, Qvod Technology Co. Ltd., a Shenzhen-based video-sharing site in south China's Guangdong Province, was also found guilty of spreading pornographic content. It was reported that police and publication authorities in Beijing found more than 3,000 illegal video clips on four servers confiscated from the company at the end of 2013. Authorities also found a large amount of sexually explicit content on its website and mobile applications in March. The company was stripped of its license to offer paid-for telecommunication services.
These measures come after China began carrying out a campaign to rid the country of online pornography, Cleaning the Web 2014, which spans from April to November.
Statistics show that this year's campaign is much more severe than previous efforts, and many websites, big and small, will face serious consequences if found to be providing obscene content.
The State Internet Information Office (SIIO) said on June 20 that 1,222 porn-related websites had been shut down since the launch of the anti-pornography campaign. The websites, including some that were allegedly dedicated to medical treatment and health, were closed for providing videos or photographs of a pornographic nature, or linked to porn websites abroad, the office said in a statement. It was also revealed that about 2,200 pieces of text containing pornographic information had been deleted from the Internet in the same period of time.
The campaign has been effective, the SIIO said, adding that more efforts will be taken to curb the spread of pornography online.
A number of Internet service providers, including search engine Baidu, portal site Sohu, video-streaming site Xunlei, as well as messaging services WeChat and QQ, have pledged to take measures to clean up the information they provide.
Protecting the youth
China has conducted crackdowns on pornography on the Internet since 2004 and intensified such efforts in recent years. For example, in October 2013, police busted four transnational child porn websites and arrested more than 250 suspects in a joint operation with foreign police. Earlier last year, 180,000 online publications were shut down for their involvement in the dissemination of porn, according to the Ministry of Public Security.