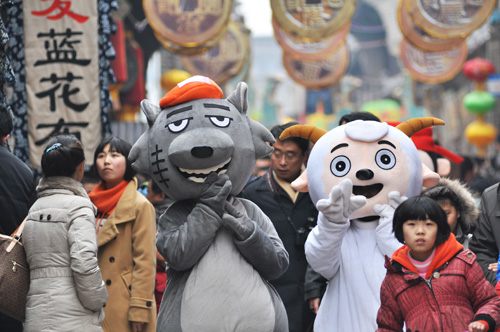 FAVORITE FIGURES: Local people dressed as Pleasant Goat and Big Big Wolf receive tourists at the ancient Zhoucun Town in Zibo, east China's Shandong Province on February 11, during Spring Festival, China's lunar New Year (DONG NAIDE)
"My son watches Black Cat Detective, a cartoon I loved when I was a kid," said Liu Yang, mother of a six-year-old boy in Beijing. "It is a classic, but too old. What's wrong with producers? Why can't there be more new animations for children?"
The cartoon is a Chinese television series produced by the Shanghai Animation Film Studio, and originally aired from 1984 to 1987.
Liu's worry is a common concern among young Chinese parents.
Unhealthy elements
In addition to the severe shortage of new cartoons, the content of existing programs has raised eyebrows.
On April 10, three boys aged below 10 imitated a scene from Pleasant Goat and Big Big Wolf while playing around. One boy tied the others to a tree with ropes, then lighted the weeds surrounding their feet.
The incident, which occurred in Lianyungang of east China's Jiangsu Province, shocked the nation and drew widespread public attention to the violent elements in cartoons.
The injured turned out to be brothers. The elder one, aged 8, suffered severe burns to 40 percent of his body, while the younger one, aged 5, suffered burns to 80 percent of his body, as well as to his respiratory tract.
Subsequent operations cost the family more than 1 million yuan ($164,100) in medical expenses. "If we didn't receive so much financial help from other people, both kids would not have survived," said the father Li Kang.
Besides assisting the family with follow-up treatment fees and disability compensation, legal departments also helped them contact the city's Red Cross Society and Municipal Bureau of Civil Affairs, to obtain more aid.
Pleasant Goat and Big Big Wolf has been extremely popular among kids across the country. It tells the humorous tale of a miserable wolf who tries his very best to catch a clever sheep that always manages to slip away.
Produced by Guangzhou-based Creative Power Entertaining, the show is one of the most successful domestic-made cartoons in China. Since it was aired in June 2005, ratings have soared by 17.3 percent, leaving imported cartoons far behind. It also swept across southeast Asia.
Popular with almost every kid in China, images of the cartoon can be found on items such as clothes, stationery and toys.
Boonie Bears, produced by Shenzhen Huaqiang Digital Animation Co., has also fueled criticism due to its use of vulgar language.
Boonie Bears tells the funny story of fights between two brother bears who protect the forest against a cunning bald woodcutter named Guangtouqiang.
"My son always imitates the weird accent of the younger bear," said Pang Ning, mother of a 4-year-old in Shanghai.
Another parent stated that 21 vulgar words were once used within 10 minutes during screening, while a child reportedly carried a toy chainsaw with him to kindergarten everyday in imitation of the sly woodcutter.
"My nephew loves watching Boonie Bears, and has almost turned into a bear himself. He often shouts to other kids and even beats them, giving his teacher a real headache," said Liu Weili, a middle school instructor in Beijing.
The cartoon has been criticized for portraying questionable acts that include wood cutting, hunting, fighting and gun abuse, as well as for its use of words centered on insults and the abuse of animals.
Good news
Fierce criticism has forced improvements to cartoons.
"We should try to prevent every kid from imitating cartoons," said Yu Shengjun, a cartoon film director, adding that producers were at fault in terms of the Lianyungang tragedy.
Shenzhen Huaqiang Digital Animation Co. has also stated that it is willing to adjust Boonie Bears, changing the term "smelly black bear" to "little bear" for instance, alongside plot lines whereby houses are entered without their owners present.
The government has also strengthened efforts in this regard. The State General Administration of Press, Publication, Radio, Film and Television said that 20 cartoon production companies and broadcast institutions have vowed not to create cartoons containing violent or vulgar content, dangerous plots or foul language.
Besides, it will issue a set of standards related to the content of domestic TV animations by the end of 2013.