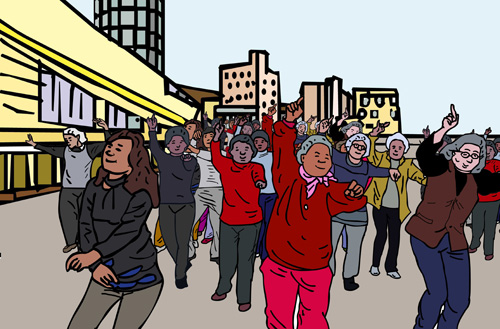 (LI SHIGONG)
A group of senior Chinese ladies dancing in New York's Sunset Park were recently confronted by local police over noise complaints from nearby residents. The local court even served a summons related to a certain Ms. Wang.
The news soon triggered heated discussion across China, with many believing the incident to involve a cultural conflict between the East and West, while others view it as a form of discrimination against Chinese in the United States.
The group, which normally practices in Sunset Park, has performed to New York's Chinese and other local communities on many occasions, with membership continually on the increase.
A survey on the Chinese community in Seattle has revealed the importance of respecting local habits and public resources among residents.
Deng Zuolie (www.chinanews.com): Every country has its own legal system and local habits. Migrants are supposed to respect local laws and customs to avoid friction between different ethnic groups and ensure harmony.
Wang Jiao (www.chinanews.com): In China, it's quite common to see seniors dance either in their communities or in parks. Sometimes, it is really noisy, though no one will bother to stop them. When it comes to the United States, where it goes against the law to bother others on public occasions, these ladies do need to respect local habits.
Nie Zhixin (www.chinanews.com): This dance issue should be analyzed from two aspects. One pertains to the seniors' freedom and obligations, while the other centers on U.S. police behavior in the process of law enforcement.
For senior citizens in China, to dance together is a way to maintain health and be social. Many Chinese have brought this hobby with them when moving to the United States and have done much to spread Chinese culture. The United States is a diverse society, and in many cases, Chinese dancers are tolerated and even appreciated.
Meanwhile, the United States is a society based on the rule of law, and due to cultural differences, local regulations seem to be very different from those in China. As a result, some old Chinese ladies dancing in New York's Sunset Park found themselves caught in an embarrassing situation. In China, people like to watch old people dance, and even if the noise disturbs surrounding residents, no police force will ever get involved. In the United States, however, locals and immigrants from other nations view such noise as a breach of their right to enjoy tranquility. Calling the police is regarded as the most efficient way to solve such a problem.
Before, these ladies probably did not understand local customs and rules. However, since the incident took place, they should perhaps know a little better next time and keep the noise to a minimum. People from different nations are often supposed to reach compromises, while respecting and tolerating each other.
As for U.S. police practice, there might still be some room for improvement. Some were said to be rather rude, leading to allegations of "racial discrimination," which is a sensitive topic in U.S. society.
If the involved parties could be more tolerant, and solve such problems without involving the court, perhaps immigrants would mix more.