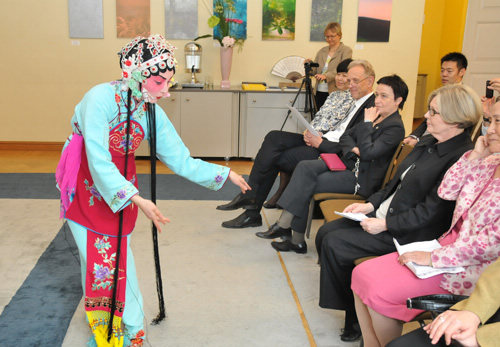 APPRECIATING THE CULTURE: A student of the Confucius Institute at University of Helsinki in Finland perfoms Peking Opera at a ceremony marking the fifth anniversary of the institute on May 31 (ZHAO CHANGCHUN)
A dispute about the immigration status of Chinese teachers at Confucius institutes on U.S. university campuses was resolved on May 25 after a 24-hour consultation between officials from the Chinese embassy and the U.S. State Department.
On May 17, the U.S. State Department, without consulting the Chinese side, issued a controversial visa policy directive and sent it to U.S. universities that sponsor Confucius institutes. It said, "Any faculty member who, through a college's J-1 exchange program, teaches students of elementary or secondary school age, is violating visa rules. Such teachers would have been required to return to China by June 30 and to reapply for an appropriate visa."
Confucius institutes around the world are nonprofit public organizations established by China's Confucius Institute Headquarters, also known as Hanban, with the aim to teach Chinese language and promote cultural exchanges overseas.
The United States currently has the largest number of Confucius institutes and Confucius classrooms around the world. Hanban's statistics show since the first Confucius Institute in the United States was established at University of Maryland in 2005, it has dispatched more than 2,100 teachers to the country's 81 Confucius institutes and 299 Confucius classrooms in 48 states. About 600 Chinese teachers are working in these facilities.
The initial directive, if enacted, would have forced at least 51 Chinese teachers to leave the United States, according to Hanban.
A revised policy directive issued by the U.S. State Department on May 25 said that Confucius institutes in the United States can continue with their courses, and their Chinese teachers do not have to leave. Confucius institutes will not need to obtain separate U.S. accreditation, according to the directive.
"The new directive shows recognition of Confucius institutes from the U.S. Federal Government. We welcome the quick amendment by the U.S. State Department. The surging interest in Chinese language in the United States is an irreversible trend," said Xu Lin, Director General of Hanban.
It is the first time a question of accreditation concerning the Confucius Institute had been raised, according to an official with Hanban, who preferred to remain anonymous.
The official told Xinhua News Agency that those Confucius institutes were voluntarily requested by U.S. universities, approved by the headquarters and jointly operated with Chinese universities.
The Chinese teachers dispatched by Hanban were carefully selected and trained by both sides in an effort to help American elementary and secondary school students learn Mandarin and understand Chinese culture, the official said.
A growing demand
According to Xu, Confucius institutes are committed to helping people across the world learn Chinese and understand Chinese culture, enhancing China's educational and cultural exchanges and cooperation with other countries, and promoting friendship between Chinese and foreigners.
One of the Confucius Institute's most important missions is providing those studying Chinese in foreign countries and regions with standardized, authoritative and modern Chinese textbooks and learning opportunities, according to an official introduction.
Unlike other independently organized language and culture promotion centers, such as France's Alliance Francaise and Germany's Goethe-Institute, which are independently organized, the Confucius Institute cooperates with established universities, colleges and secondary schools around the world. Every outlet is managed by the combination of a Chinese director and a foreign counterpart.
In recent years, with more people rushing to learn Chinese, the Confucius Institute has seen a strong development around the world. Since the world's first Confucius Institute was opened in South Korea in November 2004, more than 350 Confucius institutes and about 500 Confucius classrooms have been established in five continents, covering 106 countries and regions, with more than 50 million registered students.
On May 19, Croatia's first Confucius Institute was established at Zagreb University. It is the latest outlet of Hanban.
Xu said that at a time when most Western economies are reeling from financial problems, the Chinese growth engine has chugged along relatively smoothly, thereby sparking curiosity about China and the Chinese way of thinking.
"Foreigners are puzzled by how much China has achieved economically in just 30 years. They are now more than keen to learn Chinese language and culture to get fresh perspectives and know more about the country," Xu said, adding that this has also been the motivator for many countries and regions to set up Confucius institutes.