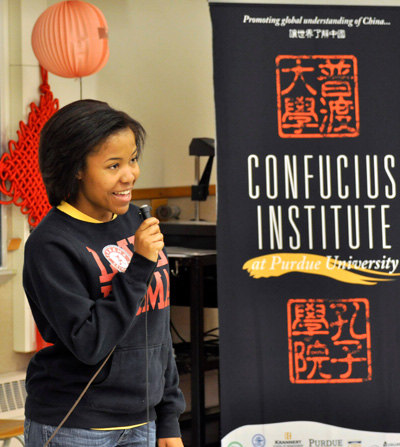 CHARM OF A LANGUAGE: An American student gives a self-introduction with Chinese at the Fifth Greater Lafayette Chinese Speech and Performance Contest sponsored by the Confucius Institute at Purdue University in Indiana, the United States, on April 7 (KONG XIANGJIA)
American universities such as Stanford University, Columbia University and the University of Chicago have sponsored the institutes or classrooms on their campuses with nearly 160,000 registered learners. In addition, more than 5,000 public primary schools, middle schools and colleges in the country are offering Chinese language courses, reaching more than 200,000 American students, according to Hanban.
Qing Gao, Managing Director of the Confucius Institute at George Mason University, told Xinhua that the Confucius institutes have been welcomed by U.S. schools and communities, amid a growing consensus on the importance of global education for the country's next generation.
Even the U.S. State Department acknowledged in its policy directive on May 17 that it "appreciates the significant work done by U.S. academic institutions and Confucius institutes," which benefits the enhancement of cultural exchange.
Facing the increasing demand, the Chinese Government has expressed its determination to support the further expansion of the Confucius Institute.
Controversy
However, as the number of Confucius institutes around the world is growing fast to meet the strong demand for Chinese language study, the program has also faced criticism.
At the university level, some foreign critics have fretted at the presence of the Confucius Institute on campuses, fearing interference with academic freedom.
The U.S. Congress held a hearing on China's public diplomacy in the United States in March and strongly criticized the operation of the Confucius Institute.
Some other countries and regions have also made similar criticisms. Last year, some German politicians attacked the presence of the Confucius Institute in Germany. In mid-May this year, the applicability and purpose of Confucius institutes in Britain were questioned by some politicians and scholars.
"We only discuss language and culture in the classroom," rebutted Xu. "The system of the Confucius Institute has proved a well-established program to promote Chinese language and culture around the world."
Disseminating the culture
Culture is fast emerging as a crucial indicator for a country to showcase its competitiveness in the contemporary world. "China should use culture as a diplomatic platform to enhance its image and project its soft power," Chinese Minister of Culture Cai Wu said at a news conference earlier this year.
"There is no doubt that China has impressed the world with its booming economy. But that alone is not enough," said Yu Guoming, a professor at the School of Journalism and Communication of Beijing-based Renmin University of China. "With China's influence growing steadily, the thrust for the future is to not only export more goods, but also showcase the life and culture of the nation to the rest of the world."
Today, the Confucius Institute has emerged as China's most successful global brand and platform for promoting Chinese language and culture.
"People in Western countries are always surprised to find that by using Eastern wisdom, many contradictions and conflicts can be solved as Chinese tradition always advocates harmony," Xu said.
According to Xu, Chinese language and culture training opportunities can also help deepen intercultural understanding and thus soften China's image as a threat as it grows stronger both economically and politically.
On May 24, Lee Kum Kee, a 124-year-old Chinese company that manufactures Asian sauces, signed a memorandum of cooperation.
According to the memorandum, Lee Kum Kee will help train volunteers in cooking, compile textbooks on Chinese cooking, send chefs to participate in classes, and enrich courses at Confucius institutes in order to boost the international propagation of Chinese food culture.
Meanwhile, the Chinese Government also plans to open more Confucius institutes to teach traditional Chinese medicine (TCM) overseas and promote Eastern medical science, said Vice Minister of Health Wang Guoqiang on May 28.
Wang encouraged more than 20 Chinese TCM universities to seek out cooperation with overseas universities and colleges in setting up more Confucius institutes to spread TCM.
"They should also help train more bilingual TCM practitioners to give instructions at Confucius institutes," he said, adding that Chinese TCM doctors who have been practicing abroad for some time can be invited to teach at local Confucius institutes to help ease the current shortage of qualified teachers.
Xu said that TCM would be a highlight of newly opened Confucius institutes in coming years.
According to her, there are two Confucius institutes specially dedicated to teaching TCM, at Australia's Royal Melbourne Institute of Technology and Britain's London South Bank University, respectively. "We are preparing a third in the United States," Xu said.
Email us at: yinpumin@bjreview.com