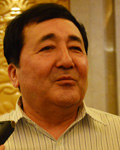 Inamu Naserdin (BAI SHI)
Xinjiang is faced with a golden opportunity to embrace close cooperation on tourism with other provinces and cities along the Silk Road, Inamu Naserdin, Director of the Tourism Administration of Xinjiang Uyghur Autonomous Region, stated at a press conference in Urumqi, the capital of Xinjiang, on May 27.
"We are working together with 19 other provinces to attract more tourists to Xinjiang," Naserdin told Beijing Review.
As a bridge linking China to its neighbors along the western border both historically and in modern times, Xinjiang has unmatched advantages to develop tourism, Naserdin said.
Xinjiang has numerous beautiful natural and cultural wonders. Further more, as it shares a border with eight central Asian countries. Xinjiang has always been a multicultural center in northwestern region of China, Naserdin said.
At a meeting held in Urumqi on May 22, the National Administration of Tourism has called for all cities and province along the Silk Road in China to enhance cooperation on developing tourism along the Silk Road Economic Belt.
The Silk Road Economic Belt was proposed by Chinese President Xi Jinping last September during his state visit to Kazakhstan.
"The prospect of Silk Road Economic Belt will bring the best-ever opportunity for Xinjiang's tourism industry to develop further. We must grasp at this chance," Naserdin said.
(Reporting from Urumqi, Xinjiang Uyghur Autonomous Region)