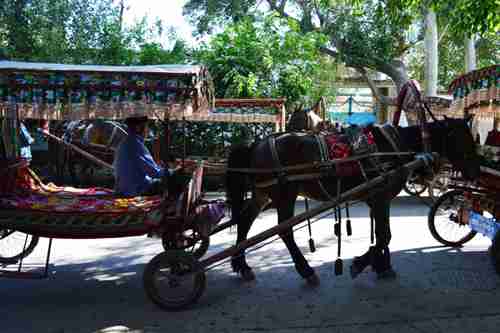 A Uygur man drives a carriage through an alley in Kazanqi on May 29 (BAI SHI)
"Taking a horse-drawn carriage from Kazanqi is one of the most wonderful experiences," said Adina, a Uygur tour guide. The sightseeing carriage she refers to is driven by skilled Uygur drivers and can carry up to six people.
Kazanqi is a Uygur community in the Ili Kazak Autonomous Prefecture in northwest China's Xinjiang Uygur Autonomous Region. Covering an area of 22.9 square km, Kazanqi is a home to 127,000 residents among which Uygur people account for 77 percent.
Nearly 100 years old, Kazanqi is now a famous place of interest in the city of Ining, the capital of Ili Kazak Autonomous Prefecture.
Besides the chance for a ride in a horse-drawn carriage, Kazanqi also features with Russian-style houses and the unique Uygur cuisine that both draw in even more tourists.
The houses of Uygur residents are painted blue and decorated with patterns influenced by Russian art, which makes them stand out from other houses in the rest of Xinjiang, Adina told Beijing Review.
"Tourists can enjoy the authentic Uygur food in the home of a real Uygur family here. Many Uygur housewives are very good at cooking," Adina said.
In the past, Kazanqi was run-down and impoverished. In 2008, local government revamped the infrastructure of the entire area thoroughly, Alken, a local resident, told Beijing Review.
After years of efforts, not only has Kazanqi become beautiful but local residents are also more aware of how to protect the environment, Alken said.
"The streets and alleys are mainly maintained by us. In our opinion, it has become a part of our job to clean our environment every morning," Alken said.
(Reporting from Ili Kazak Autonomous Prefecture, Xinjiang Uygur Autonomous Region)