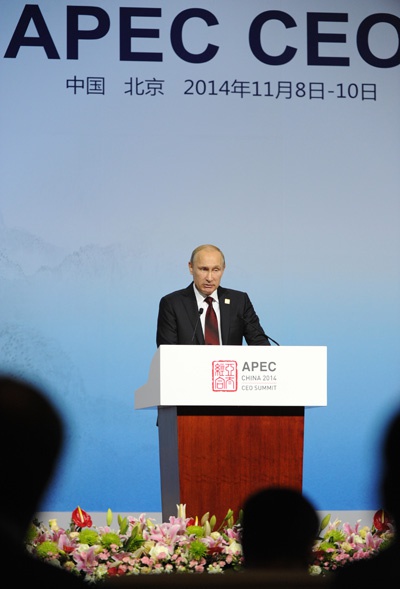 Russian President Vladimir Putin delivers a keynote speech at the 2014 APEC CEO Summit in Beijing on November 10 (LUO XIAOGUANG)
Russia and China are going to expand the use of their own currencies to settle energy deals, Russian President Vladimir Putin said in a speech at the 2014 APEC CEO Summit in Beijing on November 10.
Putin said China is Russia's "priority partner" in the Asia-Pacific region. Trade between the two countries has already begun using the yuan and the rouble.
"Direct settlement between the yuan and the rouble is very promising," said Putin. "It can increase bilateral trade and influence the international energy and financial markets."
"If Russia and China can settle large energy deals with their own currencies, it will diminish the role of U.S. dollar in the world's energy market," he said, adding that more diversification in trade settlement will make the world financial and energy markets more stable, which will also be good for the U.S. dollar as a reserve currency.
On October 13, central banks of China and Russia signed a three-year currency swap agreement worth 150 billion yuan or 815 billion rouble ($24.5 billion), in an effort to facilitate bilateral trade and direct investment.
Putin also said cooperation with the Asia-Pacific region is a priority to Russia. Russia's trade with Asia-Pacific economies accounts for a quarter of its total trade, and it plans to increase the proportion to 40 percent. It aims to export more hi-tech products to its Asia-Pacific partners.
Russia also seeks to boost investment with the region's economies. According to Putin, Asia-Pacific economies' total investments in Russia have doubled, reaching $9 billion over the past year, while Russia's investment in the Asia-Pacific region has reached $1 billion.