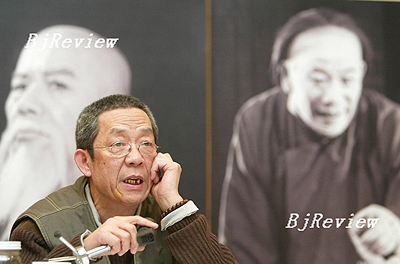 As one of China's most renowned play directors, Lin Zhaohua once worked as the deputy director of Beijing People's Art Theater, the longest-standing drama group in China. The prolific drama studio that Lin set up in 1989 and has been supervising ever since, has produced more than 60 dramas, including a number of repertoire.
Lin made a name for blending the visual beauty of traditional dramas with modern plays. His works have achieved dramatic art world and box office success.
Now 71 years old, Lin still launches several new plays every year. Drama groups from Germany and Japan have extended invitations for him to direct plays for them.
"I will keep on directing plays as long as I can move. And I will be in the audience seats when I am too old to move," Lin once said.
I have never been into fancy things. I cannot understand why people are baffled by plays about real life.
Today play artists always talk about selling points and box office performance, whether they are big theater productions or small theater productions. I think now stage lacks the "drama spirit."
As far as I am concerned, the "drama spirit" refers to unremitting efforts, never yielding and determined innovation. A new model, immature it may be, shows a new world to the audience. This is what gives plays their never-declining vitality.
But I am not saying that every play director should create a brand new genre of plays. After all, it is not easy to do so for a single person.
I have been directing plays for many years and during this period I have kept asking myself whether plays evolve according to certain principles. I still haven't found the answer. I keep on moving forward, doing whatever I like, regardless of philosophy and theories.
It is a very Chinese practice to promote the experience in artistic creation. Actually, I don't think people should be encouraged to follow one particular example. Instead, artists should always be encouraged to break existing models. We now badly need play rebels against tradition. Even in inheriting traditions, we should always hold a suspicious attitude and find our own stand over the process.
To be frank, as a director I am devastated if only a few dozen people come to watch my plays. However, I believe we should always let the audience choose plays, rather than the other way round.