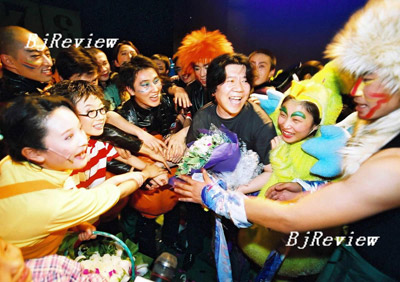 Ever since the early 1990s, Meng Jinghui has been one of the most controversial figures of Chinese theater. With highly experimental, yet immensely popular productions, the avant-garde director has built a stable audience.
Meng's on-stage exploits have stirred up a storm of Chinese "experimental drama" in recent years. So much so that his name has become synonymous with "alternative" theater. In spite of his unorthodoxy, Meng's plays have met great success in small theaters across Beijing. Meng's works, each more stunning than the last, all bear the mark of a Meng-style passion about life, rebellion, humor and satire. His achievements have earned him the reputation of being both popular and avant-garde, a rare feat in the world of art.
I think it is unnecessary to give "experimental drama" a definition. Actually, every play director should take an "experimental" approach, which will create an innovative ambience.
Chinese play arts developed very fast in the 1980s. In the 1990s some play directors started to express their personality in plays. As for myself, I believed my breakthrough would be in redesigning stage art by rebelling against existing rules. At that time, I felt that I bore the responsibility to innovate in my plays.
Back in university, I studied literature. I remembered that I was struck by the sudden exposure to surrealism and magic realism that originated from Western countries. Until then, we had been greatly influenced by revolutionary romanticism from the Soviet Union. We were all of a sudden in great confusion.
I believe there is a huge gap between realism and real life. I believe that as an important creation principle realism has covered a lot of things. However, some play directors have misunderstood realism as putting everyday life on the stage without any creativity or imagination. I am totally against it. I believe an artist should guide the public rather than be guided by the public.
I always seek tools from China's traditional aesthetics. I understand the destructive part of my work is done out of instinct. Meanwhile, I have been thinking perhaps I should build some things to replace the things I have destroyed. This is what is on my mind recently.